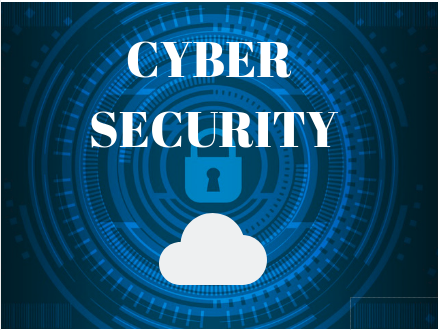 Talking About Top 6 Cyber Security Best Practices For Small & Medium-Sized Businesses, When you have a small or medium-sized business (SMB), a very simple thought that crosses your mind is,
"Hackers will not come for my business. My page is protected."
But wait! Are you really sure about that? Or, maybe you are thinking,
"There is no such important data to steal."
Again you are wrong!
Probably you are not in a mood to believe me but take a look at the stats.
A press release says:
"These attacks come from criminal syndicates, "hacktivists," and foreign nations…
But the majority of cyber-attacks happen at small businesses. In fact, 71 percent of cyber-attacks occur at businesses with fewer than 100 employees."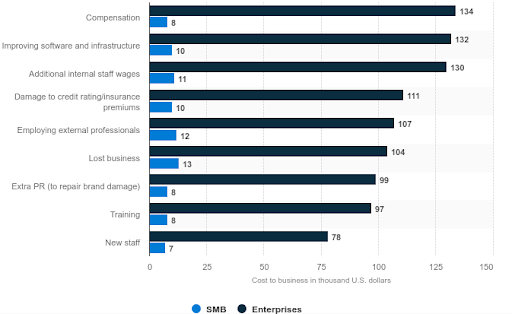 Source: Statista I have included the above image to show you the '
Average cost of IT security breach consequences for SMBs across the globe as of April 2017 (in 1,000 U.S. dollars)'.
As you might be aware that phone numbers, email addresses, addresses, credit cards detail, full names, purchase histories – these are all valuable assets. The hackers or cyber attackers are always ready to steal these assets and make a profit by selling those in the black markets. In this blog, I will give you a list of 6 cybersecurity practices that will safeguard your valuable assets from any online scams, identity theft, and fraud.
Setup A Firewall
Install Anti-malware Software
Update Cybersecurity Policies
Follow The Best Practices To Secure Passwords
Backup Data Regularly
Use Multi-factor Identification
Setup A Firewall
When your PC is connected to the internet, you are a probable target of cyber threats. Right from hackers, trojans, keyloggers to malware- anything can target your system to steal the data from your system.
Source: diubuntu.blogspot.com A firewall works as a barrier between these threats and your system. The firewall monitors incoming-outgoing traffic from your pc, blocks message linking to unwanted content, prevents unauthorized access and keeps your data safe when you are connected to the cyberspace. So it is advisable to install an external firewall as well as an internal firewall to get an additional layer of protection. Just set up a good firewall to stay away from these external threats.
Install Anti-malware Software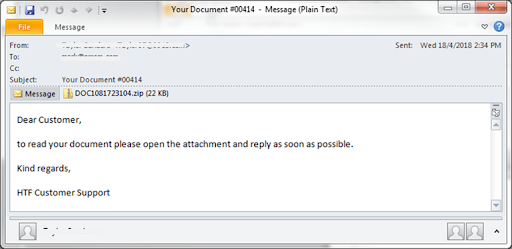 Pic: Spam Mail Free software, reward emails, unsolicited ads – these are some of the traps that hackers use to confuse general people. Now you may think:
What if I click on the mail mistakenly?
Clicking on one single fraudulent mail or a malicious link is enough to give away the control over your sensitive information. And the hackers are always ready for that moment!
What can happen?
If that happens, then you can expect a ransomware threat or probably you will end up losing all your crucial business data. And this might lead you towards bankruptcy!
What should you do?
Along with a firewall setup, you should install an anti-malware software to strengthen your computer protection. It is necessary to install a standard anti-malware software to each of the pc and devices at your workplace to protect those systems from phishing attacks. Apart from anti-malware software, try to:
Stay away from suspicious emails.
Smartly use the spam filter.
Invest in original software rather than using the pirated ones.
Be careful when clicking on any links.
Don't provide your personal information unless you know that person very well.
Conduct security audits.
Provide security education to your employees.
Update Cybersecurity Policies
A cybersecurity policy is important to protect the crucial information of your business from any kind of potential cyber threats. So it is a good practice to make a policy for your employees and let them know their responsibilities to protect the assets of your business.
Things that you can mention in the policy:
Right from the email formats (
spam, junk, and spam emails
), storing physical files, managing incidents, maintaining industry compliance to password requirements- everything you can mention in the policy to educate your employees. Talking About Top 6 Cyber Security Best Practices For Small & Medium-Sized Businesses, In fact, due to the growing demand of cybersecurity, the US government is already providing online
self-paced
training exercise to clear the basic concepts and doubts related to cybersecurity. Check this course if you are interested! You can also check this
guide
to get a knowledge of useful cybersecurity best practices based on needs.
Follow The Best Practices To Secure Passwords
Changing the passwords and remembering those is a painful task. Well, Google has developed the password manager tool to reduce that headache. Still, remembering passwords is a tiresome task for some and that's why people tend to keep their password same or use weak passwords.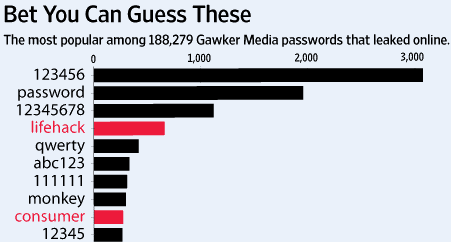 Source: quickonlinetips.com As per Verizon's Data Breach Investigation report,
"63% of data breaches involve weak, default or stolen passwords".
"61% of data breach victims were small businesses"
In fact, a report says that more than 1.4 billion email id, passwords, images, and other credentials have been found on the Dark Web. And this is a serious issue! As per the database, the
most common passwords used by people are 123456, 123456789, qwerty, password and 111111!
Are you one of them? Do you use the same password everywhere?
If yes, think again!
Check your profile now and update your password every week. Use a mix of character, numbers to make your password strong. Also, you can take advantage of a customized
password security system
. Check the following tips to keep your password safe:
Make it at least 12-15 char long.
Use upper case + lower case letters + numbers +special characters.
Don't use the same password or repeated characters twice.
Change your passwords every month.
Backup Data Regularly
After reading all the above points, you might have decided to install an anti-malware software in all of your systems – but your data is still not fully protected!
What? Are you kidding me?
Well, precautions are important but still your data can be breached.
Any way out?
Back up your data regularly and it is important. Electronic spreadsheets, audit files, payable files- take it's backup on the cloud or at some separate location. The process does not stop here. Check regularly if that data is functional or not, as you might need the same data in future during some emergency situation.
Use Multi-factor Identification
Multi-factor identification/ authentication is a good choice to add an extra layer of protection. The process includes 2 or more layer of authentication. Once a hacker attacks your site, he will have to break more than one barrier to get the full control over your digital assets.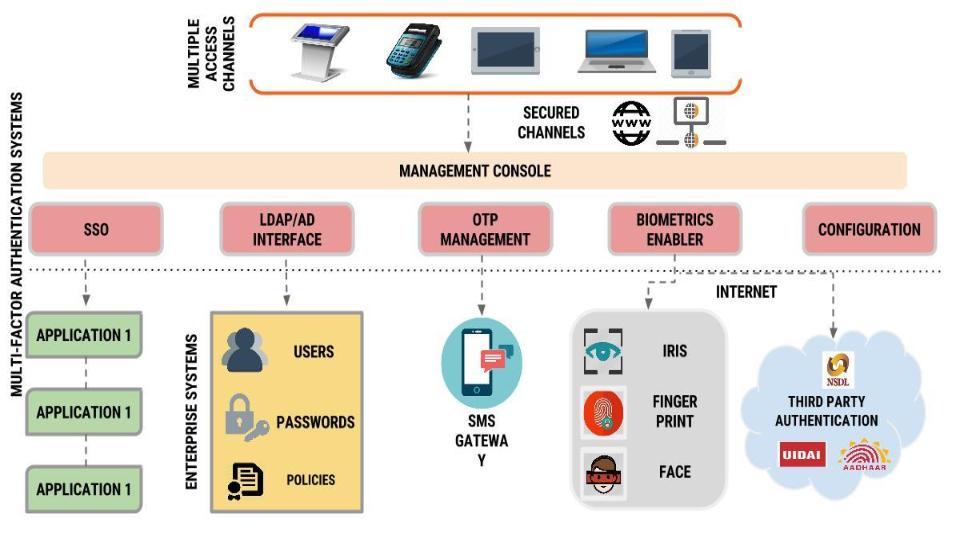 Source: integramicro.com As password-based security is no longer effective, companies are going for MFA(
Multi-factor authentication
) to protect their data from any leading cause of data breach. Using MFA, you will get protection against data breaches, cyber attacks, and fraud. Give your customers and users a pleasant experience without allowing them to worry for any security reason.
➤Conclusion
'Cybersecurity' is now a topic people widely talk about.
Invest money & time on internet security, install software from trustable source, train your employees and maintain security compliance.
Talking About Top 6 Cyber Security Best Practices For Small & Medium-Sized Businesses, Set up a security team or install a software or
application
so that you can monitor & detect a threat quickly and respond asap with end-to-end threat management processes.
If the attack goes undetected for a significant period of time, you may end up compromising sensitive data, lose your clients and experience costly recovery expenses!
Detecting a data breach can be challenging but if you are careful then you can prevent these types of persistent attacks with the right set of tools. Be it the traditional or
cloud-based security
– we can help you to choose the right tool that fits your business in a cost-effective way.
Contact us today
to find out how!