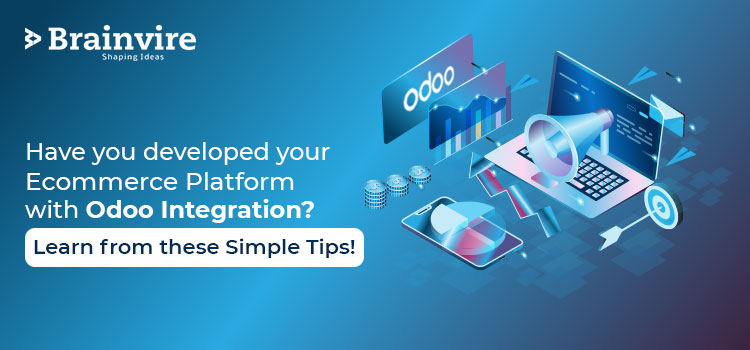 Odoo is a framework that can help your business to smooth the management and operational process. It has been utilized by leading brands across the globe and named as truly outstanding in-class platforms where companies can modify their business suites. 
It has multiple functionalities that are appropriate for different operations in different verticals. 
The business that can utilize the Odoo ERP solution to the fullest is the Retail eCommerce industry because of its multiple elements.
We as a whole realize that digitalization has changed the method of Marketing. It has made another business platform called Digital Marketing. Digital advertising today works in a very well-arranged and dexterous route with its algorithm, strategy, and the whole lot in it. The online business is developing step-by-step and turning out to be relentless with a great deal of headway in the product and ecommerce development industry.
If your ecommerce business has a ton of products to bring to the table to your clients, there's quite a lot of work for the development team. You need to deal with a lot of things and for that different programming must be utilized. For better execution of your web-based business platform, you need to pick the best custom or tool to help with the internal highlights of the platform. 

[Also read: Warehouse Picking made Faster with Odoo Mobile Inventory Application]
For this situation, Odoo has been a savior to various giant companies! It has set aside its time and cash to be a one-stop-solution for all web-based business demands. 
If your ecommerce platform wants to deal with its purchaser, it should be equipped with – Internal Project Management and Sales Management Automation, Inventory Management, Purchase Management, Manufacturing Data, CRM, and Accounting Processes. 
Odoo is incredible with Universal Accounting and Measuring Performance. Its version 14 has been the expert of computing performance, age, metrics, results, and so on. Incorporating the Odoo ERP framework with your ecommerce platform will be considerably more effective when contrasted with any other ERP programming on the lookout. 
Accounts of Odoo
It is smarter to go with more solid software for easy-to-understand highlights and modules. 
Odoo can transform your platform by improving client management. 
With Odoo integration, you will get the best client relationship, and it is made simple by planning and automating your potential customers and filters the prospective clients. 
With the help of Odoo ERP development services, you can follow the business execution and pull the reports of continuous communication. It enhances the process for the clients. 
You can modify the best functionalities and set up CRM in one spot. 
The most reliable Odoo ERP development services in the town can provide custom Features, in-house navigation, fast and better execution, efficiency, and excellence in designs. 
You can likewise construct your ecommerce platform for any industry with a low stock expense, Better Customer experience, Order Management, Product Management, Reduced Manual work, and Single Resource at a spending strategy-friendly cost. 
Want to convert your idea into a successful app or website? Schedule your free call with our expert now.
What would you be able to anticipate from an Odoo ERP advancement service?
It gives you the open-source solution 
You can customize each module as indicated by your client's requirements for the improvement of the business. You will discover an expansion in the degree of consistency after the incorporation of the Odoo ERP solution. 
It is Cloud-Enabled
It is easy to use, reasonable and helps organizations to modify their prerequisites. It is profoundly versatile and cloud-empowered. 
It can be incorporated with existing business suites 
It's simpler for organizations to keep their information free from all harm. The combination of the Odoo ERP is now possible with your current business suites. 
It is Accessible and Responsive 
Odoo ERP has cutting-edge highlights with the assistance of the most evolved tech stack. It is well-situated, versatile and optimizable. 
Different Store Management 
You would now be able to screen your stores, deal with your stock, deal with your records without a moment's delay. It will be a one-stop for all your business requirements. From records to deals, every operation and function will be clear and transparent in one place. 
Universal Accounting System
You can get the analytics, spending plans, automated customer invoices, and combination at one-stop just by initiating the Odoo ERP. Through the assistance of its compromise model, you can accommodate all the accounting details and records of various needs properly. 
You can add a figured field to calculate age in Odoo14 
Odoo ERP Development Services can use the figured field and @api.depends () technique to decide the age of your client. 
Entries can be determined using the computed parameters. If it uses the evaluations of various fields, it should demonstrate those fields using depends() 
Discover your true business potential with the help of Brainvire's Odoo Partner Services.
computed fields are not taken care of, obviously, they are computed and returned when demanded. Computed fields are read-only basically. 
Numerous fields can be pursued at the same time by a comparable methodology, essentially using comparable procedures on all fields and setting all of them. 
Well, there is an equation that needs to be applied to decide the age of a person in Odoo14 with the assistance of processed and @api.depends () decorator.

[Also read: 8 Reasons Why Odoo Is the Most Secure Platform According to OWASP]
For a superior Odoo ERP Development Service, contact Brainvire because they can give:
A Support of Enterprise and Community version
Analytical Tool Integration
Guaranteed, talented, and qualified developers 
Quality Odoo advancement according to approved practices
Real-Time Omnichannel Solution 
A severe adherence to the course of events 
Post-development assistance 
A suitable pricing guide 
Don't hesitate to get in touch with us to find out about Odoo14