AWS Services We Offer
AWS Consulting

We support companies in creating new technologies or moving their existing systems to the amazon web services aws cloud. We are experts in every area, from optimizing AWS to scaling it up.

AWS Compute

We help organizations make full use of the power of Amazon EC2 and its related resources, from a single, efficient back-end computing engine to a multilevel, global computer cluster. We take cloud computing to another level with Amazon Web Services (AWS).

Application Scaling

Need to scale the back end to accommodate the growing use of the application? Leave it up to the experts. We help you scale your services AWS application according to your business requirements.

AWS Mobile

We help developers of mobile and web apps create, run, track, and scale their solutions over an optimized back end based on Amazon Web Service (AWS). We help you easily integrate your application with cloud computing.
Enterprises
We Work Together with Small, Medium and Large Enterprises
We understand that enterprises of different sizes conduct business differently. We transform their relationships with their suppliers, vendors and partners through our digital solutions.
Our services include:
Application Outsourcing

Enterprise Mobility

Enterprise Content Management Systems

Application Integration

Enterprise Business Automation

Cloud Computing

Digital Transformation

Application Development and Support
Some of our outstanding clients
Agencies
We Work with Consulting Companies, Software Development Companies, and Agencies
We work with agencies on a project basis or as an extended team to provide digital solutions.
Our services include:
Offshore and Onsite Team Augmentation

Product Engineering

Technology Migration

Product Maintenance and Support
Brands we work with
Startups
We Work with Global Tech Startups to Fulfill Their IT, Digital, IoT and Mobile Requirements
We support startups in bringing their ideas to fruition. We provide our expert services at every stage of the project.
Our services for startups are:
Prototype Designing

Minimum Viable Product

Product Engineering

Product Maintenance And Support

Product Re-engineering

Quality Assurance And Testing
Clients we have worked with
Helping the C-suite
Implement Amazon Web Services to eliminate hiccups affecting C-Suite in your roadmap to success.
Chief Information Officer
Advanced courses offer clarity to top chiefs and help design an operative blueprint for the firm.
A Glance at Our Amazon Web Services Solutions
Our AWS services empower businesses to leverage the power of cloud computing to the optimal level.
AWS Services We Offer
Amazon EC2

Amazon Route 53

Amazon Load Balancing

Amazon RDS

Amazon Auto Scaling

Amazon S3 Buckets
Our AWS Solutions
AWS Integrations

We have done everything from integrating applications with data sources hosted by AWS to linking several complex enterprise systems for an integrated solution.

Cloud Storage

We are experts in storage, whether it's designing custom Amazon S3-based solutions or building low-cost Amazon Glacier archive solutions.

Delivery And Availability

If you want global availability of services and better distribution of data, we can help. We're CloudFront, ElastiCache and Redshift professionals.

Data Migration

Develop awesome web and mobile applications operated by the managed relational database or NoSQL databases built on DynamoDB, hosted by AWS.
USPs of Our AWS Services
Secure

We offer the most comprehensive security capabilities to satisfy the most demanding requirements.

Compliant

We know that customers care deeply about data security and privacy. Our services offer all the functionalities, enablers, and legal agreements that are part of AWS customer compliance.

Hybrid

The professional experts at Brainvire can assist you in building hybrid architectures that extend your on-site infrastructure to the cloud though amazon web services.

Scalable

At Brainvire, we have vowed to make things easier for our clients. With just a few minutes' notice, access as much or as little as you need, and scale up and down as needed.
AWS Expertise
Amazon Web Services is an Amazon company that offers on-demand cloud storage tools and APIs on a metered pay-as-you-go basis for individuals, companies, and governments. We provide end-to-end services for businesses that use Amazon Web Services to create essential
cloud solutions
. Our deep expertise and automated designs and processes mean that we provide you with the fastest time to value AWS, whether you first migrate to AWS, provide 247 operational management of your AWS environments or leverage your business value AWS solutions through automation and cloud solutions. We will manage your cloud infrastructure with AWS while you're focused on increasing your business. Get complete peace of mind with our controlled cloud hosting services for AWS.
S3 and EC2

Amazon Cloud Search lets you manage a mobile application or website search solution. Amazon S3 stores a vast volume of data and the AWS EC2 lets developers easily install and manage cloud-based applications.

Serverless API and CloudWatch

We integrate Serverless API with 'API Gateway' Amazon Web Services allows clients to focus on their core activities. Cloud watch enables real-time surveillance of AWS resources

Lambda and CloudTail

AWS Lambda lets you execute code in response to unique events and AWS CloudTrail lets you record API calls and send log files for storage to Amazon S3 buckets.

Amazon Glacier, S3 And Route-53

We handle the data as an archival in a cost-effective way for the long term. We have experience handling your DNS information in a simple way, hosting areas, DNS queries.

Amazon VPC and Elasticache

Cost-effectively, we handle your private cloud with ease. We, at Brainvire, manage device caching via Redis and Memcached to deliver high performance.

Amazon RDS and Cloudfront

We specialize in setting and scaling up your database to make it simple and high performing. Our experts have the experience to speed up your static and dynamic web content delivery to your users in less time.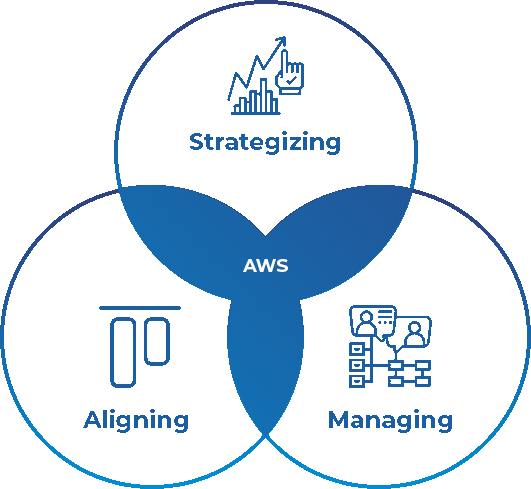 AWS Cloud Implementation
Brainvire provides Amazon Web Services and follows the cloud computing approach in three steps. We develop a strategy for optimizing cloud performance and rethink ways to change your cloud business operations. We transform applications by rationalizing and migrating workloads, or by creating new cloud applications, as per the predefined strategy. Our cloud specialists optimize the allocation of the workload to public and private utilities for secured operations as per the business requirement.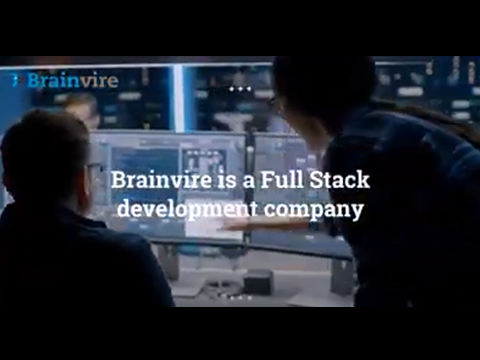 Shift to Continuous Delivery
Migration and Strategy of AWS
Use our proven cloud migration services to migrate your simple to complex applications. Our realistic approach of AWS helps the customer turn their business into an agile business. We research in-depth about your current program and can help you move it to services AWS Cloud. After the process is complete, we get keys for an automated cloud environment that's fit for your app. These are the steps covered under this process are.
Infrastructure migration

The proven method that our experts employ helps deploy your IT infrastructure into a successful relocation. This ensures a smooth transition with fewer downtimes.

Data migration

Assess the current infrastructure in your company and gather critical data. Carrying out a smooth analysis will help deliver a smooth process of cloud migration ahead.

Application migration

We offer successful application migration which bridges the technology gaps. Brainvire's powerful cloud computing services seamlessly push your device or product.

Cloud-native capabilities

We define how we deploy your applications live in the cloud with cloud-native services. Brainvire effectively employs agile methods, DevOps, and other cloud platforms.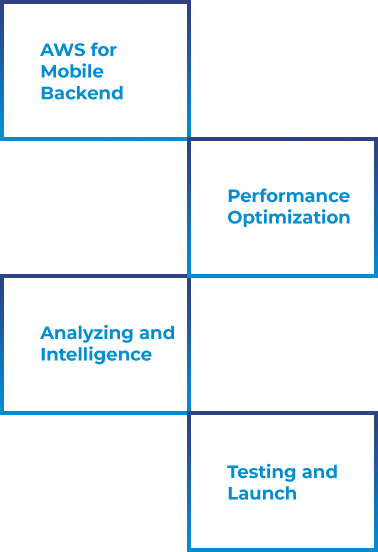 AWS for Mobile and Web
We use AWS services to build potent integrated mobile and web backends so that you can build and scale, using cloud power. We help app owners get the best performance out of their cloud environment, from enhancing content delivery to reducing dependencies. Work with data in real-time or analyze cloud big data with ease.
FAQS
How much experience do your developers have?

All our developers go through a thorough interview process and have over five years of hands-on experience. You can hire dedicated AWS developers from Brainvire. They are proficient in the latest technologies and tools for AWS development.

How much time will an AWS project take to complete?

Once you hire a developer for AWS services, we'll start working on your project. The amount of time required to complete the production and implementation process will depend on your requirements. We will provide an estimated time frame after thoroughly analyzing your business objectives.

Are you available according to different time zones?

You can hire our committed developers to work according to your time zone preferences (EST/PST/CST/MST), deadlines and milestones. Contact us via email, phone or Skype.

What after-sales services do you offer?

We support the projects and applications we create, and are always accessible in case you discover any issues or need new enhancements to your mobile application. Brainvire offers full support and maintenance services.
Do you have a portfolio of previous AWS development projects?

Indeed, we do. We have created numerous applications and sites with the AWS system. You can see our case studies and portfolios on this website or get in touch with us for more examples.

Will I get dedicated resources for my project?

We don't share developers among several projects. If you hire an AWS developer, they will work on your project as you need them to. We have flexible hiring models for you to choose from.

What is the average cost of an AWS development project?

The cost of making an AWS application relies upon a few variables, such as the development platform, features, use, and team selected for the project. To get a specific cost estimate for building an AWS application, get in touch with our consultants.

Why should I choose AWS development from Brainvire?

We have certified team services AWS developers. These experts have full migration solution expertise. We provide 100% transparency during the development cycle. Our developers provide end-to-end assistance in developing, deploying and maintaining AWS services.
1500+

Web Projects Completed

500+

Mobile Apps Developed

800+

Resources Strength

500+

Happy Clients Worldwide