Brainvire's skilled and talented developers strive to build exemplary websites and mobile applications and cater to various clients from the healthcare industry. Our development solutions can also help you streamline your internal processes. Our healthcare services include:
Software development

Healthcare App Development

Use our superior healthcare development services to build fully customized healthcare apps for your patients. With us as your software development company, you can not only boost your business operations but lower your development expenses and time, as well.

Experienced team

Healthcare App Integration

At Brainvire, our healthcare industry experts use state-of-the-art tools and technologies to help you develop scalable, secure, robust APIs. With our easy-to-navigate APIs, you can effortlessly integrate your healthcare applications with all your internal systems to ensure a smooth operation.

Scalability

Remote Health Monitoring

We specialize in developing top-notch healthcare applications with excellent functions and features like remote health monitoring. This feature helps healthcare providers and organizations to constantly monitor the health of their patients from any location.

Digital solutions

Business Intelligence & Healthcare Analytics

As healthcare organizations work to achieve greater efficiency in their operations, they have no option other than embracing healthcare analytics and business intelligence. Brainvire offers smart solutions that have the potential to collect detailed insights and leverage them to automate healthcare workflow and easily manage administrative tasks.

Smooth operation

Patient-centric Solutions

In the healthcare industry, mobility helps both patients and providers by offering a secure, effective exchange of crucial information on the go. At Brainvire, we help you create mobile applications and websites with a patient-centric solution that can redefine the care you deliver.
Operational Efficiency

Trim down clinical expenses, deliver flexible operations, and streamline internal processes with solutions that help you prioritize the innovation empowered by AI and automation.

Customer-oriented Technologies

Leverage our adaptive care model and customer-oriented technologies to engage and educate both patients and healthcare providers, and to increase the effectiveness of your customers' healthcare experience.

Value-based Care

Embrace cutting-edge solutions for your healthcare business and transform them into value-based patient care that addresses the quality of your services and the expenses incurred by patients.
Development Solutions We Offer
VR & AR Healthcare Apps

Unleash next-level healthcare training, foolproof operations, and interactive customer experience by leveraging the VR & AR healthcare applications built by our experienced developers. We specialize in data visualization, location-based AR apps, and top-quality healthcare solutions.

AI-based Apps

Create medical applications based on artificial intelligence to help your patients develop better sleep cycles and eating patterns. With our AI-based apps, you can also help them improve their health. Our services include sleep, fitness, heart-rate, and blood pressure monitoring applications.

IoT Healthcare Solutions

Brainvire offers IoT healthcare solutions and creates applications that let your patients access top-notch local medical support and services with complete ease. We help you build health diagnosis and monitoring apps, and other tracking solutions.

Secure Software Solutions

Our team of developers can help you create secure, robust healthcare applications that allow customers to self-diagnose and boost their health with complete ease. We deliver solutions like patient data management, health records, supply chain management, etc.
Testimonials
Their design team is top-notch and ahead of the curve; they understand the customer behaviour. Crafted amazing digital solution which helped to convert the vision, and achieve what we were looking to. Kudos to the team.
Steven Oubre
Founder - Healthcare Express US
"Brainvire was established as a valuable resource due to an attractive price, excellent project management, and transparency. They're accommodating and organized, and yield a proactive and intuitive approach. Deliverables have been accurate and visually appealing throughout the ongoing relationship"
We Help You Shape Your Ideas
Their design team is top-notch and ahead of the curve; they understand the customer behaviour. Crafted amazing digital solution which helped to convert the vision, and achieve what we were looking to. Kudos to the team.
Steven Oubre
Founder - Healthcare Express US
Our Customized Services
We offer an array of healthcare consulting, development, and post-deployment services.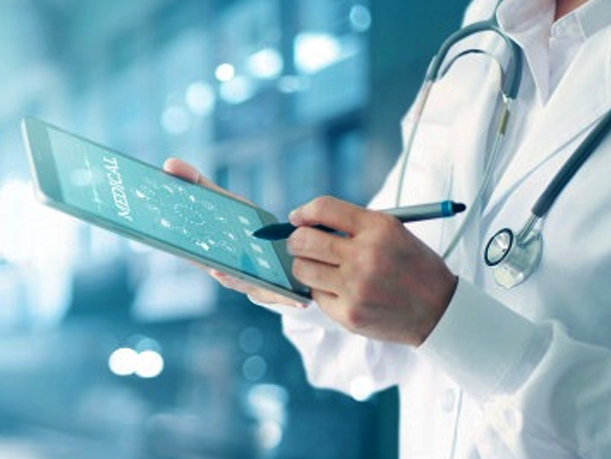 Solutions We Offer!
Brainvire offers swift healthcare development services, along with highly reliable support solutions.
Learn More
Our tailor-made services include:
Enhanced Clinical Outcomes »

Digital Strategy »

Legacy System Transformation »

Compliance with Regulations »

Healthcare System Integration »

Health Records Maintenance »
Engagement

The mobile app aims to revolutionize on-demand pharmacy services while providing end-users with comfort and convenience. Brainvire had partnered with a leading pharmacy chain to simplify the...

Know More

Product launch

Since its inception, Brainvire has always gone a step further to explore the trending technologies and shape up innovative solutions. Having witnessed this potential, an old client has knock...

Know More

Engagement

The significance of data-driven actions has increased tremendously. With digital transformation, it becomes imperative to make optimal use of the data available for your business. Brainvire ...

Know More
Benefits of Our Solutions
With Brainvire as your healthcare software development firm, you will not only get a feature-rich and functional application but numerous other benefits, as well.
Patient Data Management

With our top-notch healthcare applications, medical organizations can easily manage all their patients' data under one roof!

Easy Appointment Scheduling

Tap into our development solutions to create websites and apps that offer your patients an easy way to schedule their appointments with healthcare providers.

Seamless Flow of Data

Our developers help you create applications with a seamless user interface that ensures a smooth exchange of crucial information.
Proudly Tailoring Our Solutions to the Healthcare Industry
Success Stories
Our strategies help global retailers grow the business
Show More
Health Care & Life Science

The PBM is specifically designed to handle the clinical and financial challenges of hospices. The patient-centric digital platform with Azure IaaS deployment offers extensive claims processi...

Know More

Health Care & Life Science

As the end product would be a healthcare app, so it had to be user-friendly and intuitive. Brainvire's team of mobile developers ensured that all the technical aspects of the project were gi...

Know More
Why Choose Brainvire?
A prominent healthcare development firm, Brainvire uses an agile approach to curate exemplary solutions:
Explore Solutions

Data Security

Agile Development Process

100% Transparency

Our Support Solutions

Regulation Compliance

Flexible Engagement Model

Total Support
Upcoming Events
Wednesday,September 30 to Thursday,October 01,2020

Odoo Experience 2020, With 30,000 attendees to the largest business & open source online event! It provides insights about new Odoo v14 and peer talks about SalesForce to Odoo migration and Multi-fold growth using Odoo solution.
Sunday,March 14 to Thursday,March 18,2021
Join the leaders in marketing automation, analytics, advertising, and commerce and see how to deliver and manage remarkable customer experiences. We are going to share how to deliver omni-channel experience for your customers.
Wednesday,May 12 to Thursday,May 13,2021
Looking to refresh the in-store shopping experience or expand your digital footprint? Get front row seats to the digital future of the retail industry! Get more of what you want with strategy sessions from a diverse and dynamic group of the industry'