CRM Services We Offer
CRM Consulting

We are experts at delivering brilliant CRM consulting services. With us, you get ethical, robust, contemporary CRM growth. Consult our executives if you have any questions or an idea that will help you with consulting and planning custom crm software integration for your company.

CRM Implementation

Proper preparation, along with a step-by-step development process and maintenance services, are the most important aspects of implementing CRM. Brainvire's custom crm software developers have the skills to provide high-end, precision CRM implementation services. Address your business objectives, improve performance, and enhance customer engagement with our custom CRM implementation services.

Custom CRM Development Solutions

Customers are the most important part of any organization, and we offer custom crm development services that secure your customers' loyalty to your company. We create the kind of CRM technology tools that provide direct access to customer information, which is essential for evaluating marketing strategies and customer service processes.

CRM Mobile Apps

With mobile CRM applications, it is easier to connect systems to a variety of users. Mobile CRM users prefer mobile access because it improves the accuracy of their custom relationship management data. Judging from users' fondness for mobile CRM, it's likely that the prevalence of these apps will expand steadily. We build custom CRM mobile apps that connect you with customers who are on the go.
Enterprises
We work with small, medium and large enterprises.
We understand that
enterprise solution
of different sizes conduct business differently. We transform their relationship with their suppliers, vendors and partners via digital solutions.
Our services include
Application Outsourcing

Enterprise Mobility

Enterprise Content Management Systems

Application Integration

Enterprise Business Automation

Cloud Computing

Digital Transformation

Application Development and Support
We work with some of the best clients
Agencies
We work with consulting companies, software development companies, and agencies.
We work with agencies on a project basis or as an extended team to provide digital solutions.
Some of our services are
Offshore and Onsite Team Augmentation

Product Engineering

Technology Migration

Product Maintenance and Support
Brands we work with
Startups
We Work with Global Tech Startups to Fulfill Their IT, Digital, IoT and Mobile Requirements
We support startups in bringing their ideas to fruition. We provide our Custom CRM services at every stage of the project.
Our services for startups are:
Prototype Design

Minimum Viable Product

Product Engineering

Product Maintenance And Support

Product Re-engineering

Quality Assurance And Testing
We have worked with:
Helping the C-suite
Brainvire offers custom CRM development Services to improve information exchange right from the bottom line to the C-Suite.
Chief Information Officer
We enable the Chief Executive Officer with creative strategies and plan to help the organization to grow, transform, and construct new work methods for the future.
A Glance at Our Custom CRM Development Services
Our custom CRM development services empower businesses to stay connected with customers and document every interaction.
Custom CRM Services We Offer
CRM Customization

CRM Portal Development

CRM Deployment

CRM Application Development

CRM Design

ERP Development
Our Custom CRM Services
CRM Integration Services

We have a team of custom CRM developers that provides your business with comprehensive CRM integration services. Taking an agile approach according to market needs lets us offer a wide variety of CRM solutions.

CRM Migration Services

Our migration services provide additional support by shifting business processes or data to a new CRM program. We are here to assist you if you want to migrate your current system to a new CRM.

CRM Support And Maintenance

At Brainvire, we support every project, even after its completion. We provide 24/7 support and maintenance services to keep you ahead of your competitors. You can get in touch with us via Skype, chat or email.

CRM Training

We provide custom CRM training and support to ensure that your CRM initiative is successful. Our training process focuses on providing high-quality, tailored training content, delivering training, and support.
A Good CRM Software Always Allows You To
Secure Data

Since the system is integrated with cloud services, it offers your business data full security so that you don't have to worry about losing any significant data.

Improved Lead Management

The Custom CRM software provides you with all the necessary information and updates about your customers. This information will pop-up on your screen and you can conveniently refer to them while designing fruitful strategies.

Easy Integration

The system can be easily integrated with multiple extensions and plugins. This will help align all departments and your business can be managed from a uniform platform.

Relentless Support And Maintenance

Our experts won't leave you once we have successfully accomplished your desired requirements. You can always reach out to Brainvire for assistance, maintenance, and support for your business.
CRM For Business
CRM has acquired a niche reputation in varied industries and businesses. This software has the power to bring all your business activities and align them together. We at Brainvire, have several experienced and seasoned workforce that can assist and recommend you the most beneficial CRM tools for your business. Our experts have explored and worked under varied business circumstances and offered them an intelligent, advanced, insightful, realistic, and personalized solution. A CRM system that can enable automated processes, factual analysis, quick reports, and maximum security to boost business productivity. Our team can suggest an interactive CRM system that can help you stay connected with your customers.
Magento founders pioneered ORO CRM

Our skilled employees cite that this CRM software possesses the best marketing and sales tools. These tools can help businesses lure the right customers. The team recommends business customizations as per their strategies and wants.

SugarCRM

Yet another flexible open-source software, this is the most preferred solution for commercial customer relationship management and to improve sales-force automation. Our experts cite that this software can help you design effective marketing campaigns. It also comprises social CRM, mobile CRM, sales-force automation, and reports.

SuiteCRM

This is a community edition of SugarCRM. With the help of SuiteCRM, we can help you gain conversion, new lead generations, innovation in customer engagement, and better customer management.

Microsoft Dynamics CRM

One of the finest CRM server-client applications, his CRM system has the most reliable cloud solution for improved customer engagement. It can provide you with deep social insights BI, and smooth integration with Microsoft solutions.

Customized CRM System

Our skilled proficients can develop customized software based on your business desirability. This way, you can achieve your goals and target efficiently and improve overall business productivity.

CRM for eCommerce

One of the popular CRM software that is widely used for eCommerce businesses, CRM for eCom consists of several tools that can help you reach the right audience and enable personalized communication with them.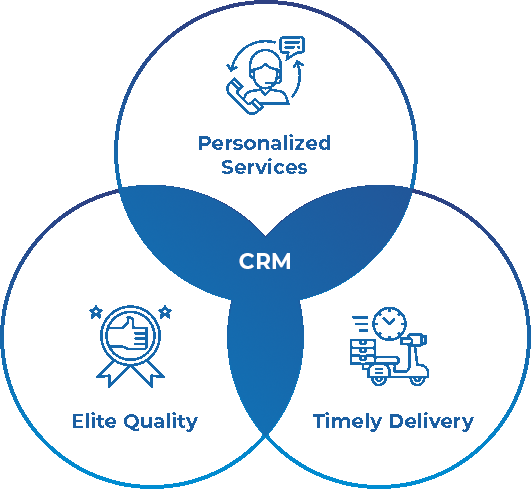 CRM Software Comes To Your Rescue To Beat Customer Expectations
The constantly evolving market circumstances and consumer demands are tricky to interpret and manage. CRM is an effective and useful software, and we can help you interpret and execute the right strategies for your business. Brainvire's team will provide you with CRM software that automates business processes and gives you an opportunity to offer your customers exactly what they want.
Our team will suggest CRM tools that can accumulate, store, and make ideal use of the customer data available. We can help you to iron out workflow, customer contact, sales, marketing, and productivity drawbacks in your business.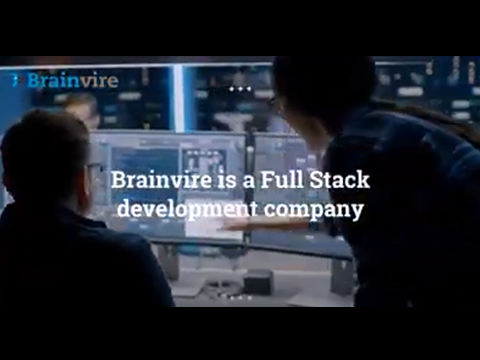 Shift to Continuous Delivery
Why Do You Need Customized CRM Software?
Over the years, our team has worked on multiple projects. Brainvire is a renowned IT hub and a powerhouse of well-acquainted developers, designers, and engineers. This know-how is our strength and hence we can recognize, measure, create and implement the right solutions for your business.
Our team can evaluate which CRM tools can currently help you cope with the business uncertainties. We create the right blend of tools that can streamline and automate your business process not only currently but also in the near future. We can create a system that can swiftly adapt to tomorrow's advanced technologies. Our professionals can offer you end-to-end solutions for your business.
Real-Time Analysis and Reports

Our team will include appropriate tools, plugins, and intelligent technologies for your CRM software. This way, you can get a preview of actual sales, details about customer interaction, conversion, and much more information in a single glance. You no longer have to waste hours to generate a single sales report. CRM can provide you with an easy-to-understand report within no time.

Automated Sales Process

Your sales team now has more time to lure the right audience. They no longer have to fill out forms, raise legal issues, or generate reports. Brainvire's team can provide you with a suitable CRM software that can automatically run all these sales tasks efficiently. The automated sales process also eliminates the scope of manual errors.

Improved Customer Information

Every customer is an asset to your business. It is important to gauge the value of every customer through their buying pattern, purchase history, and demographics. A reliable Custom CRM software can save all these details and help you draw accurate conclusions. This can be utilized to design an influential campaign for your business.

Accelerated Productivity

Brainvire's expertise can help you ease sales, customer interaction, marketing employees, and customer care as they are offered with precise consumer details. These details help to amplify business functionality and productivity. A centralized and secure CRM system can also smoothen your business data, details, and productivity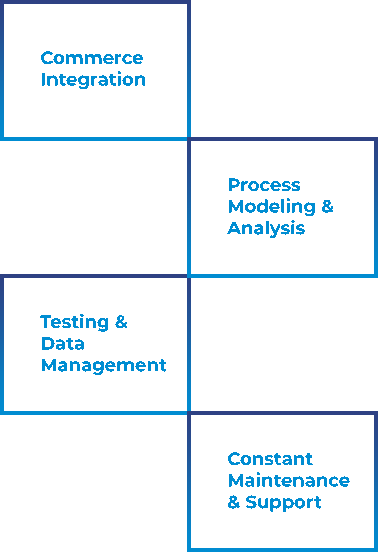 Custom CRM Development Services
We also provide a competent pricing model that fits within your stringent budget. Our team possesses brilliant practical knowledge in CRM platform based processes that can automate your business and open new avenues for the future.
Brainvire's experts have deep CRM platform integration experience with all prominent CRM tools. The team has implemented huge databases of CRM into the existing systems. Our team has helped businesses with functional and advanced database management, direct marketing, and customer information management through the successful implementation of CRM.
FAQS
How much experience do your developers have?

All our developers go through a thorough interview process and have over four years of hands-on experience. You can hire dedicated CRM developers from Brainvire. They are proficient in the latest technologies and tools for custom CRM development.

How much time will a custom crm software project take to complete?

Once you hire a developer for CRM services, we'll start working on your project. The time taken to complete the production and implementation process will depend on your requirements. We will provide an estimated time frame after thoroughly analyzing your business objectives.

Do you have a portfolio of previous CRM development projects?

Indeed, we do. We have created numerous applications and sites with the custom relationship management framework. You can see our case studies and portfolios on this website or get in touch with us for more examples.
Will I get dedicated resources for my project?

We don't share developers among several projects. If you hire a custom CRM developer, they will work on your project as you need them to. We have flexible hiring models for you to choose from.

Why should I choose custom CRM development?

Custom CRM software enables you to get detailed insights into your business, evaluate your market, tailor your marketing and sales strategies, automate your marketing workflow, and use advanced reporting tools for forecasting and analysis.
1500+

Web Projects Completed

500+

Mobile Apps Developed

800+

Resources Strength

500+

Happy Clients Worldwide