Brainvire's Augmented Reality Solutions
AR Applications for iOS and Android

Brainvire delivers secure, scalable, highly reliable AR services for

iOS development

and

Android development

mobile devices. Our

augmented reality app development company

builds unique applications that are compatible with the latest operating systems. These apps offer an intuitive, seamless user experience on diverse platforms.

AR E-commerce Application Integration

Our team of experienced AR developers builds groundbreaking e-commerce applications that can be easily integrated into your business. We also create top-notch shopping experiences to help you drive sales, boost ROI, and develop stronger customer loyalty.

AR Game Application Development

We have a decade of experience in building AR game applications for a diverse set of clients. Our veteran AR experts possess exceptional skills in using tools and technologies like Unity 3D, Vuforia, and Blender. With our

enterprise solutions

for AR games, you can help your users experience real-life via reel life!

AR Application Maintenance and Support

We not only specialize in AR application development, but we also make sure your app performs smoothly. Our best augmented reality application development company is available 24/7 to offer app maintenance and other necessary support. We keep updating your application according to the latest trends and ensure that it delivers excellent security and stability to end-users.
E-commerce and Retail AR App
Working with Various Retail and E-commerce Businesses to Revolutionize Their Shopping Experience
We help you build retail and
e-commerce
AR apps that can take your sales to the next level and improve the in-store customer experience.
Our e-commerce and retail augmented reality app development services include:
Product Category Visualization

Augmented and Virtual Reality Trial Rooms

Intuitive Kiosks

AR-supported Window Shopping
Trusted and Certified Partner of Various Retail and E-commerce Businesses Around the World
Real Estate AR App
Working with Real Estate Agencies to Take Their Business Up a Notch with Our Incredible AR Apps
We work with real estate agencies to offer their buyers an innovative way to view properties and inspect plans.
Our real estate augmented reality services include:
3D View of Property

AR Home Demo

Interior and Architectural Design

Smart Home Solutions
Proudly Tailoring Our End-to-end augmented reality app development Solutions to Some of the Most Esteemed Real Estate Companies
Training and Education
Working with Institutions to Develop Immersive, Real-Life Learning Experiences
We help educational institutions develop e-learning AR applications that enhance student interaction and engagement in the classroom.
Our education and training AR services include:
Virtual Guest Lectures

Library Management Systems

Augmented and Virtual Reality Tutorials

Interactive Walkthroughs
A Track Record You Can Trust
Helping the C-Suite
Brainvire offers innovative augmented reality app development services and solutions that drive the organization into a digitally-advanced one with increased opportunities for the C-Suite.
Chief Information Officer
We help CEOs maximize the value of organization with carefully planned strategies and initiatives.
Certified AR Development Company
Brainvire offers best-in-class augmented reality app development solutions!
Our Unique Selling Points
Certified And Trusted AR Developers

Agile AR Mobile App Development Method

Quick and Easy Interaction Via Skype, Emails And Chat

Adherence to Best Industry Practices

Competent Engagement Models

Experienced Support and Maintenance Team
Our Augmented Reality Development Services
AR Application Development

Our augmented reality developers possess excellent skills and use the latest AR technologies to develop high-performing apps.

AR Application Design

We house a pool of veteran designers that can build seamless and visually appealing application designs.

AR Application Testing

Brainvire's qualified QA and testing team ensures that your application is free of bugs and code errors and offers smooth navigation.

Custom Projection-based AR Apps

We help you build personalized projection-based AR applications and easily integrate them into your business.

Recognition-based AR Apps

Our augmented reality apps development team strives to deliver smart, recognition-based AR applications that can help you keep tabs on essential information.
Advantages of Capitalizing Our AR Development Solutions
Marketing Edge

Give your advertising campaigns a competitive edge over the others and stay ahead of the curve with our augmented reality app development solutions. With our AR apps, you can also build a stronger presence in the current market.

Improved User Engagement

With our augmented reality services, you can offer your customers an interactive experience while building a strong brand image. Brainvire's augmented reality app development solutions also help drive sales and improve customer engagement.

Location-based Technology

Leverage the potential of augmented reality and reap the benefits of location-based technology for your end users and overall business.

Industrial Maintenance and Training

Unleash the power of our augmented reality mobile application development solutions and build simulated real-life experiences. With these experiences, you can offer your developers the industrial training they require and your customers an after-sales maintenance plan.
Technical Expertise
AR has been on every individual's mind when they talk about technology. AR has revolutionized the gaming world. But, along with this, AR has also transformed various other industries and businesses. It has improved reach, visibility, and reformed several business processes as well. Our talented augmented reality developers possess the ability to thoroughly understand recent technologies and advancements. Having gained years of experience in the industry, we can help our clients transform their business ideas into top-notch products. Once you employ Brainvire's augmented reality developers, you can rest assured that your entire AR mobile app development project is in safe hands!
Application Back-end Development

With diverse industry experience, the team offers reliable and secured back-end development that is required for your application.

API and SDK Integration

This seamless integration enhances user experience with improved functionality and design.

Interaction Logic

Our experienced team can make the most of the interaction logic.

Image Identification

With inclusion of this feature, the team ensures a secure platform to users. Image identification also helps to refine user experience.

Third-party Integration

Our certified and brilliant developers can provide you smooth and efficient third party integration. This will ensure that you enjoy a personalized experience.

Machine Learning

The team has made optimal use of one of the best intelligent technologies. In the presence of this technology, we promise you a dynamic AR journey.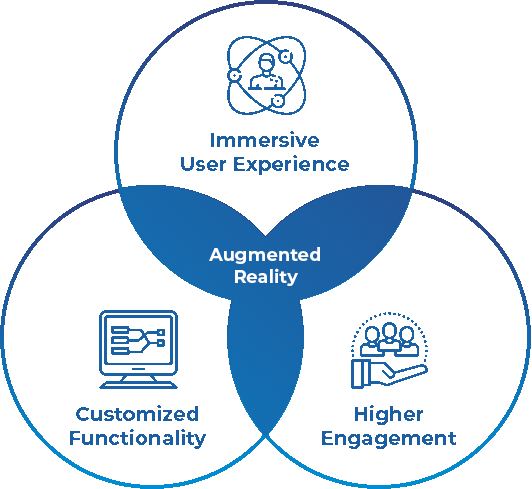 Innovative Solutions
AR and VR solutions are pure innovation. Leading augmented reality apps development company uses cutting-edge technology coupled with creativity to provide your end-users with an impactful and immersive experience.
We develop top AR solutions that offer flawless performance and function seamlessly on a wide range of platforms. Our top AR applications are packed with dynamic features and help you stay ahead of the curve. The design and functionality of our apps will certainly help boost your ROI.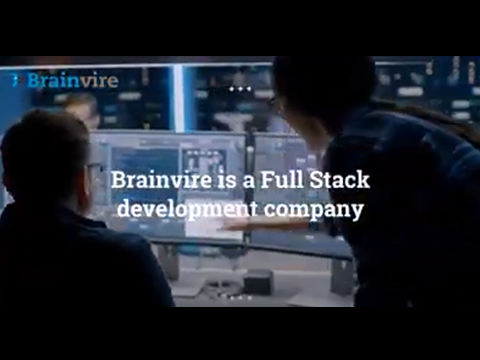 Shift to Continuous Delivery
Customer-centric Apps
We create apps with scalable back-end and appealing front-end features. This ensures that your application addresses every one of your users' pain points and offers an interactive customer experience.
Our team builds the best augmented reality app development services that help businesses improve their brand value as well as enhance user engagement. Our augmented reality developers also make sure your application helps build a stronger customer base and reinforce the existing relationship.
Key Principles of Our Integrated Approach
Flexible Approach

We follow an agile approach to developing customer-centric applications with a shorter time to market. Our augmented reality developers also ensure that best industry practices are followed, test the app for quality assurance, and deliver the project on time.

Personalized Solutions

Brainvire offers custom-made augmented reality application development solutions for iOS and Android platforms. We make sure these solutions are packed with dynamic features and functionality, and help you achieve a competitive edge over your rivals.

Business-oriented Method

We understand that every client's business requirements are different. Our team follows a business-oriented method to develop applications that meet your project demands. We make our clients our utmost priority, and we strive to deliver excellent solutions.

Top-quality Work

Our team of veteran experts is always up to date with advancements in the field. We also use the latest tools and technologies to create robust, high-quality AR applications for your business.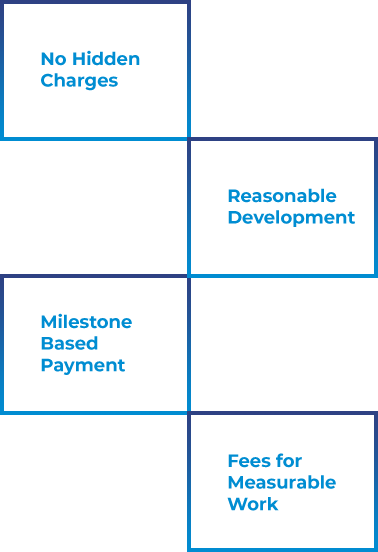 Cost-effective Solutions
We understand that funds play a major role in every
mobile app development
process. To help you manage costs, we offer best-in-class augmented reality application development services at an affordable rate. Our competitive pricing is what makes us a trusted partner. We also endeavor to offer exceptional augmented reality services that help you achieve top-notch returns.
FAQS
How do AR applications function?

AR (augmented reality) is a technology that layers images, text, graphics and video over printed content or physical objects. Put simply, it offers a live secondary perspective of the real world with augmented features. These are generated using computer-developed inputs.

On which technologies do AR platforms operate?

Augmented reality platforms function on a variety of technologies, such as SceneKit, Vuforia, Unity 3D, and Unreal Engine. But there are various kinds of AR, such as markerless and marker-based, that can be used depending on your business requirements.

Do I have to visit the office for a meeting before the project starts?

In most cases, a personal meeting isn't required. All the discussion can take place through calls, Skype or emails. We share the suggestions, augmented reality designs and solutions through our secure server to keep you in the loop.
Will I be charged any hidden/additional fees?

No! Before starting the project, we carefully analyze your requirements and suggest an appropriate engagement model and project price. Our team works tirelessly to ensure the project is completed for the set price.

After deploying the app, do you offer post-development service?

Absolutely! We not only develop the app for you, but keep tabs on its performance, too. We offer support for the apps we create and ensure that our team is available 24/7. We also deliver app maintenance services to fix any issues that arise.
1500+

Web Projects Completed

500+

Mobile Apps Developed

800+

Resources Strength

500+

Happy Clients Worldwide