DevOps Services We Offer
DevOps Consulting

Take advantage of our DevOps consulting services to accelerate the time to market for your product. We include DevOps assessment, DevOps automation, and DevOps management to provide detailed consultations and guidance on your DevOps needs.

Infrastructure Automation

Our IT and software infrastructure automation services help companies accelerate their IT operations by reducing manual effort. Our infrastructure automation services provide scalability without any additional effort on your part. You can version and test your infrastructure easily.

DevOps Configuration Management

With our configuration devops consulting services, you can provide a comprehensive toolset for quicker issue determination and increased agility to leverage supreme service quality. Our devops consultants have experience in running lean operations.

Continuous Delivery and Deployment

Our DevOps experts team offers continuous development and delivery services, with software and solutions to create, check and release quality code safely, using a range of tools. We continuously monitor your project throughout testing and quality checks.
Enterprises
We Work Together with Small, Medium and Large Enterprises
We understand that
enterprises
of different sizes conduct business differently. We transform their relationships with their suppliers, vendors and partners through digital solutions.
Our services include
Application Outsourcing

Enterprise Mobility

Enterprise Content Management Systems

Application Integration

Enterprise Business Automation

Cloud Computing

Digital Transformation

Application Development and Support
Some of our outstanding clients
Agencies
We Work with Consulting Companies, Software Development Companies, and Agencies
We work with agencies on a project basis or as an extended team to provide digital solutions.
Our services include:
Offshore and Onsite Team Augmentation

Product Engineering

Technology Migration

Product Maintenance and Support
Brands we work with
Startups
We Work with Global Tech Startups to Fulfill Their IT, Digital, IoT and Mobile Requirements
We support startups in bringing their ideas to fruition. Our devops consultants provide services at every stage of the project.
Our services for startups are:
Prototype Designing

Minimum Viable Product

Product Engineering

Product Maintenance And Support

Product Re-engineering

Quality Assurance And Testing
Clients we have worked with
Helping the C-suite
Our tailored programs can trace the major potholes and prospects influencing the C-Suite.
Chief Information Officer
Personalized approaches to assist the top management exceed, transform, and plan a realistic plan of action for the organization.
A Glance at Our DevOps Development Services
Our DevOps development services provided by Our devops consultants empower businesses to improve their IT operations and broaden their horizons.
DevOps Services We Offer
Infrastructure Monitoring

Platform As a Service

DevOps Management

DevOps Assessment

Continuous Delivery

Continuous Integration
Our DevOps Best Practices
Leveraging DevOps Expertise

Enjoy the advantages of our profound experience in industry-standard DevOps software development and tailored automation systems. Our established and proven techniques have never been so simple, fast, and profitable to incorporate into your workflow.

Focus on User Security

Our devops consultants place a strong emphasis on protecting the entire DevOps system efficiently to shield capital from any external threats. From the outset, we ensure security building during the DevOps tools lifecycle to sustain it.

Using the Latest Technologies

We combine our knowledge of end-to-end automation, everything as code, and reliability during the development process to reduce your project's costs. We modernize the IT infrastructure and enable faster product releases.

Continuous Monitoring

Our comprehensive monitoring system allows you to continuously calculate DevOps productivity and make appropriate changes based on the results. Get detailed analytical reports with a single click to better inform your business decisions.
Objectives of DevOps
Automated environment

A synchronized and highly-automated environment that involves coding, testing, and operation tractability.

Agile Methods

Agile methodologies to ensure the predictable outcome along with test automation.

Cost-effective

Reduction in cost and delivery time due to immediate and constant integration.

Accountability

High-end accountability and workflow management by applying a comprehensive automated environment.
How Can DevOps Help Your Business?
DevOps merges Development and Operations which ultimately results in enhanced productivity, reliability, stability, and reduced costs. Businesses have to adopt the latest DevOps technology inventions to move at the speed of digital transformation. Through DevOps, software developers, network administrators, quality assurance professionals, and operation professionals are working in a harmonized manner. There are
cloud services
technologies and tools that can help you out with DevOps implementation. Microsoft's visual studio is equipped with advanced DevOps-based environmental changes. The ultimate aim of DevOps is eliminating the barriers between development and operation teams so software development can be developed fast, efficient, and maximum error-free.
Continuous Delivery And Integration

With Microsoft DevOps, you can leverage continuous delivery and continuous integration, build, test, and maintenance can be done simultaneously.

Complete Traceability

Build code, review, and test results more frequently. Deliver more valuable results with end-to-end traceability of the project.

Comprehensive Project Management

Production and deployment can be streamlined with continuous delivery and continuous integration practices

Deploy Code From Anywhere

Avail cloud-based load testing and connect directly to any code repository or service with quality and frequent modification

Continuous Testing

With the DevOps environment, perform types of testing frequently to deliver quantifiable results including unit, performance, load, and UI testing

Automate Manual Tasks

Testing can be automated with this customized environment where you can run, record, and repeat the task with the help of software development.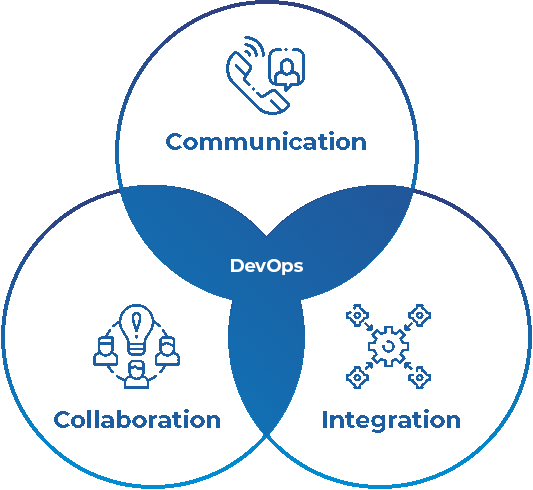 Deployment, Collaboration, And Integration
Deployment offers the opportunity to implement production with almost minimum or nil human intervention. Continuous deployment helps to use fresh codes, automate testing, and accelerate production. Collaboration helps to bring transparency among all activities and offer a one-stop-solution for business requirements. Our teams can work independently to achieve a common goal. Integration blends the fresh code into the existing body. We can help you save several resources and release effective code. The integration process consists of evaluating the code, transforming it in a usable form, and running a validation test to confirm its effectiveness.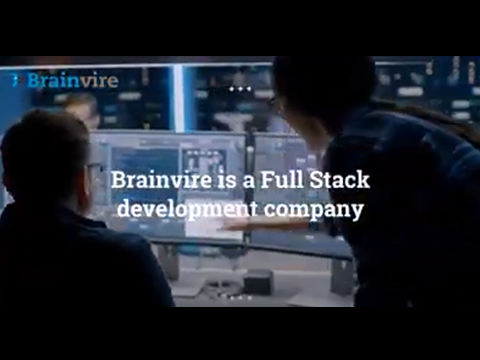 Shift to Continuous Delivery
Collaborate
With agile, empowered teams that take ownership of the product and the customer's journey through growth and operations, a company will enhance customer engagement, productivity, software quality, and the reliability of the production process. You can build core teams through our platform-led delivery approach, which concentrates on one product, one goal, and one end-to-end value stream.
Agile Growth Evaluator and Journey Matrix

Our developers are certified agile experts with training in Agile, Scrum, and growth methodologies.

Dynamic Test Engineering Platform

The Dynamic Test Engineering Platform is a continuous test delivery platform that bundles SaaS and services adoption.

MWatch

MWatch provides a consolidated view of your applications and infrastructure by integrating the service desk with monitoring tools.

Composable Automated Platform for Enterprises

The Composable Automated Platform for Enterprises (CAPE) is a platform that works to streamline end-to-end automation.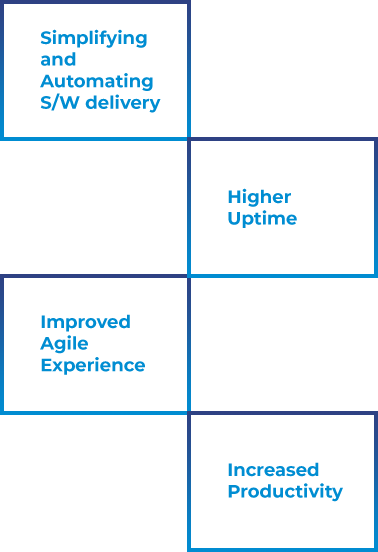 Continuous Integration with DevOps
You can frequently check and update code and release pipelines to drive development easily.
Continuous Integration is the practice that is followed by developers to maintain, update, and manage the code. CI helps to simplify the complex structure of code as DevOps developers can identify bugs at an early stage due to continuous testing. This whole process results in the time-saving and cost-effective manner ensuring quality.
FAQS
How much experience do your developers have?

All our developers go through a thorough interview process and have over four years of hands-on experience. You can hire dedicated DevOps developers from Brainvire. They are proficient in the latest technologies and tools for DevOps development.

How much time will a DevOps project take to complete?

Once you hire a developer for Devops Consulting Services, we'll start working on your project. The amount of time required to complete the production and implementation process will depend on your requirements. We will provide an estimated time frame after deeply analyzing your business objectives.

Are you available according to different time zones?

You can hire our committed developers to work according to your time zone preferences (EST/PST/CST/MST), deadlines and milestones. Contact us via email, phone or Skype.

What after-sales services do you offer?

We support the applications we create, and are always accessible in case you discover any issues or need new enhancements to your mobile application. Brainvire offers full support and maintenance services.
Do you have a portfolio of previous DevOps development projects?

Indeed, we do. We have created numerous applications and sites with the DevOps experts framework. You can see our case studies and portfolios on this website or get in touch with us for more examples.

Will I get dedicated resources for my project?

We don't share developers among several projects. If you hire a DevOps developer, they will work on projects as you need them to. We have flexible hiring models for you to choose from.

What is the average cost of a DevOps development project?

The cost of making a DevOps application relies on a few variables, such as the development platform, features, use, and team selected for the project. To get a specific cost estimate for building a DevOps application, get in touch with our consultants.

Why should I choose DevOps development from Brainvire?

Customized DevOps software from our developers offers smooth communication and services. Our team offers innovative, effective solutions for test automation, release planning and monitoring, and SaaS products.
1500+

Web Projects Completed

500+

Mobile Apps Developed

800+

Resources Strength

500+

Happy Clients Worldwide