SERVICES OFFERED

Unleash the potential of actionable insights, business intelligence, and analytics. Our data analytics development services comprise data accumulation, storage, alignment, optimization, analytics, and advanced algorithms.
BI CONSULTING

BI DEVELOPMENT

We design Business Intelligence services based on our customer's business requirements. We offer end-to-end BI services, including data consolidation and scrapping.

BUSINESS INTELLIGENCE AND VISUALIZATION

Brainvire's BI experts provide precise visual analytics and well-designed dynamic reports to users to get a glimpse of what lies beneath the dashboard.

BIG DATA ANALYTICS SOLUTIONS

We offer reliable and resourceful data warehouses to gain access to structured and unstructured data across database frameworks and multiple document formats.

INTEGRATION AND CUSTOMIZATION

Brainvire specializes in integrating and customizing BI solutions with Power BI, Tableau, QlikView as per customer needs.

DATA CONCEPTION

Our experts can implement tailored predictive analytics solutions that can help you streamline processes, tasks and improve business efficiency.

DATA MANAGEMENT

Our advanced tools help manage all kinds of unstructured and structured data swiftly. Our data management includes everything from data security to migration.

BI HEALTH CHECK

We audit the tailored business analytics solution to examine whether it is compatible, processes run properly, and if there are improvements needed.

PREDICTIVE ANALYTICS SERVICES

Our analytics solutions are based on statistical techniques from predictive modeling, data mining, and ML that can analyze business facts and recommend predictions for the future.
Brands Around The World Trust Us
Together, we trust in data-driven experience for businesses
LET'S GET CONNECT
TECHNOLOGY STACK
Brainvire's BI experts concentrate on industry-specific BI solutions that can inspire enterprises to make informed business decisions. We offer advanced solutions that are a perfect combination of technology and business requirements.
OLAP cubes
Microsoft - SQL Analysis Services

Micro Strategy

Oracle BI

Sisense
OUR EXPERTISE
SSRS, SSIS, SSAS Development Services
BI integration with Cloud and Web Apps
BI Consultants Developers And Architects
Analytical Dashboards Development
Mapping Your Business Data Assets To Drive Value
BI Core Predictive Analytics
Custom Power BI Development Services
Data Visualization Techniques (Symbol Maps, Pie Charts, Bar Charts, Etc.)
ETL Design and Implementation
Data Analytics And Security Services With Encryption
Real-Time Data Analytics
Descriptive, Diagnostic, Predictive, And Prescriptive Approach

INDUSTRIES SERVED

Business

Healthcare

Financial Sector

Logistics

E-Commerce

Education

Gaming
Our Case Study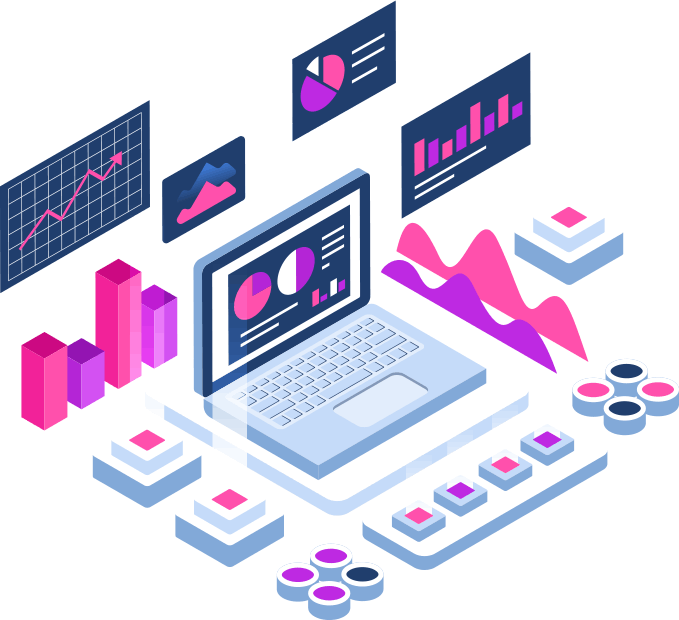 Smart and Powerful SaaS-based BI Application Helps Multiple Industries Experience Business Profitability
The web platform is a powerful reporting tool and can be used by businesses belonging to any industry. It has been developed by the skilled expertise of Brainvire's data scientists and in-house experts. The tool can generate resizable, colorful and animated circular and oval Venn diagrams. The represented data tends to be immutable, large in volume, ordered by time and is primarily aggregated for access. It represents a history of what happened, and using predictive analytics, the system can pre
Learn More

FAQs
What are Data Analytics services?

Data analytics services help businesses to transform their untouched business data into lucrative insights. These insights can further drive businesses to make better decisions and strategies.

What can Data Analytics be used for?

Data analytics can be used for research and to make fruitful business decisions. They are useful to understand customers, share customized content, examine campaigns, develop product journeys and content strategies.
What do data analytics companies do?

A Data Analytics company like Brainvire can assist businesses to make wise business decisions based on the accumulated data and at a faster pace. We can redefine strategies and elevate business growth.

How is data analytics used in consulting?

Data analytics consulting services such as Brainvire make optimal use of analytical tools to generate reports and draw the right conclusions. Experts can integrate the right tools to accelerate your decision-making process.