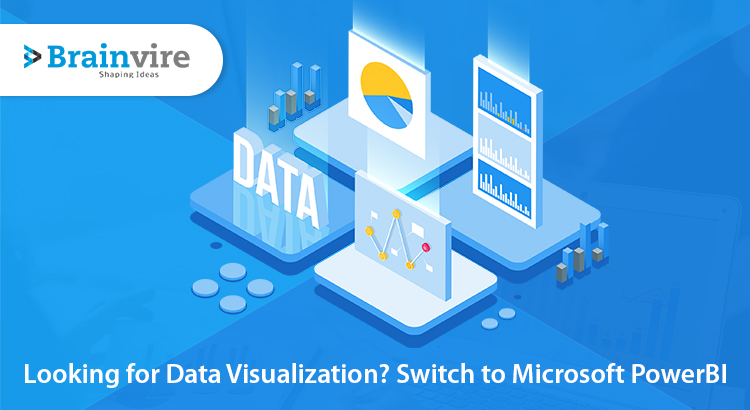 Being an enterprise you ought to have MIS reports and other related graphs on your table before conducting or attending any board meeting. Within a span of a year, Graphical or MIS (Management Information System) reports have experienced an effective change in their looks and appearance. Nowadays, all enterprises like to view data on their laptop screens which are connected to the data center through some medium. You would be amazed to know that Microsoft is the first company to introduce PowerBI and master the art of visualizing data with their custom build reports.
Apart from PowerBI, there are many other tools available in the marketplace that are equally competitive in all aspects. Now the question is why choose PowerBI over other tools? Below are the reasons for why Enterprises should adopt PowerBI as their preferred tool over others.
Price:
The most important factors of all. Power BI is priced only at $10 per user per month thereby making it a pocket-friendly deal for solopreneurs as well as SMEs. At just $10, users gain access to a wide array of features such as real-time dashboard building capability, shared data collaboration, automatic data updating and much more. Power BI comes with a free version called Power BI desktop that helps users start their data visualization journey with the basics. On the other hand, tools like Tableau are priced at $35 for similar features. So, what do you think is the best deal?
Want to convert your idea into a successful app or website? Schedule your free call with our expert now.
ETL/Data Discovery Suites:
Power BI has a robust set of tools for ETL and data discovery as compared to Tableau. Data preparation is 90% of any reporting requirements. Reporting DataMart's can be directly built into Power BI without having to go to third parties.
Custom Visualization:
Data visualization is the key to providing actionable insights. Power BI lets you create your own custom visualization allowing you to explore and display your data in more captivating ways. Apart from creating custom visualizations, you can also download visuals created by the community and Microsoft Business Intelligence. These visuals can be downloaded and used in your reports.
Tableau's in-built visuals may be the best in their class. But being a  market leader Tableau itself does not allow you the flexibility to create your own custom visualizations.
MSFT Integration:
Power BI is tightly integrated with the O365/Azure offerings making it beneficial for shops that run on O365 or Azure. This proves to be a huge advantage for analytics shops that are excel driven, but then again it needs data from the same source as Power BI based reporting.
Q&A Capability:
Power BI is the only product that offers Natural Language Query capabilities. This Natural Language Query is surprisingly robust. You simply have to type a question and Power BI will select an appropriate visualization for you to explore. What's even more interesting is that the visualization chosen may or may not be created by the dashboard's author. This is a game-changing feature that can make data accessibility ubiquitous.
Visualization:
Power BI offers a robust library of visualization types and its open framework allows users to add more visualizations to their collections via office store. Advanced users can also implement d3.js and R visuals. Since it was developed based on Excel, it shares many of the same controls.
Ease of Use/Adoption:
Power BI has a higher adoption rate as compared to all the newbies. This is because anyone who has ever used Microsoft's products before will surely feel right at home using Power BI. Its user interface resembles Microsoft's Excel making it easy for first-timers to navigate. Power BI has an intuitive learning curve and also utilizes Microsoft's DAX query language. Generally, advanced users of Excel are familiar with this language. Although Tableau is easy to navigate once you become familiar with its layout, the marks menu takes time to master.
Ease of Sharing Reports:
Power BI Pro allows users to create and share rich interactive reports on the Powerbi.com service. This makes collaboration amongST team members and colleagues easy. Tableau, on the other hand, has some inbuilt sharing option which lacks customization capabilities when compared to Power BI.
Brainvire believes Data is critical to any business's success, but it is always an overwhelming process to extract meaningful insights. Power BI simplifies this data to the insights cycle from both the adoption and cost perspective.