SERVICES OFFERED

Analyzing your business needs thoroughly and developing precise SharePoint web development services that suit your business requirements is one of our key strengths. We have a certified team who have hands-on experience with each version of SharePoint and Office 365.
SHAREPOINT CONSULTING

Through our SharePoint consulting services, we address the full scope of pre- and post-deployment challenges to ensure proper operation of the end solutions and positive user experience. Connect our expert SharePoint consultant today.

CUSTOM SHAREPOINT DEVELOPMENT SERVICES

Our team of experienced SharePoint professionals is capable of transforming diverse business requirements into highly flexible and scalable SharePoint solutions that will take your business to the next level.

SHAREPOINT MIGRATION

Experienced in the entire migration process from SharePoint On premises to SharePoint online/Office 365 development, or SharePoint On Premises - MOSS 2007, MOSS 2010, SharePoint 2010, SharePoint 2016 and SharePoint 2019.

SHAREPOINT INTEGRATION

We follow popular Microsoft best integration methods and custom connectors to bring the SharePoint features to platform-based and custom apps, for smoothing business workflows, communication, and knowledge exchange.

SHAREPOINT OUTSOURCING

Our SharePoint specialists possess a rich, diverse knowledge of technology and business experience from working on a wide range of IT projects, while offering you a competitive pricing

SHAREPOINT HYBRID ARCHITECTURE

Whether current customizations, third-party solutions or integrated legacy applications, our SharePoint Hybrid Environments for businesses can be a great and a cost-effective solution.

SHAREPOINT HEALTH CHECKS AND ASSESSMENTS

We provide services which can identify issues before they occur, and in turn can save significant time and money, overcome challenges and risks, and ensure adherence to safeguard the quality of the final deliverables.

ENTERPRISE CONTENT MANAGEMENT

SharePoint application development let you create and publish content on intranet, extranet or internet websites in a timely manner with familiar tools and considerably reduces the management cost.

SHAREPOINT MANAGED SERVICES

Being a microsoft gold certified company, our Expert professionals help you to maximize your technology investments by focusing on simplified management of your infrastructure and growing use and adoption of your current and future technology.
We are trusted by brands alike you
Together, let's redefine the experience with purpose-driven solution
Get a Quote
TECHNOLOGY STACK
Being an expert in SharePoint Development, our team Microsoft gold certified consists of SharePoint Architects, Technical Consultants, and Software Developers that assists you in every technological stack of SharePoint as per your business requirements. Hire SharePoint Consultant for defining the seamless workflow for your business.
SharePoint On- Premises
MOSS 2010

SharePoint 2007

SharePoint 2010

SharePoint 2013

SharePoint 2016

SharePoint 2019
OUR EXPERTISE
Custom SharePoint Development for enterprise internal portal
SharePoint Health checks and Remediation
Custom Office 365 application Development
Office 365 Migrations or SharePoint Online Development
Document Management system for Enterprises
End to end Business Intelligence Services & Dashboards
SharePoint Migration Services
SharePoint Farm Architecture Design
SharePoint Intranet, Extranet and Internet Development
SharePoint Managed Services
Dedicated SharePoint Knowledge Management solutions
Business Process Management with SharePoint Workflows

INDUSTRIES SERVED

Business

Healthcare

Financial Sector

Logistics

E-Commerce

Education

Gaming
Our Microsoft Sharepoint Development Portfolio
Proof of Expertise in Microsoft Enterprise Solutions
Our Case Study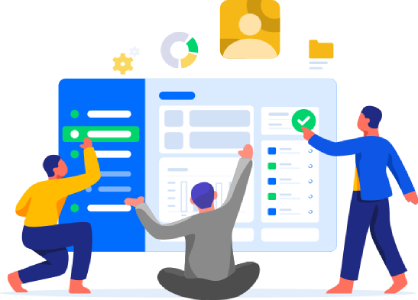 Work Efficiency Improves by 43% Post Launch of a SharePoint-based Intranet Web Application
Brainvire's Microsoft SharePoint consultants brainstormed with the client and suggested the development of a Document and Request Management System, a SharePoint based intranet web application. The system can handle workflow in Document library, HR, Request handling and Event or Appointment Management. In each workflow, a specific group of users is allowed to carry out certain tasks. To ensure that each user can accomplish their task successfully, different access levels are defined in the workf
Learn More