SERVICES OFFERED

Analyzing your business needs thoroughly and developing precise SharePoint web development services that suit your business requirements is one of our key strengths. We have a certified team who have hands-on experience with each version of SharePoint and Office 365.
SHAREPOINT CONSULTING

Through our SharePoint consulting services, we address the full scope of pre- and post-deployment challenges to ensure proper operation of the end solutions and positive user experience. Connect our

expert SharePoint consultant

today.

CUSTOM SHAREPOINT DEVELOPMENT SERVICES

Our team of experienced SharePoint professionals is capable of transforming diverse business requirements into highly flexible and scalable SharePoint solutions that will take your business to the next level.

SHAREPOINT MIGRATION

Experienced in the entire migration process from SharePoint On premises to SharePoint online

Office 365 development

, or SharePoint On Premises - MOSS 2007, MOSS 2010, SharePoint 2010, SharePoint 2016 and SharePoint 2019.

SHAREPOINT INTEGRATION

We follow popular Microsoft best integration methods and custom connectors to bring the SharePoint features to platform-based and custom apps, for smoothing business workflows, communication, and knowledge exchange.

SHAREPOINT OUTSOURCING

Our SharePoint specialists possess a rich, diverse knowledge of technology and business experience from working on a wide range of IT projects, while offering you a competitive pricing

SHAREPOINT HYBRID ARCHITECTURE

Whether current customizations, third-party solutions or integrated legacy applications, our SharePoint Hybrid Environments for businesses can be a great and a cost-effective solution.

SHAREPOINT HEALTH CHECKS AND ASSESSMENTS

We provide services which can identify issues before they occur, and in turn can save significant time and money, overcome challenges and risks, and ensure adherence to safeguard the quality of the final deliverables.

ENTERPRISE CONTENT MANAGEMENT

SharePoint application development let you create and publish content on intranet, extranet or internet websites in a timely manner with familiar tools and considerably reduces the management cost.

SHAREPOINT MANAGED SERVICES

Being a microsoft gold certified company, our Expert professionals help you to maximize your technology investments by focusing on simplified management of your infrastructure and growing use and adoption of your current and future technology.
We are trusted by brands alike you
Together, let's redefine the experience with purpose-driven solution
LET'S GET CONNECT
TECHNOLOGY STACK
Being an expert in SharePoint Development, our team Microsoft gold certified consists of SharePoint Architects, Technical Consultants, and Software Developers that assists you in every technological stack of SharePoint as per your business requirements. Hire SharePoint Consultant for defining the seamless workflow for your business.
SharePoint On- Premises
MOSS 2010

SharePoint 2007

SharePoint 2010

SharePoint 2013

SharePoint 2016

SharePoint 2019
OUR EXPERTISE
Custom SharePoint Development for enterprise internal portal
SharePoint Health checks and Remediation
Custom Office 365 application Development
Office 365 Migrations or SharePoint Online Development
Document Management system for Enterprises
End to end Business Intelligence Services and Dashboards
SharePoint Migration Services
SharePoint Farm Architecture Design
SharePoint Intranet, Extranet and Internet Development
SharePoint Managed Services
Dedicated SharePoint Knowledge Management solutions
Business Process Management with SharePoint Workflows

INDUSTRIES SERVED

Business

Healthcare

Financial Sector

Logistics

E-Commerce

Education

Gaming
Our Microsoft Sharepoint Development Portfolio
Proof of Expertise in Microsoft Enterprise Solutions
Our Case Study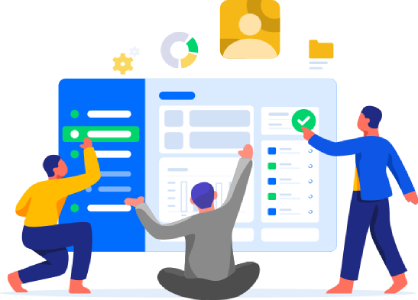 Work Efficiency Improves by 43% Post Launch of a SharePoint-based Intranet Web Application
Brainvire's Microsoft SharePoint consultants brainstormed with the client and suggested the development of a Document and Request Management System, a SharePoint based intranet web application. The system can handle workflow in Document library, HR, Request handling and Event or Appointment Management. In each workflow, a specific group of users is allowed to carry out certain tasks. To ensure that each user can accomplish their task successfully, different access levels are defined in the workf
Learn More

FAQs
What Is SharePoint?

SharePoint is a web-based software that is used to share information about specific projects, documents, or reports with the other members of your team, department, or any other organization that may be on campus or off-campus.

Why should I use SharePoint software instead of a file share?

SharePoint has a document version control, which allows users to review the documents for alteration and then save them accordingly. Users can show the current status of the documents to see who reviewed them. They can receive updates when the document is updated and saved. It also makes it easy to restore a document to its previous state in the event of any problems.

What web browsers are supported by SharePoint?

SharePoint supports a range of web browsers that are widely used, such as Mozilla Firefox, and Safari. However, some browsers can restrict the functionality or are only available using alternative measures. At times, some of the roles might not be available for non-critical administrative activities.

Are the SharePoint plans in Office 365 the same as SharePoint Standard and Enterprise?

No, each program has different features and limitations. Users select a strategy based on their business needs that can make a difference in their company.
How safe is SharePoint shared data?

As part of the Microsoft Office 365 service, it is protected by the same safe network protection policy, specified user access, and physical data permissions. Furthermore, using encryption keys guarantees maximum access to the file. Brainvire is a certified SharePoint service provider that meets the necessary security and software development protocols to ensure optimum data safety.

What services does Brainvire for SharePoint?

Some of our SharePoint services include consulting, deployment, migration, and support. We store a range of SharePoint solutions like hybrid and custom SharePoint app development, SharePoint health check, and architecture building. Overall, we are recognized as a complete SharePoint development company.

Will I need SharePoint training to use it?

To ensure that users have the right knowledge to share documents, set up team pages, manage SharePoint, build applications, or customize workflows — we recommend that users attend training. Training can be performed as part of the User Acceptance Training (UAT) and/or Change Management Program of your project to be supported by your implementation partner.

How would integrating SharePoint into my enterprise improvise my business process?

Integrating SharePoint with one or several enterprise solutions can yield multiple benefits such as: 1. Single content repository 2. Centralized collaboration 3. Extended capabilities of enterprise systems 4. Controllable business flows 5. Successful business processes