ASP.NET Development Services

The best ASP.NET development company, Brainvire specializes in the open-source version of ASP.NET that runs on macOS, Linux, and Windows. As a Microsoft Certified Partner, we offer unparalleled ASP.NET Development Services for implementing Application Development. We are a one-stop solution, be it analysis, design, implementation, testing, or integration of systems.
Equipped with expert developers, we are the best destination for strategic ASP Net Core development capabilities. With our expertise, organizations are empowered to innovate and deliver key differentiators. Leverage the potential of ASP.NET Core with us to build modern, cloud-based web apps on Windows, macOS, or Linux. We offer customized ASP.NET Core web development solutions that will enable you to deliver robustly, high-performance, and reliable solutions to clients across the globe.
MICROSOFT .NET APP DEVELOPMENT

Brainvire offers tailored ASP.NET development services that are robust, scalable, and customized enterprise application solutions. Our effective cross-platform solutions can transform you into a market pioneer.

ASP.NET APPLICATION DEVELOPMENT

Customized ERP-integrated solutions and services are the USP of Brainvire Infotech. Our experts can reform your existing system with personalized ASP.NET B2B and B2C solutions and elevate your business competencies.

ASP.NET WEB APPLICATION DEVELOPMENT

We have distinct expertise in .net application development services. From portal to CMS, our

.NET Core

MVC developers have crafted customized ASP.NET web applications for varied industries.

ASP.NET DATABASE SOLUTIONS

Hire .net developers from Brainvire and experience flawless teamwork across MS SQL server or

MongoDB development

with smooth data migration. Our migration services comprise robust data security.

.NET LEGACY APPLICATIONS

Our ASP.NET development services include re-designing and migrating your existing solution into a .net application. We can use the latest tech stack to develop a functional application.

ASP.NET eCommerce SOLUTIONS

Our team can use NopCommerce to the fullest to design a

customized eCommerce

store for your entity. As an ASP.NET development company, we have the caliber to blend appropriate product range, features, and management.

3RD PARTY .NET CUSTOMIZATION

Our third-party .net customization comprises optimization, API development, web service implementation, UI skinning, and maintenance. We commit to providing smooth and effective integrations.

.NET CLOUD APPLICATION DEVELOPMENT

We have unbeatable expertise in the workspace of ASP.NET Cloud application development and quality hybrid cloud environments. We offer easy-to-monitor and productive web applications for large enterprises.

.NET INTEGRATIONS

Integrations with an ASP.NET solution are likely to enhance the solution's capabilities. Intelligent integrations such as Power BI can improve your firm's data analysis and report-generating efficiency.
Brands Trust Our's ASP.NET Development Services
We can redefine your business journey with a purpose-driven solution.
LET'S GET IN TOUCH!
TECHNOLOGY STACK
As a Microsoft Gold Partner, our team has a strong command over technologies and provides actionable insights. Businesses across industries use Brainvire crafted ASP.Net development and .Net Core development solutions to become a market leaders.
Web Application
ASP.NET

ASP.NET Core

ASP.NET MVC

ASP.NET Web Forms
Custom .NET Development Services
.Net Product Development
Re-engineering Legacy Application via .Net
Net Desktop Application Development
CMS Development and CRM Development
ERP Development Solutions
ASP.NET Core Application Development
Portals and .Net Web Application Development
SaaS-Based Application Development
ASP.NET Core Development Services
Competitive Intelligence Tools and Dashboards
Integration with SAP for data management

INDUSTRIES SERVED

Business

Healthcare

Financial Sector

Logistics

E-Commerce

Education

Gaming
ASP.NET Development Case Study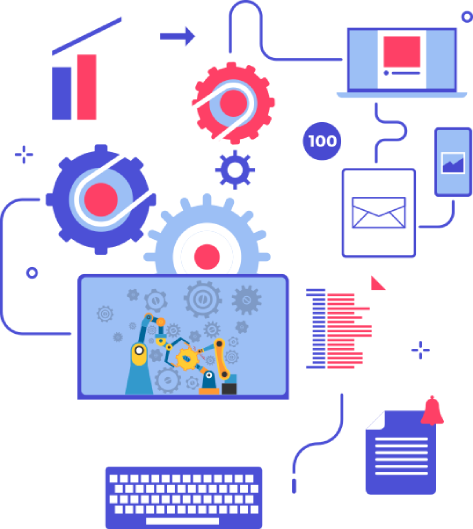 Azure Migration with .Net based CRM Development for World's Leading Equipment Trading Firm
The client's motive behind approaching Brainvire was to get a digital platform that can interconnect its business processes and scale them with unmatched efficiency. Brainvire used Dot NET technology and Azure Cloud Services to align with the client's expectations and business goals. The web platform helps to manage inventory, quotes and orders on a single interface. Furthermore, the client can connect with its existing customers on 3rd-party auction sites and advertise the products. The analyti
Learn More

FAQs
Why should I opt for ASP.NET web development services for your enterprise application?

You can build online, desktop, and mobile applications with ASP.Net as a framework, including cloud-native, gaming, Internet of Things (IoT), and artificial intelligence (AI) centric applications. It is highly robust and, with solid security, can yield better results.

What if I need any improvements or changes to the module that has been developed?

It depends on what kind of modifications you need. We do not charge for any minor improvements, but we will get back to you with a well-prepared plan outlining the scope, cost, and terms and conditions if anything significant needs to be replaced or updated.

How much does creating an ASP.NET web app for my company cost?

It depends entirely on the client's needs and the job's nature. Other considerations that play a crucial role in assessing overall project cost estimates are the technology stack, the number of developers in the development team, the app type, and the interaction model.

Can I hire developers for ASP.NET?

Yes, you can hire ASP.NET developers for your web solutions, ASP.NET web migration, enterprise solution, eCommerce web app development, and advanced web solutions from Brainvire.
Where Is .NET Core Used?

This framework is used to craft powerful desktop, mobile, and web applications. In particular, the framework is famous for developing complex enterprise-scale projects. Besides that, it is beneficial for projects that require cross-platform compatibility. ASP.NET Core is used for cloud development, including AWS, Google, and Azure services.

Why Should I Hire Brainvire For .NET Core Web Development Services?

The benefits of hiring Brainvire as your ASP.NET Core web development company are low latency, high-performance applications, affordable solutions, and smooth deployment. We promise 100% conversions, practical solutions, flexible engagement models, and a responsive and knowledgeable team. Our improved and agile development process makes us more approachable.

How Much Does It Cost To Build An ASP.NET Core Application?

The cost of designing and developing a.NET Core software depends on various factors, such as the number of features, app complexity, form, app category development priories, and developer country. Talk to a Brainvire expert about the cost of .NET Core applications.

What's the difference between ASP.NET and ASP.NET Core?

ASP.NET Core is part of ASP.NET. Earlier it was called ASP.NET 5, but then it was changed to ASP.NET Core. Regarding features and benefits, ASP.NET Core has a lot more to offer than ASP.NET 4x. ASP.NET Core works on various systems like macOS, Windows, and Linux, whereas ASP.NET 4x is built for only Windows operating systems.