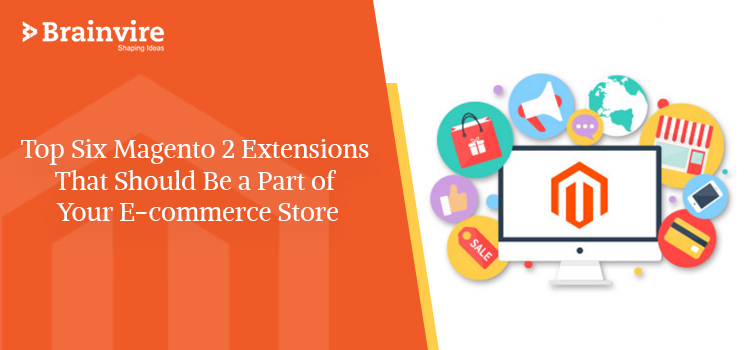 Talking about Magento Ecommerce Development, Magento is a role model when it comes to rolling out modern, flawless e-commerce platforms. The plethora of add-ons and extensions that come with it is an added advantage for the expanding e-commerce community. One of the greatest benefits offered by this popular eCommerce platform is the ability to change the look, feel, and functionality through custom extensions and modules.
When Magento 2 was released in 2015, it unveiled a new set of features and benefits for the end users. The data filtering was improved and the site navigation was organized in a better manner. With an excellent hosting environment, it has added value to the e-commerce business.
Here are some of its proven stats:
Page loads in Magento 2 are 50% faster than in Magento 1.
Magento 2 can also handle up to 39% more orders per hour.
It boasts of 66% faster add-to-cart times than Magento 1.
Magento 2 can deliver nearly instant server response times for catalog browsing.
Magento 2 can handle more traffic, up to 10 million page views an hour (Magento 1 can process 200,000 page views per hour).
As an e-commerce store owner, you can complement these benefits of Magento 2 with custom extensions. A Premier Magento Development Company is developing such add-ons based on current market trends and consumer behavior.
In this blog, I will discuss six of the most sought-after Magento extensions that can fetch better returns for any online store.
One-step Checkout
Modern customers want a simplified and quick checkout process. A complicated check out process generally results in high abandoned cart rates. The Magento One-step Checkout extension reduces the six-step checkout process in Magento to a single step.
Salient features:
Enable customers to add multiple products and complete the purchasing process in just one transaction.
Enable and disable shopping carts to speed up the checkout process.
The extension also enables a checkbox for customers to subscribe to newsletters.
Enabling and disabling of address fields, and set them as either mandatory or optional.
It allows customers to enter comments on special requirements for the orders they place.
Features for auto update of prices, taxes, and totals when selecting a shipping or payment method.
Responsive design to support mobile devices.
Want to convert your idea into a successful app or website? Schedule your free call with our expert now.
Testimonials Extension
Testimonials add value to a brand's credibility. With the Testimonials extension, you can easily manage all of your customer reviews. This extension enables an option for your customers to add testimonials to your site. Customers can write reviews for your products and provide feedback on the services.
Salient features:
Add testimonials from the admin panel.
Show the customer testimonials in the side box or on a separate page.
Admin can configure the location of the testimonials.
Upload images and videos as desired.
Easy to install and upgrade.
Order by SKU Extension
The 'Order by SKU' extension lets users order products in bulk by entering the SKU code and quantity required. It helps you to search for the products and add them to the cart quickly. You can save the time and effort required in searching for individual products manually.
Salient features:
Add multiple items to the cart in just a few clicks by adding the CSV file which contains SKU and quantity of the product.
Displays the SKU, name of the product, quantity as well as the price.
Support simple, virtual and downloadable products.
Easy to install and upgrade.
User-friendly interface.
Supports translation.
Social Media Extension
The social media extension for Magento is a combination of Facebook, Google Plus and Twitter extensions. Users can connect to your store by signing in with their Facebook, Google Plus and Twitter accounts.
There are five types of social media extensions – Facebook Connect, Twitter Connect, Google Plus Connect, Facebook Fanbox, and Latest Tweet. The exact location of the fan boxes and tweets can be configured by the admin.
Gift Card Extension
Gift cards and rewards are a hot pick amongst online customers! Magento Gift Card extension allows you to buy online gift cards for your friends and family. They can then use these gift cards to pay for products purchased at your store. This process adds more customers to your sales funnel. So it is a win-win situation for all.
When ordering a virtual gift card, a code is sent to the customer's email address that can be used at the time of purchase. If a customer orders a physical gift card then it is exported for printing. The unique number is linked with the customer's credentials and can be redeemed according to the set conditions.
In order to provide these benefits to the customers, the store owner must create a Gift Card Code Pool. Every gift card is assigned a unique code and it can't be duplicated.
This extension complies with the Magento Standard Workflow.
Store Locator Extension
Most of the online stores have their exclusive brick and mortar outlets and this extension locates such stores easily.
The Store Locator extension displays a detailed list of stores. The Map view makes it easier for the customers to find the nearest store around them. As all the contact details of all the stores will be available at a glance, customers can contact them instantly. The admin can manage multiple stores from the backend. They can add, remove or update the store details in real time.
Salient features:
Customers can get the address, phone number, email id and fax of stores to contact them directly.
The working hours of stores can be updated by the admin.
Customers can fill in a contact form to get in touch with the stores.
Customers can also filter the number of stores in a particular city using ZIP codes.
Summing it Up
The primary motive for integrating your Magento store with extensions is to enhance the shopping experience for your end users. Selecting a Magento marketplace extension with the right set of features can get you ahead in fierce competition. So gear up to transform your Magento experience by hiring an Ecommerce web Development Company by dropping in a mail to info@brainvire.com.