When it comes to marketing, there are two things we need to know it for sure:
You have to do it anyhow.
It costs money. Sometimes more than what you have thought.
And, if your name is included in the list of big brands like Adidas, Coca-Cola, Nike etc. that advertising cost might not matter that much.
But, if you are one out of 27 million small businesses across the country, then you probably don't have that much cash to spend on brand marketing, which means every single penny spent on your ad budget needs to be count.
So, What to Do Now?
How to Market Your Business When You Have a Limited Budget to Spend At First Place?
To Be More Precise, How To Market Your Business Effectively?
Before you begin your journey towards marketing and finds any digital marketing agency, these are some primary concerns that need to be answered.
Today, social media has been the game-changer in almost every industry. With the birth of social platforms, custom targeting of prospective customers has become easier than before. Gone are the days where business used to spend millions to reach their prospects. The influence of social media marketing agency has enabled people to promote their business by spending a minimum amount. But, with so many social media promotion channels available, which platform is best for business?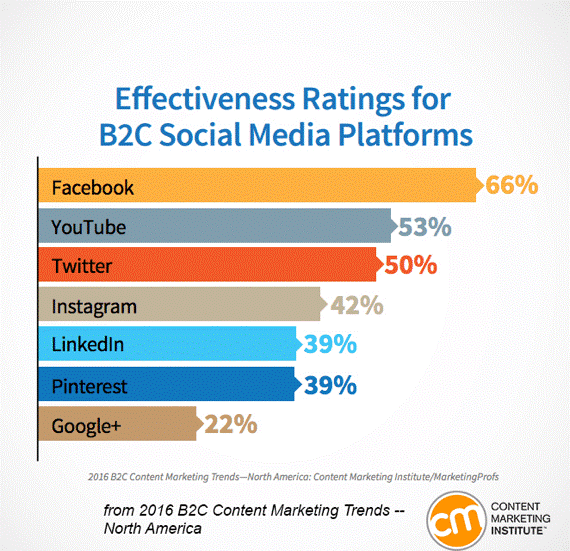 Source:socialmediaexaminer
With more than 1.60 billion active users, Facebook is one of the biggest advertising brands that comprise the largest blend of demographics on any social media platform.
But Why Facebook Advertising? What Makes Facebook Ads So Effective?
Let's take a look at why Facebook ads work is such a powerful and alluring option for digital marketers.
Your Audience Is On Facebook:
With 1.9 million audience worldwide and 22 billion ad clicks per year, Facebook is offering business with largest advertising opportunity since search.
Facebook Ads Are Cheap:
Facebook ads are like free and relatively cheaper as compared to other platforms.
Helps You To Find New Qualified Leads Easily:
With "lookalike audiences" feature, you can opt to take a custom audience and Facebook will reach new people similar to the kind of audience.
What Facebook Ads Exactly Offer To You?
Facebook has opened a door to:
Building Relationships with Prospects
Reaching Out to New Customers
Showing the Human Side of the Business
Gaining Trust
So, if you have a business, we would highly recommend spending efforts in web optimization, ppc management services, and quality content creation.
Figure Out Where to Spend Your Time on Facebook
Facebook makes it easy for people to earn money. One of the biggest examples is Facebook chatbot that allows app development companies to generate more leads and increase their user base. The nice part about this is, you'll be able to capture REAL PEOPLE who have a genuine interest in what you are doing. So, set up a plan and utilize one of the Facebook's methods of building your audience.
Facebook Options for Advertising
Link click Ads
Video Ads
Boosted Page Posts
Facebook Lead Ads
Page like Ads
Page Post Photo Ads
The Bottom Line: Yes, Facebook Ads Works!
If you are trying to figure out whether Facebook ads work or whether it is right for your business or not, this blog shall put all your concerns at rest. So, keep up and beat your competitors with effective Facebook advertising!