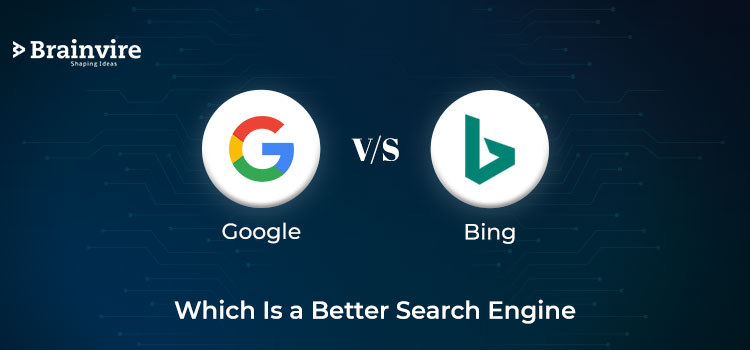 When you think of search engines, the first thing that comes to mind is probably Google.
Fortunately, search engines have changed the way people seek information. While all search engines have a similar feel and appearance, they are not the same.  Google and Bing are without a doubt the world's most well-known search engines.
So far, Google has become the preferred search engine in many Western countries. As a result, Bing has expended considerable effort to keep up with this colossus.
Microsoft Bing
Microsoft first launched the Bing.com search engine in 2006. Before being renamed Bing in 2009, it was known as Windows Live Search. 
Windows Live Search was initially launched to compete with Google's search engine.
Following the launch of Bing, the first and most significant update was dubbed "Tiger." It is worth noting that, in comparison to Google, Bing.com's algorithm is not updated regularly. This is critical because changes in the algorithm can have an impact on your website's ranking. 
Want to convert your idea into a successful app or website? Schedule your free call with our expert now.
Google
This search engine was developed in 1998 by a search firm with the primary goal of analyzing backlinks authority. Google has expanded to provide more than 50 internet services over the years. 
Its initial service (backlinks) helped propel Google to its current position as the industry leader. Google's algorithm changes more frequently than Bing's. This includes everything from major updates to minor tweaks. As a result, Google's search engine page remains as good as it can be.
Google is an absolute powerhouse that dominates the global search engine industry. Between June 2019 and June 2020, Google had 91.75 percent of the global search share. Bing came in second with 2.75 percent. During this time period, other search engines such as DuckDuckGo and Yahoo had less than 40% of Bing's market share.
However, there is no difference between Google and Bing in terms of basic search functions. Both can help with text, video, image, and map searches, as well as a shopping feature and news feed. However, there is no difference between Google and Bing in terms of basic search functions. Both can help with text, video, image, and map searches, as well as a shopping feature and news feed.
The Difference Between Google and Bing
While they both serve the same purpose, there are some significant differences between these two search engines. Even though the two search engines offer paid advertising to their users and use very similar ranking principles, the organic results for the same phrase will be drastically different if you search for it in each of them.
Technical SEO
From site speed to mobile-friendliness, different technical factors have been explained in both Bing and Google's ranking algorithms.
As a result, as you invest in optimizing the site's behind-the-scenes structure and its on-page technical SEO. This implies that you will almost certainly receive positive search results from both Bing and Google.
Even so, there are a few discrepancies between these factors that many people consider to be important.
Organic Search
The algorithms used by Bing and Google are opposed. They, however, seek out content that is best suited to the needs of the users. As a result, if you optimize for both Bing and Google, there will be significant overlap. High-quality content must be prioritized by brands. 
Bing prefers established content that has received a significant amount of traffic or has been online for a long period of time. This preference is also reflected in Bing's preference for top-level official domains such as.edu and.gov. Google, on the other hand, values popular or even commercial websites equally.
Even if you can't optimize your website for both search engines based on these preferences, comparing their results is essential. 
Schedule your free call with our Google certified SEO expert now.
Off-Page SEO
It is worth noting that Google's ranking system began as a Ph.D. project called BackRub. In this project, backlinks were used to establish relative site authority. Nonetheless, Google's primary method of ranking websites remains backlink analysis. As a result, the more links your website has, the more authoritative it is overall. The more prominent it appears in search results, the better.
Even if backlinks are still a ranking factor, Bing places less emphasis on them. Although backlinks are important for Google SEO, there are several significant similarities between how both search engines treat backlinks. When determining authority, both search engines consider not only the number of links but also their relevance and quality.
Mobile-First Indexing by Google
It is critical to understand that Google ranks and indexes your website using a mobile version. As a result, all metadata and mobile content must be fully optimized to match the desktop version.
The mobile-first indexing approach will be implemented on all sites by the end of 2020, according to a recent announcement. If your site still has a mobile version, it is critical that it is properly optimized. Furthermore, wherever possible, enhance the mobile user experience.
Maps
Google Maps and Bing Maps are both critical components of Google and Bing, respectively. These map functions are widely used, so they have become central to Google and Bing's offerings.
On the surface, it appears that Google Maps and Bing Maps have few visual differences in their user interfaces. Both map functions include a knowledge panel with information about a business or the area. The most noticeable difference between Google Maps and Bing Maps is in the directions that each provides. In addition, the estimated travel time and route information differ between the two web mapping services.
It appears that Google provides slightly longer estimates: with this disparity, Google tends to add about 3-5 percent to a Bing-provided estimated journey time.
Voice Search
Voice search has quickly emerged as the newest digital obsession. According to Social Media Today, nearly half of people now use voice search for product research, with Google recording a 35x increase in voice searches since 2008.
Google launched its home devices in mid-2017. This helped them make up ground lost to Bing, which was undeniably the voice search feature frontrunner. Nonetheless, Amazon maintains a 70 percent market share in the home speaker market. This, in turn, helped propel Bing into the spotlight.
This functionality gave Bing a huge opportunity, allowing it to gain visibility from previously covered points. As a result, consider how your customers' interactions with your brand will change as you optimize your website for voice search.
Which is Better -Bing or Google?
Despite the fact that Google is the undisputed leader in search engines, Bing is always improving. There is an increasing number of issues concerning privacy, corporate responsibility, and business ethics. As a result, Google may lose market share to Bing and other similar competitors in the future.
Bing and Google are only a small portion of the search engines available for general internet usage. However, if you develop a better understanding of the two, advertisers can capture the lion's share of internet searches. As a result, both platforms have value. As a PPC agency that offers expert digital marketing services, we recommend utilizing both platforms as part of an integrated digital marketing solution. Each search engine, as previously stated, has its own set of advantages, disadvantages, and target audiences. As a result, sites will frequently achieve the best overall performance by combining the two while serving their ads to different user groups.