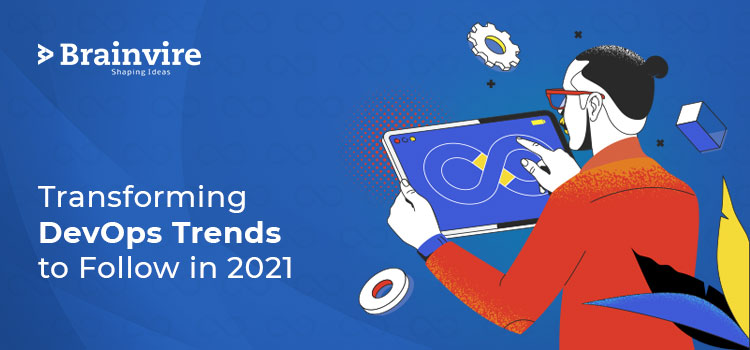 DevOps is a leading intuitive technology and has gained tremendous recognition recently. No wonder an increased number of businesses have adopted this technology and make wise use of it.
USD 10.31 billion is the predicted market size of DevOps for 2023. A DevOps consultant is the best person to guide you about the implementation and effect of this technology on your business.
In this extract, we will share light on the following topics:
Understanding DevOps
Cutting-Edge DevOps Trends for 2021
Understanding DevOps
If you observe DevOps closely, then you will realize that it is an exceptional combination of modern and culture-oriented approach. As the name suggests, it is an innovative combination of development (Dev) along with Operations (Ops).
As a fresher, you can overlook the fact that Continuous Delivery (CD) and Continuous Integration (CI) play an integral role in DevOps. These two pillars automate practices along with quick interactions to enable a supreme product.
DevOps has the potential to provide you a niche product at a swift pace, with a brilliant customer experience, and increased ROI. It concentrates on constant development and quickens the time required to market the app.
This is the main reason why experienced DevOps engineers contribute to the IT scenario and there is a rise in DevOps certifications.
Want to convert your idea into a successful app or website? Schedule your free call with our expert now.
Cutting-Edge DevOps Trends for 2021
With time, DevOps has evolved to a large extent and discussed here are some interesting ways in which it can reform your business-
DevSecOps- The New Synonym of Integrated Security
From the inception, DevSecOps focused on the infrastructure security and the app. With the important security feature ingrained in DevOps, DevSecOps now concentrates on data sharing and privacy norms.
The DevOps team aims to adapt the new normal of integrating security from within. Automating security right from the start in DevOps can provide you a dependable, secure infrastructure, and an inexpensive solution.
You can setup a robust solution that can save you from threats and unwanted cyberattacks.
You will have assurance that the software has a powerful security standard based on the latest concepts and tools and integrated security measures.
Step into the Future with Kubernetes
Kubernetes is a reliable container platform that can manage-
Container-related services
Workloads
Scale-containerized apps
Power deployment
In the past few years, there has been a strategic growth in demand for Kubernetes and the same can be predicted in the near future. Organizations that are in search of swift software delivery prefer Kubernetes.
Now, why do they prefer Kubernetes?
The primary reason for this preference is Kubernete's competency to modify cloud-based applications with the help of container-based Microservices. There is a surge in the use of APIs in the integral Kubernetes.
Simultaneously, the use of containerized portions of the server in the cloud has restricted the need for infrastructure.
Cloud-Native Environment Holds More Significance
Cloud-native computing is the most practiced approach to create apps and alongside optimize the computing process.
Cloud-native apps consider app development along with container-based services, deployed as Microservices, and all this is carried on through the DevOps processes. One of the most recognized platforms for this is Kubernetes.
This contemporary trend has resulted in transformation on the business front. The trust in cloud computing improves configuration. An increased number of IT giants recommend DevOps due to its modern methods such as Microservices.
A recent study indicates dual-fold increase in the use of cloud-native technologies.
Low Code Smart DevOps Solution is the Go-To Option
With the least coding effort a supreme-quality application can be developed. In case you are in search of a quick business offering and want to gain returns in minimum time, then this is a perfect choice.
Developers can use an appropriate GUI with drag and drop components to build such apps. Soon you will come across low code DevOps apps that are based on visual programming, model-driven design, and automated code generation.
The exclusive amalgamation of DevOps and low code development can accelerate the development speed and ease communication among teams. Developers can make optimal use of a user-friendly interface with the help of modern tools and realize the power of technological advancement.
Optimize DevOps with Go Language
Developers have befriended Go language which is powered by Google. The DevOps community prefers this language because it has
Good vocabulary
Open-source nature
Light-weighted
A couple of DevOps tools make optimal use of this language. They work the best in the serverless computing environment. It offers consistency, smart solutions rapidly, along with high-end result orientation.
The Dynamic Part of ML and AI in DevOps
AI and ML have explored all potential arenas of the tech realm. Almost every industry vertical has gained fruitful results through the implementation of AI and ML or its related algorithms.
DevOps is not far from it and following suite with its augmenting test cases and quick speed capabilities. When DevOps is coupled with AI and ML it highlights a different perspective of the problem and suggests a unique solution for the best outcome.
This has resulted in the inception of new terminologies such as AIOps and DataOps, to name a few.
Utilize Infrastructure as a Code in the Cloud
Infrastructure as Code allows you to manage all the infrastructure in the cloud. It is comparatively simpler to operate the entire infrastructure from the cloud. The version control system allows DevOps developers to review the last configuration.
This promises speedy recovery and reduced downtime. The successful implementation of infrastructure as a code in the cloud setup requires a stringent observation process to obtain the much-needed results.
Perks of Serverless Computing
Serverless cloud computing is often referred to as Function as a Service. This is an important future component and is gaining popularity among the DevOps community. Quite contrary to the traditional hosting servers, this doesn't have to be managed and provisioned.
Leading serverless cloud computing technology providers such as Microsoft Azure, Google Cloud Platform, Amazon Web Services, etc. offers-
Improved scalability
Rapid deployment
Improved user experience and productivity at a minimal cost
This is likely to influence the future of DevOps positively and you can witness a glimpse of it in the future.
GitOps is Gaining Fandom
Today, developers prefer using Git as the unified source of information and the DevOps workflow as the follow-up action. GitOps has replaced the traditional DevOps workflow.
The new model introduced a couple of updates to the Git repository through varied pull requests and eventually pushed the main infrastructure. This has a direct impact on deployment and downtime. The downtime was reduced and the deployments became faster.
Apart from this, DevOps has also improved the use of automatic software testing tools. This is possible with the help of an error-free and smart software. DevOps has the potential to accomplish the need of quick execution of test cases.
DevOps is a progressive solution that can create a balance between testing tools and the much-needed responsiveness.
Alongside, Azure consultancy can also help businesses to select and optimize the use of the right technology. They can further obtain a robust and effective software solution.
The DevOps community has stepped into the future with the latest technological advancements. It's time businesses make note of it and reach out to DevOps experts to seek assistance.