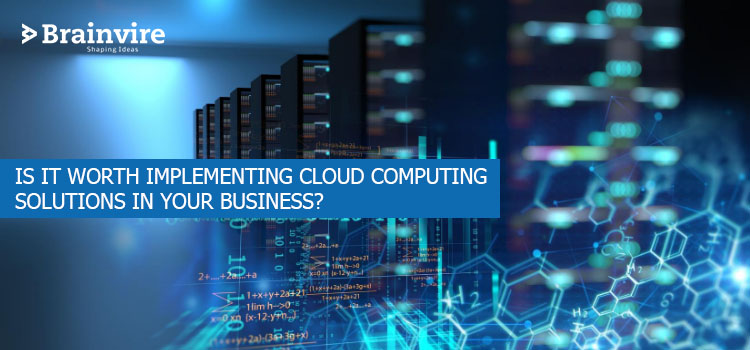 Today, cloud computing has become all the rage and it is expected that its global market would reach nearly $623bn by the year 2023.
Many IT businesses have already started leveraging cloud-based applications compared to the on-premises ones, whereas the non-IT companies are slowly switching to these cloud computing services. 
At Brainvire, our software development solutions prove this ongoing trend – nearly 80% of our development projects are conducted using cloud technologies.
In this blog, we'll be sharing our insights on choices your business has while creating and launching cloud apps along with the benefits offered by cloud solutions.
Here is a gist of what we'll cover:
The Cloud Deployment quotations – Public, Hybrid, or Private
What are IaaS, PaaS, Serverless, SaaS iused for?
Benefits of Choosing Cloud Computing Solutions
Let's get started!
The Cloud Deployment Questions – Public, Hybrid, or Private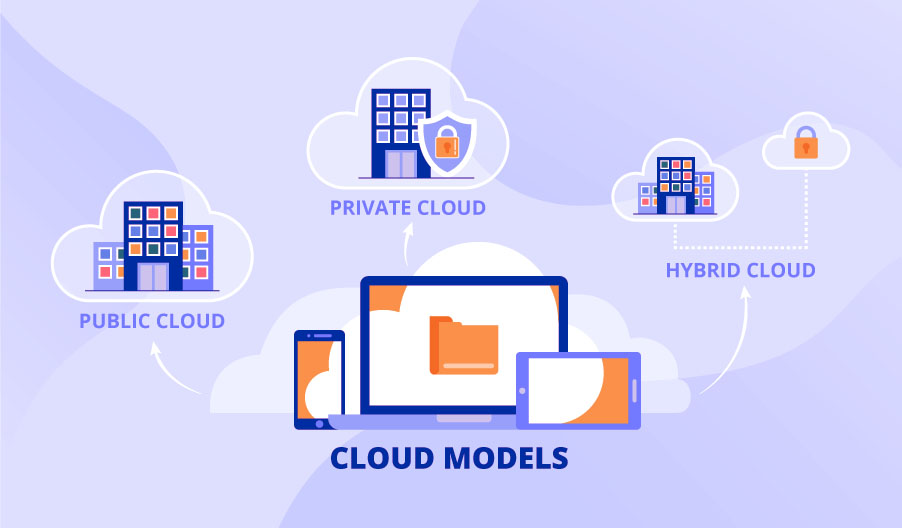 Public Cloud
With a public cloud, service providers like Microsoft Azure, Google Cloud Platform, or AWS provides you with multiple resources such as networking and monitoring capabilities, virtual machines, and cloud storage either on a pay-per-usage or subscription basis.
By leveraging this cloud deployment model, you can rest assured that the entire responsibility of management and maintenance of virtual machines, cloud servers, and storage is taken by the provider itself.
At items, the public cloud has been linked with inflexibility and insecurities because of its multi-tenant feature. However, with a proper tenant module, this cloud model can be highly secure and flexible while ensuring all your valuable and confidential data is in safe hands.
Want to convert your idea into a successful app or website? Schedule your free call with our expert now.
Private Cloud
The primary concept of this cloud deployment model is that it can be leveraged completely by one business.
Another incredible benefit of private cloud is its exceptional security level, which ensures that a robust firewall system is hosted at times while deploying the cloud on a remote network.
But, if you are an SME and have budget constraints, then this cloud model could turn out to be a little high-priced for your business.
It is definitely expensive to deploy your solutions on the public cloud since its management, upgradation, and maintenance of hardware, software and data centers will be completely on your team. But you can take the pressure off your team's shoulders by leveraging services that offer you on-demand hardware capacity on a pay-per-usage basis.
Hybrid Cloud
Hybrid cloud provides you with a blend of private and public cloud services. This cloud deployment model enables specific services, data security for example, along with its benefits that are otherwise not available on on-premises services.
When compared to public cloud, hybrid cloud offers more flexibility as you no longer have to rely on third-party services.
With this cloud model, you receive a unique process for data security since you get to store your information in a private environment while leveraging the public cloud for recovery and data backup.
The primary challenge of the hybrid cloud is that you have to make sure you've got a stable network connection with seamless data transfer.
What are IaaS, PaaS, Serverless, SaaS used for?
IaaS
IaaS (Infrastructure as a Service) offers businesses a secure environment to build all their apps on the cloud. This cloud computing solution also provides multiple resources like network services, virtual machines, and storage.
With Infrastructure as a Service, your organization can easily prevent huge expenses since you only need to pay for the services being used.
Another amazing benefit of this solution is that you get access to any of its resources in just one click – you just need to buy the necessary infrastructure component. So by selecting IaaS, you can smoothly and quickly deploy all your apps on the cloud.
PaaS
When you select PaaS (Platform as a Service), along with its operating systems and cloud storage, you receive other ready-to-use resources for building, customizing, testing, configuring, and managing your apps.
These resources may include AI services, databases, or app integration solutions.
This cloud computing model is prominent among businesses since it helps reduce the time-to-market, coding time, and all the other overhead expenses of software development.
Serverless
The serverless cloud model enables you to quickly develop and scale up your apps. Since you don't have to rely on those virtual machines – the cloud automatically implements the required code without you having to install any feature.
This deployment model is also cost-efficient as the service provider asks you to pay only for those resources that are required for code execution.
SaaS
In the Software as a Service (SaaS) model, you need to subscribe to the software that is hosted on the public cloud.
With this model, your business doesn't have to develop solutions from scratch; instead you can look for already-built solutions to fully customize and configure it as per your requirements.
The SaaS model is an excellent option for an array of business requirements like accounting, HR, marketing, sales, etc. Some leading examples of SaaS are Office 365, Salesforce, and Microsoft Dynamics 365 Online.
Benefits of Choosing Cloud Computing Solutions
Scalability
The biggest advantage for businesses taking up cloud computing solutions is autoscaling. This means your virtual machines will automatically change based on the current load. However, you must be cautious and ensure that you aren't paying for resources that you never required or used.
Cost-Effective
Cloud computing services can accelerate your application development and deployment process, given you no longer have to write custom codes for them. This further helps you reduce both the financial resources and manpower.
Switching to the cloud can also assist in managing the apps in a more efficient manner while lowering the overall maintenance expenses. This means you do not have to purchase additional tools or maintain the hardware once your business starts expanding.
Complete Access to Latest Technologies
Along with working on deploying new services, the cloud service provider also delivers an array of solutions that are based on state of the art technologies like Machine Learning (ML), IoT, AR/VR, and Blockchain.
For instance, Microsoft Azure provides you an ML studio whereas AWS offers an Amazon SageMaker for improved ML application deployment.
Leverage Cloud Computing Solutions
Cloud computing services are extremely beneficial for businesses of all sizes. But, you must not underestimate the experience and knowledge that's required to execute and deliver such solutions.
The in-house team should have experience in DevOps, knowledge about the features of Azure, Google Cloud Platform, or AWS, and accordingly, establish robust security measures. If your team doesn't have the required expertise and experience, then feel free to get in touch with Brainvire today!