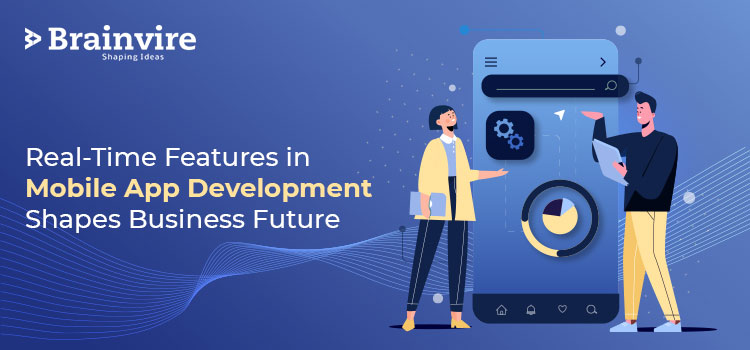 The rise in demand for intelligent apps has resulted in the development of complex apps with an increased number of features in a single app. Earlier, a logistics company required a simple transportation management solution that can manage transportation. 
Today, logistics companies need a comprehensive mobile app solution that can overlook all activities of the business. Developers have to constantly search for advanced features, designs, and functionalities to keep the app updated as per the industry.
This search resulted in the inception of real-time features that can provide updated information about your business activities. Irrespective of the industry vertical you belong to, real-time features are quite a in demand. A good mobile app development company will train you to make the most of this intuitive feature. 
In this extract, we have discussed the following real-time features:
Key Challenges of Real-time Apps
Prominent Real-Time Features for Your App
Stepping into the Future with Real-Time App
Key Challenges of Real-time Apps
App development is not a cakewalk and hence it involves a lot of research and challenges. When you hire mobile app developers, they are likely to highlight the advantages of real-time features but not the challenges involved in it.
We have shared here a few significant challenges that are involved to build real-time apps:
Want to convert your idea into a successful app or website? Schedule your free call with our expert now.
Balancing Between Different Chat Service Components
The chat service component is accessible across different locations such that the presence of chat messages is available all over the app. Developers have to create an extra partition in the topology while deploying the app. 
This results in the inner and outer partition in the app. The inner partition manages chat service components while the outer partition handles connectivity between the app and other components.
The app runs through several user messages and syncs other chat components which increase the complexity level. 
Handling Views Across Different Service Components
The challenge to strike a balance between chat service components leads us to another problem to maintain uniformity across all instances. For instance, the chat message app indicates if the user is online or offline. 
However, this is possible in the case of a single chat service component being used in the app. With multiple components, the status of all users gets synced across all the chat service components. This is a large task to attain since the chat service component scales horizontally.
Assigning Chat Service Components as Per Regional Volumes
It is essential to determine the load on each service component to develop a scalable system. For instance, multiple users logging in from a particular location may be difficult to handle for the single chat service component due to vertical scaling.
A single service component is less favorable due to a single point of failure. To overcome this challenge, you need a balancer that can create an equilibrium at each location. 
You need a balancer that can disperse chat traffic across multiple chat service components. An experienced developer can define a set of protocols that can be laid for chat service components based on the increase in traffic. 
These protocols must be capable of syncing the existing components to enable smooth data synchronization.
Improved Access and Security Control
Security is a major concern for every entrepreneur when it comes to mobile apps. On the global front, the issues of access and security control hold tremendous significance. 
Forbidding access to hackers, restricting unauthorized users, or surpassing DDoS attacks via rogue users is considered to be the primary need. Security has never been a minor concern and when it comes to a vast network it holds more importance.
Developers add a customized and special layer of security protocols on the outer edge of the network to restrict any possible misconduct. Adding this robust security layer is an extra challenge for developers since it increases the complexity of the chat service components and also the inner partition. 
Prominent Real-Time Features for Your App
Real-time features are no longer an option but must for a useful app. Today, developers have access to numerous real-time operating modules and all of them concentrate on managing the system.
Discussed here are some important real-time features that you can include in your app:
Real-time message services
Today, users request real-time data and hence developers are requested to prioritize real-time features and functionalities while designing the app. The real-time message feature has turned out to be yet another important real-time feature in modern apps.
This feature is popularly regarded as the base of instant messaging. 
Live Stream
Modern businesses have a long-term vision and this is clear with the need for a live streaming application. Real-time live video streaming allows users to stay updated with the latest activities. 
This mindful approach allows mobile apps to generate and transfer data to users. This approach enables effective user interaction.
Push Up
Have you come across tiny pop-ups when you log in to any app? These are known as push notifications and are visible on the app in the notification area. Occasionally, these notifications also highlight data received from the web. 
These notifications keep users updated about the latest changes with a hint of a personal approach. 
Current Order Status
Several industries such as logistics, warehouse, and shipping to name a few have reaped the benefits of this real-time feature. The ability to track the current location of your order is an add-on benefit for several companies. 
It allows entrepreneurs to coordinate better and ensure timely delivery. Above all, these features allow users and business owners to check the updated status of their orders.  
Real-Time Communication
Smartphones are the best option to interact across the globe. Services such as video and audio-calling, pre-calls, instant messages, quick sharing of photos, and documents have become mandatory. 
Real-time services are what restaurants, as well as social media platforms, have started offering to their users. Social media platforms such as Snapchat, Facebook, and Instagram to name a few offer real-time feeds and live video facilities. 
Users are instantly notified of any live video session or content posted through their feed. 
Collaborate with Multiple Users at the Same Time
Real-time features in mobile apps also facilitate deleting, editing, adding, or updating data for multiple users at the same time. It also enables execution of tasks including multiple team members and gains instant feedback on the posted data. 
IoT Device Manageability and Integration
With the evolution of real-time technologies, several developers prefer the integration of real-time features with IoT mobile apps. IoT is an ideal example to showcase the capability of real-time systems.
You can have a glance here:
IoT devices and sensors accumulate all the data.
Wi-Fi and cellular networks can share data to cloud storage swiftly.
Advanced IoT software has data analysis capabilities.
Data is accessible to the user securely.
In case of any errors, the user is notified through an email or text message instantly. 
Stepping into the Future with Real-Time App
With time, modern and customized architectures are designed for mobile apps. These architectures provide real-time features to enhance user experience. Businesses aim to provide experience-driven apps that can help win and retain users. 
Companies concentrate on interactive apps that can help them learn about user demands to bridge the gap between customer desire and company services.
The ultimate vision of any company is to suffice customer needs and gain revenue. 
Call us to know more about real-time features for mobile apps.