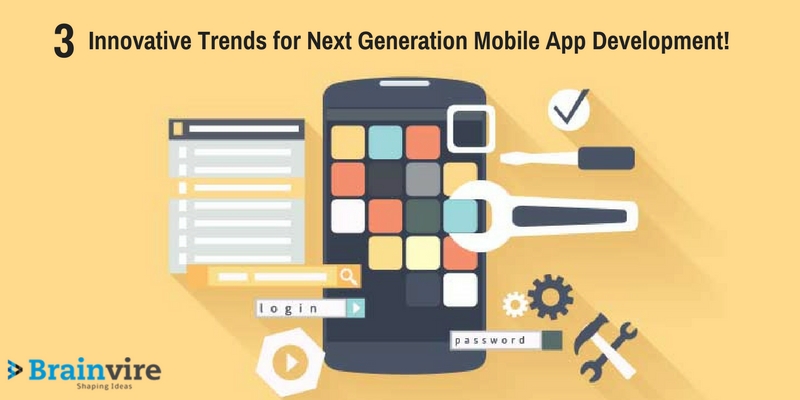 Talking About 3 Innovative Trends for Next Generation Mobile App Development, It's quite hard to see changes, especially when they have advanced gradually. Earlier, business and enterprise have just set its mark with the mobile journey. They have to learn what it takes to develop an app that supports multiple platforms, how to leverage mobile app features and capabilities, how to distribute applications in multiple app stores and the list goes on.
Today, companies have learned to incorporate various mobile features and have been largely successful in overcoming all the basic challenges. With the passing years, the revenue generated by mobile app industry has skyrocketed and the technology is growing more functional and sophisticated with no signs of letting up.
Though applications backed by the latest technologies such as Artificial intelligence, cloud-driven mobile apps, AR & VR have highly gained popularity in the current market still, marketers are looking forward to bring more innovations in the mobile app development to enforce more customer engagement in the app. So now, as the basics are mastered along with the implementation of some latest technologies, let's dive deeper to enter the new phase of innovations. Here are the trends that will transform the app we use:
1.  A Journey from Primary Mobile Channel to Interactive Omnichannel:
Mobile is the first and the primary channel for consumers to interact with various products and services. With the expansion of digital interfaces like mobile, web, chatbot and wearable, it's clear that enterprises must learn how to interact with the users across these touch points. The fact that user experience is divided across multiple channels is not a challenge but an opportunity where each and every touch point is exploited for a particular convenience. So, in order to leverage seamless experience across multiple channels, mobile app developers need to develop a standard and synchronized application by customizing front-end experience for each form.
This will not only streamline the entire development pattern but also enable reusability and cross-channel interactions. For instance, a user can initiate its vacation booking from the web, continue its hotel reservation from a smartphone device, and then receive the flight confirmation notification on his/her smart watch. Later on, he/she access the rest zone with the smartphone where his booking status is identified and the door is unlocked.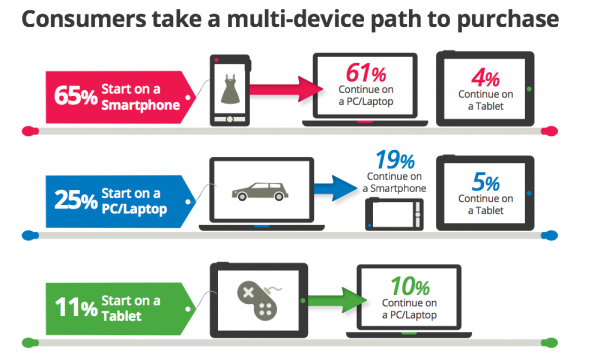 Source: B2B Business Community
Here, multiple channels are working together to provide a seamless experience to the users. Quite amazing isn't it? Moving forward to the main question,
How Are This Omnichannel Touch Points Working Collectively To Leverage Synchronized User Experience?
Talking About 3 Innovative Trends for Next Generation Mobile App Development, These Omnichannel touch points work collectively by developing a common set of micro services in the backend that decomposes and isolates all the features. This will not only automate the entire delivery system, but it will also auto-scale multiple features independently to the application as per its needs and demand. Breaking down of micro services into a standalone feature can result in integration with particular channel experience, without deploying an entire new-backend; reusing capabilities across multiple channels.
2.  From Pre-Defined Interaction Patterns To Customer Engagement:
Earlier, mobile app development seems to be like "me-too" kind of entity that imitates web interaction patterns with an add-on mobile flavor like push notifications; invoking people to use the app. However, a mobile is completely different kind of interaction. Instead of app commanding when and how users should accomplish a task, it should allow consumers to choose when and how they want to get engaged with the app and guide them later as they try to accomplish a particular task.
For instance: A banking app can inform users entering in the bank that there is a long line than expected near the cash counter so meanwhile, they could proceed either towards withdrawal or to the loan section. Such experience not only improves banking efficiency but also makes user interaction experience more delightful.
Along with this, an application can also facilitate users in deciding how they want to get engaged with the app. For Instance: A fan at cricket tournament would like to follow only his favorite players instead of dumping his application with bulk information and happening about the entire tournament. He would like to get notifications about when these players are about to take a break, read statistics about them and interact with the fan groups that are sharing the same interest.
The inception of cognitive services has made it easier for applications to find out user's intent and guide them with the right experience. It will not only give them personalized user experience but will also make their interaction engaging and rewarding. Cognitive services, event-based programming modules, and personalization are the key aspects to build such rewarding app.
3.  From Hard-To-Customize Applications to Constant Experiment and Adaption
It's not always obvious what users will like and what they won't. With changing expectations and preferences, the final answer is never predicted. Therefore, we must always consider mobile app development as a continuous and agile process. However, adopting this framework is quite complex as the entire process of updating the app, deploying it to the app store and enticing users to download the app is quite lengthy. In order to assist the challenges, new technology has been introduced along with the incremental roll out feature that collects various usage metrics and decides either to proceed or cancel the changes. Other technology that enables the user to turn on and off a particular feature in app – Known as "feature flipping" distributes feature among multiple user segments that dynamically updates the content and application capabilities.
For instance: Consider an automotive app that automatically configures itself in context to your car or a banking application that places a "credit card" tab on the right corner automatically when your credit card request is approved. Such kinds of polished user interaction require constant analysis of how app features are used and how users are interacting and engaging with your app and whether the integration of such features are having the desired impact or not.
The Future Of Next Generation Mobile Application Lies In Omnichannel Apps, Micro Service, & Continuous Integration.
Currently, mobile app development is moving in dual directions. As the need for Omnichannel application takes height, the need for more scalable and robust technologies arise for development and deployment- That's the only reason behind the increasing rise in technologies like cognitive services, micro services, and continuous integration.
Along with this, users tend to get more inclined towards applications that are engaging and guide them in accomplishing what they are trying to do. Indirectly these leads to applications making more use of user context and technologies that support adaption and flexibility such as "feature flipping". Supporting such technologies means adopting a data-driven approach to app development that constantly experiments with new features, gauge the outcomes and develop applications based on them. Combination of all these trends is expected to make a long way to lead next generation app development.
Get in Touch With Brainvire to Develop Next Generation Mobile Apps!
Talking About 3 Innovative Trends for Next Generation Mobile App Development, Planning to develop the next generation mobile app? Then, what are you waiting for?
We can implement ideas for you. Hire mobile app developers from Brainvire  for Mobile app development services to develop a cross-channel, contextual, and data-driven app for your business. Just drop us a line on info@brainvire.com and we will arrange a meeting soon for you to discuss your app idea. Contact us now to get a free quote.