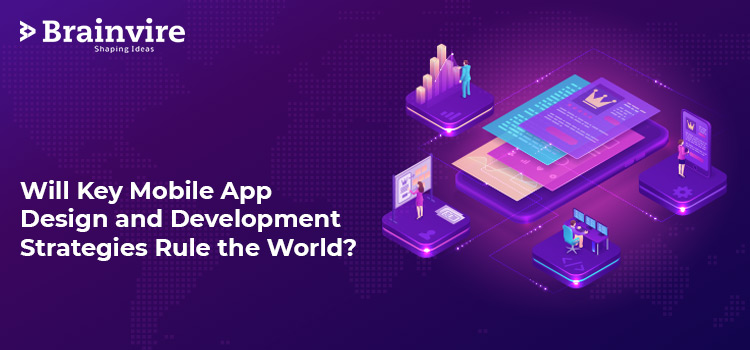 In this realm, there's no single organization in the Mobile and Wireless industry that has started their business to conclude it soon. All of them must have had a dream to enlarge their business and make it a fortune 500 or possibly a fair mid-level organization. Companies constitute their vision and statements of purpose as becoming immense and reaching out to clients/users globally. Along these lines, they run after it and accomplish it with extraordinary exertion. That is what we think, right! 
The truth of the matter is, in this society of Smartphones, organizations strive to build their business facet engaging in the Mobile and Wireless industry as well. In this course of making an application, a few organizations pass through this amazing opportunity, and some accomplish it with good ideas. Lost? 
All right, let's join the track again, it was about Mobile App design and development, and these are the four principal steps that matter for creating a user-friendly mobile application! 
Ideation
Regarding building extraordinarily clever applications, Mobile App specialists approach it constantly and carefully! They understand the framework to change business visions into reality and put a ton of energy into the ideation process. 
Wire-frame and Planning
Creative, adaptable application engineers set their imaginativeness to work concerning developing a drawing in and steady client experience. They're equipped with results for all your compact application development and design-related demands! 
Development
Significantly more effort goes into building up a skillful application than fulfills the user needs! Qualified mobile app design and development specialists ensure that the last application is essentially pretty much as exceptional as the real impression. 
Want to convert your idea into a successful app or website? Schedule your free call with our expert now.
Testing and Launching
At the point when the splendid application has been made, the specialists put it through the fundamental module testing to ensure that the application has been communicated as an article, not as an analysis. Right when the bugs have been fixed, your application is good to go to launch! 
Now is the treat of factual reference for the readers! 
Let's discuss the 7 most trivial assumptions of the business vs the facts of the mobile app design and development. 
Assumption 1: We will attempt to build a one-stop solution with an exceptionally limited time! 
Fact: That is incredible on the off chance that you attempt to build a one-stop-solution sort of use for the clients in a limited time. Yet, it takes effort to research, create, and test before launching, and even after launching the application in an App Store or Play Store, it can't be claimed as a solid one-stop-solution except if and until the legitimate reviews are to be seen. 
Assumption 2: We can build applications effectively with the application building tools. 
Fact: Today, a few tools permit you to use application formats to create and launch your application quickly or a group of freelance developers available to you. Yet, even with these resources, building the application requires attention and efficiency. To make your application exceptional and significant to the end-users, you will require dedicated development time, a monetary adjustment, and a reasonable launching strategy. 
Assumption 3: It is easy to plan an application with the assistance of a freelancer. 
Fact: Planning the mobile application may not generally be a smart thought, it is necessary to have customized UI/UX Experts in the team or complete it from a UX/UI design and development firm with better design-thinking. Bad UX/UI is always a failure! If the application is created by freelancers, communication barriers may occur and that might affect the overall performance of the application in terms of both design and development.
Assumption 4: It is only a click-a-button task to submit our application to an AppStore or Google PlayStore 
Fact: Assume to be dismissed by the App Store on your first go because your application should be great enough to be recognized. Prove it doesn't crash, use the latest APIs, or use the camera or mic without the customers' data. Additionally, paying little heed to how much documentation you've examined on App Store sections, there are extra undocumented designs your application could be justified. The organization, furthermore, takes a lot of time. It normally requires a couple of days for Apple to study your application, yet it can take longer than expected. You're not allowing support in the case, center around the data by demonstrating why your application was overlooked, and update in a way.
Additional tip: try to design a better user experience, it takes time to gather the entirety of the source you need to create great user interaction. 
Assumption 5: If my application is presented to the Appstore, I don't have to stress, my target audience will discover it in any case. 
Fact: You need to streamline your App Store posting for better availability and rankings. In reality, your App Store posting is open to all. However, that doesn't mean it's not hard to track down. On the other hand, about 70% of customers identify applications while searching apps on AppStore. If your posting isn't set up with significant expressions, snippets, and depictions, your application will not connect suitably high to be noticed. To get more downloads all along, you need the detectable featured AppStore which streamlining gives. Something different, it's difficult to improve your situation by assumption. The situating collaboration is repetitive – the more downloads your application gets, the higher its positions. 
Assumption 6: If I build a conventional app without a moment's delay, there's no compelling reason to update or re-design it again. 
Fact: Users continuously emerge, therefore, developing accordingly will help the application look user-centric. This implies that the business experiences sudden requirements for refurbishing, bug fixing, and other application upgrades consistently – if not, you're not advancing. Delivering normal updates that show your user that you're working for them. You are truly making a better application by taking their reviews seriously. Besides, it permits you to keep your mobile application from losing steam or getting extremely responsive. 
Assumption 7: If a client downloads my application, that is an incredible accomplishment for our business! 
Fact: When a user opens your application, it's totally upon you to make a reliable, huge experience. Preferably, your application experience would be all that anybody could require to keep users returning for additional updates. Notwithstanding, truly, many downloads didn't turn into potential users. You need to make a personalized user experience using a splendid marketing strategy to keep customers secured. This means sending an appropriate update to the ideal user at the right time. Instruments like pushing and in-application data, user division, customization, and automation can assist you with improving the user experience and keep responsibility strong!

These are the 'Better Not Make' Blunder that should be dealt with! Hope you'll have a good read!