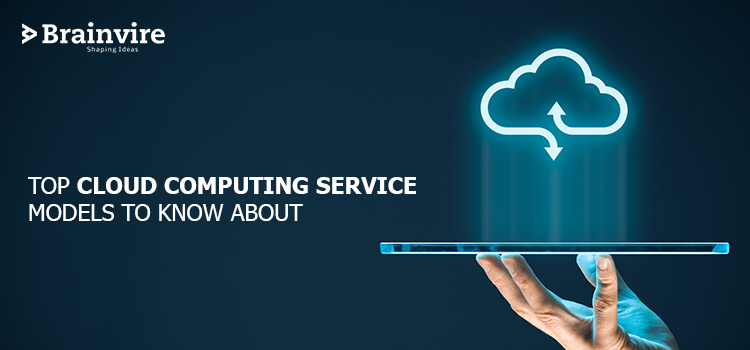 Cloud computing is a technology that deals with a pool of various computing resources, like servers, networks, and applications. However, it is mainly used as a storage pool that any organization can conveniently use with optimum security. The executives of a company regulate access and track the storage and flow of data in the cloud.
According to 451 Research, 90% of the companies around the globe currently use cloud service according to their needs. Nearly  60% of global companies use it for data storage. 
Generally, cloud service providers install different service models in an organization according to their unique needs. These are available in the market at competitive charges. To get the most of cloud computing services, the executives of an organization must have an idea about the right cloud model that complements their services.
Top models of cloud computing services
All enterprises must be aware of cloud computing models. Each model ensures flawless workflow in a company and efficient services from its end. In the present scenario of the pandemic, the right cloud model can enhance the work-from-home setup.
Want to convert your idea into a successful app or website? Schedule your free call with our expert now.
The type of models depend on the service a company deals with.
SaaS (Software-as-a-Service)
SaaS is the primary product of cloud computing services. Iaas and PaaS are only the subforms to this. The service providers manage and administer it. The company executives take SaaS as it allows complete accessibility of a software suite. Access to this software suite extends to the end-users of the organization through the internet.
The forecast of Gartner states that the global revenue from SaaS will reach $113.1 billion in 2021. It will also experience further growth thereafter.  
Unique features of SaaS
SaaS allows remote business tracking and also ensures zero-time operations. 
The charges of SaaS are pay-per-use that organizations have to bear.
Pay-per-use structure is present in case of  SaaS
Benefits of SaaS
SaaS is an independent platform that an organization can exclusively handle
One-time sign-on accessibility to SaaS saves much time
The Usage of SaaS is charged on the subscription basis
IaaS (Infrastructure-as-a-Service)
IaaS is a subform of SaaS and provides remote work infrastructure to organizations. This infrastructure covers all the computing resources. Both organizational members and end-customers can access the IaaS. However, the executives can regulate the access depending on the necessities.
Market Statistics of IaaS will reach up to $201.83 billion globally by 2027. The expected CAGR rate of growth is projected as 23.2% from 2020 to 2027 as per Allied Market Research. 
Unique features of IaaS
Elements, like networking, virtualization, storage space, and servers come under IaaS.
IaaS gives a completely digital approach to the company.
Pay-per-use structure
A user-friendly model that gives agility to new organizations
The access to IaaS depends upon GUI and API, so anyone with an allowance from the controller's side can reach it with just the internet
IaaS allows server virtualization
Benefits of IaaS
IaaS effectively provides flexibility in the workflow
The model enhances business growth with its approaches
Pay-per-use saves many expenses
PaaS (Platform-as-a-Service)
PaaS is another subform of SaaS, apart from IaaS. However, the PaaS model of cloud computing covers the services of system management, database management, OS, and development tools. The PaaS model ensures that the organizations, along with the end-users, can easily design, run, and compile a software setup in the absence of in-house software or hardware.
According to Gartner, the PaaS market will touch $216 billion by 2022.
Unique features of PaaS
An efficient software-building platform
Several pre-coded applications are present
PaaS allows future-proofing of a software setup 
Benefits of PaaS
A business organisation can build several platforms with a PaaS setup
PaaS model ensures proper agility to a company making  the production flawless
The domain of IT industry is majorly covered in the PaaS model 
UCaaS (Unified Communication as-a-Service)
Unified communication upkeeps healthy collaboration and proper information-flow among the employees in an organization. It also helps the company to stay connected with its clients. The UCaaS service model enhances the above convenience.
The UCaaS cloud computing service model develops an excellent bonding among every employee and department of an organization even if they work remotely. It also allows several ways of collaboration, like phone calls, video calls, and web conferences.
IDC says that over 75% of UCaaS users experience highlighted productivity levels.
Unique features of UCaaS
UCaaS ensures zero-time chatting
Features like VoIP and screen sharing is present
Business emailing is allowed
Call recording feature is present 
Benefits of UCaaS
UCaaS works in a streamlined approach
It has a fully secured interface
Steady uptime of UCaaS enhances communication in an organizational setup
All the cloud computing models and services are gadget-friendly. So, you can access the required data, server, or service through mobile devices too. However, as a manager of a business organization, you must check the following things before choosing a cloud computing service from a provider:
Pricing of the packages
Types of cloud computing models included in a package
Ease of usage
After-sale services
Final thoughts
Thorough primary research can help organizations choose the right cloud computing package for any type of operational infrastructure. However, the C-suite heads must minutely know the domain of his business to get the most from the models of cloud computing.
Including irrelevant cloud features in a package, due to the lack of knowledge regarding the domain, increases the budget. A businessman must understand that an investment in cloud-computing service is long-term and expensive. However, it can be a crucial reason for the success of the organization.
In many cases, new entrepreneurs remain confused regarding the domain of a particular business and fail to choose the right cloud computing model. In such a situation, one should seek expert advice via online/offline consultation. Cloud computing surely has a bright future and high chances of continuous advancements with time.