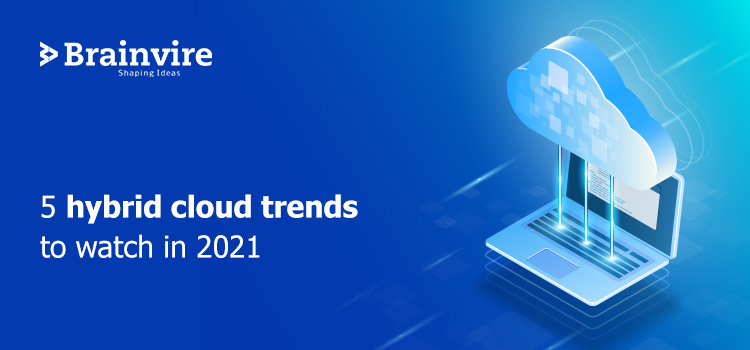 The cloud has been pitched as a one-way solution for a while now: Get there as soon as you can, or else. That view has been backed by a lot of momentum behind digital transformation, not to mention the abrupt move to remote work in 2020 and the additional uptake of cloud services to facilitate that change.
However, this perspective is often too narrowly centered on the public cloud, and it does not fully reflect most companies' hybrid reality and their actual IT portfolios, which involve a combination of on-site and cloud resources. It doesn't even really reflect the portfolio of the big cloud platforms themselves these days.
Azure consultants at Brainvire believe that in recent changes in the cloud environment that blur the boundaries between the public cloud and the conventional data center, the company moves to a hybrid cloud as the standard is evident. This in turn offers a benefit to enterprises that have already adopted the hybrid cloud.
"Our existing customers who have been preparing for this are now in the unique position to be ahead of their competitors who may be all-in on one cloud provider, with the recent announcements by the major cloud providers promoting hybrid cloud,".
Key hybrid cloud trends in 2021
As IT leaders and companies become more intentional and proactive regarding their hybrid cloud architectures, they are planning an Azure cloud migration and expect hybrid cloud status to be cemented in 2021. And in the year ahead, that's the first of five hybrid cloud patterns worth watching. Let's take a peek deeper.
1. Hybrid becomes entrenched as the go-to IT infrastructure model
While several businesses "accidentally" follow a hybrid cloud model, they now realize that it gives them greater strategic control of what runs where. There is no need for the cloud to be an either/or approach.
We are gradually getting beyond the notion that the option of technology is a bimodal public or private cloud decision.
Expect a rising emphasis in the coming year on designing smart hybrid cloud strategies that optimize the benefits of this strategy. These strategies should include basics such as the use of resources and cost optimization, roadmaps for application transformation focused on what is best for the enterprise (rather than abstract advantages), better data governance, stronger security postures, and more.
Despite this year's increased adoption of cloud services, especially those added to facilitate the move to remote work, organizations are still left wondering how to make the best use of the investments they have already made. For companies that have adopted the hybrid cloud reality, this creates a huge opportunity.
Want to convert your idea into a successful app or website? Schedule your free call with our expert now.
We expect to see more organizations taking advantage of the strategic implications of a hybrid strategy that combines criteria for costs, efficiency, security, compliance, and governance.
2. Cloud platforms themselves turn increasingly hybrid
Relative to recent years, the "rush to the public cloud" process is likely to ebb. This is because companies do not often have to directly transfer an application to a public cloud platform in order to reap the advantages of doing so. In their own datacenter, they will gradually achieve the same or equivalent benefits; cloud-native technologies such as Kubernetes, Azure cloud migration should not be mistaken for "cloud-only".
Any borders that existed to be universally available for cloud technologies in any infrastructure setting are being broken down. Through expanding platforms in an infrastructure-agnostic way to operate through hybrid environments hosted in data centers and multiple cloud providers, major technology providers and open source technologies offer the creative capabilities of the cloud where customers most need them.
Trends expect the lift-and-shift approach to cloud migration, in which the application is transferred from a conventional data center to a cloud network with no change in its underlying code or dependencies, to lose at least some of its appeal in the coming year as the hybrid cloud continues to evolve and businesses are increasingly able to achieve their goals.
Cost savings are typically a key factor when considering lift-and-shift to the cloud, which is beginning to look less and less attractive due to the highly optimized on-premises cloud environments of the future.
The boundaries between the public cloud and the data center are basically blurred, and there are more choices in terms of matching the correct workload to the right climate.
These new hybrid cloud platforms, through consistent growth, operations, and security model, will allow agility wherever sustainable,
3. Workload-environment fit is a major priority
All of the above leads to an increasing movement towards the case-by-case rationalization of the application portfolio more holistically and thoughtfully. Put another way: Forward-thinking companies, based on a variety of factors that matter most to them, are better able to match workloads to the best environment, whether cost, efficiency, enforcement, skill sets, industry-specific needs, etc.
Experts think we're going to hear more about repatriation-essentially, reverse cloud migration-and it's only going to be the product of putting more emphasis on workload fit, not because of any abstract cloud abandonment and its benefits.
Although repatriation has been questioned, the workloads we see moving from public back to private are those that in the first place were poor candidates for public cloud migration. Many organizations that shift these workloads back to the private cloud do not fully discontinue the use of the public cloud but are more selective about the applications and projects they choose to run on the public cloud.
As we step into 2021, this case of repatriation usage is likely to continue as companies aim to deploy each framework within a hybrid IT strategy on the best-fit infrastructure with the help of Azure consultants.
This is consistent with predicting that the approach to lift-and-shift may lose a bit of its allure. The hybrid cloud reduces the pressure to hurry, especially with apps that may be better served by a different strategy.
Although the transition to the cloud and digital systems has tremendous value to gain, this comes with its own set of challenges-decomposing broad conventional data models, re-platforming efforts, and refactoring applications-all of which require substantial investment to achieve the greatest benefit.
4. Edge computing drives hybrid cloud adoption
Red Hat technology evangelist Gordon Haff reports that corporations, for several reasons, end up with hybrid cloud architectures. But there is one that is fuelling deliberate adoption more and more.
Edge computing, considering that edge is an inherently hybrid approach to computing, has emerged as one of the most important drivers. It stretches from the heart of corporate computing to the edge of telco and other networks of service providers, and from there to consumer sites and networks of sensors. Edge contrasts sharply with multi-cloud silos given that consistent platforms and management is a necessity for edge architectures to function effectively."
The key idea to bear in mind here: if apps and data are practically anywhere, then the infrastructure must be scalable and versatile in the same way. The growth of edge solidifies this truth if there is any remaining claim that hybrid or multi-cloud is a reality: As we think about where data and applications reside, they will be in several locations.
Cloud experts see an evolving age of "hyper-connected" computing with mature hybrid cloud architectures that will go hand-in-hand.
Via a centralized deployment model that will be expanded with the arrival of a new localized deployment model allowed through a hyperconnected fabric consisting of 5G, edge computing, and IoT devices, cloud technology has fuelled the digital-first movement.
The convergence of these technologies will create a new hyperconnected computing environment that will take us beyond the cloud and into the distributed cloud future, where hyperconnected networks, localized processing, and ambient technology are now providing cloud capabilities.
5. Security thinks cloud-native
Studies say that 2021 will be a year in which security policies begin to more tangibly adjust to the reality of the hybrid cloud and the underlying cloud-native environment.
As the number of microservice-based workloads continues to grow and cloud-native technology takes hold as the way to deliver modern digital capabilities, there is a new evolution of security that will come into view.
This is an intersection of two realities: security risks remain a blend of old and modern, just as their own hybrid direction has also been followed by apps and infrastructure.
As one adaptation to the modern IT world, Zero Trust security strategies are increasingly becoming a trend. In general, the security direction needs to change from "let's figure out what went wrong" to "let's build security from the start." Obviously, it's not a given that in every company this would happen, but it's a worthwhile ideal.
In order to provide software-defined protection and authentication controls in all layers of the cloud-native technology ecosystem, including source-to-artifact builds, CI/CD pipelines, core systems such as Kubernetes, microservices, gateways, and databases, cloud-native security would involve an application-out approach.
Final Thoughts
Cloud computing will continue to expand and the need for conventional IT to remain incorporated. With it, systems will evolve. The hybrid cloud is a fact of our more complex environments, not just a trend. Brainvire, a leading Azure development company can be lucrative for entrepreneurs and enterprises to pursue new digital technologies that are also highly useful to daily life.