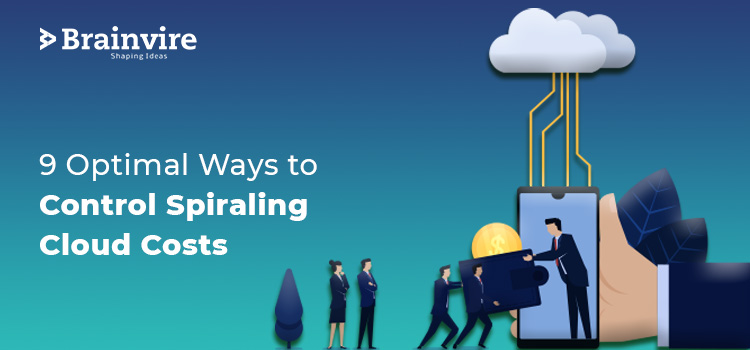 In recent years, the trend of companies shifting their storage and processing demands to the cloud has steadily sustained an upward trajectory. Migrating from on-premise solutions, with multi-cloud implementations being the new standard. With the prospect of lower IT costs and infinite capacity, the concept of the cloud came into the picture.
Businesses have been told that only the services they use would be paid. A gaping loophole in the system began to become more and more noticeable as the system progressed, with service providers charging consumers for the resources ordered and not the resources used. This conundrum of resources used vis-à-vis ordered resources opens up an opportunity for optimization of cloud costs to free up more working capital.
After the business world responded to the advent of the COVID-19 pandemic by moving main structures to more versatile cloud infrastructure in 2020, many now have to reconsider all their assumptions about on-the-fly IT expenditure.
This transition, which will continue long past the pandemic, has made it difficult for many companies to control their cloud spending effectively, both in terms of the infrastructure as a service (IaaS) they consume as more and more workloads migrate to the cloud and in terms of the number of workers using cloud-based software-as-a-service (SaaS) tools to do their jobs.
What is Cloud Cost Optimization?
Simply put, optimization of cloud costs is a technique for cutting costs for the use of cloud technologies, meaning that you really only pay for what you use. This approach relies on the awareness of cloud infrastructure needs and pricing systems by businesses to search for a way to improve, most cost-effectively, the use and performance of cloud services.
As the cloud infrastructure matures and becomes more dynamic in its nature, this becomes crucial. These complexities, for example, multi-cloud deployment, will make expenses more opaque and more difficult to monitor. If you can't adequately track and handle usage, you run the risk of spiraling costs out of control.
Many variables-virtual machine instances, network traffic, software licenses, training and support, web resources, storage, and memory, to name a few, will decide cloud costs today. These factors may not be included in the upfront cost, which may lead to a rise in the cost of your cloud.
Want to convert your idea into a successful app or website? Schedule your free call with our expert now.
In addition, cloud operations and the resulting costs are inherently elastic in nature and often handled in a decentralized manner, making it more difficult to track costs. Therefore, it is important for organizations to draw up a plan for cloud cost management that takes all these variables into account to get the most out of the technology in place at minimum costs.
Ways To Control Cloud Costs
Identify Needs Before Spending
Knowing what you need ahead of time is the best way to prevent overspending on cloud services. In theory, flexible cloud services have made overprovisioning unnecessary, but old habits used in conventional data centers contribute to cloud resources that are either underused or totally unused, resulting in unnecessary spending.
This may not be music to the ears of someone who has already made major commitments in the scramble to respond to the pandemic's challenges, but it highlights the value of, where possible, right-sizing the cloud climate.
Start by understanding what you spend, not just the invoice you get, but what you spend on, where you spend the most, and where you see progress. An established solution is to create a dedicated cloud center of excellence for larger organizations, charged with overseeing and controlling the use of the cloud and developing best practices.
This responsibility for smaller organizations falls on senior IT team members, who will be charged with setting up budgetary guardrails, frequently related to longer-term ROI requirements. Smaller companies have an advantage here because they have more clarity and are very concentrated on their overall customer base, which would support them with the right scale.
Such businesses do not often have supplier management or procurement departments, so whoever is the architect needs to have cloud management expertise when they move from capex [capital expenditure] to opex [operational expenditure]. They will end up paying more than they need if they do not have good discipline.
Track Cloud Usage
If you can't see what drives it, you can't control your expenses. So, it is important for visibility. In today's highly dynamic and decentralized business settings, this is all better said than done. The State of Tech Spend report of Flexera 2021 found that 57 percent of respondents faced major challenges in obtaining the correct data required to maximize their spending, while another 22 percent recognized this as somewhat difficult.
In the modern decentralized paradigm, it is a lot easier to say than to do. For infrastructure and SaaS, the most effective companies tend to be decentralized because you want people to make their own choices, while still ensuring they are in line with company governance.
It is crucial for developer teams to prioritize the tagging of their instances and resources when IT spending is decentralized, so that management can efficiently monitor spending, create guardrails, and create a sense of financial transparency.
There are resources that can help make cloud spending more noticeable and begin to cut back on idle infrastructure, excessive SaaS seats, and any other overprovisioning that could have occurred in the Spring 2020 turmoil.
Both major cloud providers have their own tools, such as AWS CloudWatch and Microsoft Azure Dashboard, for tracking and optimizing cloud usage.
The famous Apache CloudStack and OpenStack frameworks come with their own cost-management tools if you want to go to open source. In this area, proprietary suppliers include CloudChekr, Apptio, and Zylo, which specializes in the use of SaaS.
Monitor Cloud Spend
It can be a difficult job to understand how all investments over assets and capital together and aggregate maps as demand and use fluctuate. Organizations need timely and reliable information about the IT assets they have, along with cost data associated with them, to get the full picture of where IT spending is heading.
You can only begin to take advantage of any allocated space or spot instance options from suppliers, right-size cloud resources to workload features, and autoscale or decommission inactive resources to minimize costs by closely and continuously tracking usage. Another solution is to introduce team show back and chargeback policies to enable developers with their own budgets to be financially responsible.
Benchmarking cloud costs with a particular degree of flex for peaks and troughs as the year goes on is a big part of knowing how much power you need. Baseline economics is a necessity. Project capacity and appropriately manage your budgets. Any organizational size needs to have the consumption baseline and then handle peaks as they arrive.
Based on the defined baseline and peaks, the methods for managing cloud usage differ from company to company, but usually include automated processes to recover unused cloud power, share resources more efficiently around the enterprise, and alert teams of operations to unexpected drift from the baseline consumption model.
Eliminate Manual Processes
The No.1 challenge when it comes to cost optimization is too many manual processes, with 83 percent of respondents complaining of too many manual processes dragging down activities, causing bottlenecks, and making it impossible to monitor spending effectively. An absolute requirement would become automated processes to handle implementation and economic strategies.
Cloud pricing is so complicated, so you have different versions of the cloud, and without the right resources, it is difficult to do that effectively.
Price Negotiation With Cloud Vendors
One of their biggest cost optimization problems was negotiating the best price or discount with suppliers. You have lost your control once you have signed a contract. Many organizations that attempt to do this on their own are not very successful. The experience of Cloud Computing Services should be brought in for discussions as well as for any subsequent renegotiations.
Arming yourself with data on your purchasing habits may allow you to obtain more fair pricing based on consumption, but as a result of any agreement, you will have to make a longer-term commitment. But there would be no turning back from this operating model for companies that saw the advantages of cloud computing during the pandemic, so a longer-term commitment shouldn't be all that frightening.
Negotiating price increase caps in contracts is a valuable safeguard, as is maintaining flexibility by providing volume reduction rights without regular price adjustments as use shifts. It is important to take the long-term view. When the cloud bills start rolling in, it's not uncommon to feel an initial shock, but you need to note this is a journey with major benefits to be had later on.
Reduce Overspend In Saas
SaaS contracts tend to push people up, since most vendors, such as Salesforce, Slack, Microsoft, and Tableau, price their applications for a fixed and inflexible number of seats or users in multi-year enterprise deals. As a result, customers get something like the membership of the gym they use less than they planned, and providers get paid more per unit of use efficiently.
In the 2019 Gartner SaaS Migration Survey, for example, 29 percent of mid-sized company respondents indicated that between 25 percent and 49 percent of subscriptions were currently idle with their top three SaaS vendors.
It's not only that consumption is always less than anticipated; businesses often overbuy services, too. As teams switched rapidly to remote work last year, many grabbed their corporate credit card to buy a top-tier Microsoft 365, Zoom, or Slack license off the shelf, even if they weren't using all the business features that push up the cost.
Leverage Heatmaps
Heatmaps are critical for achieving cloud cost optimization as visual tools that illustrate valleys and peaks in your computing demand. The insights generated by a heatmap can be a valuable tool in the implementation of start and stop cut-offs to minimize costs for various resources. For example, you can use these to calculate a time when certain assets are basically unused and shut down for that period of time.
What's more, it is possible to automate the start and stop schedules for various cases, ensuring you remove the error elements associated with performing these tasks manually and optimize costs to the full.
Invest In Reserved Instances
Via investing in reserved cases, businesses looking to adopt the cloud for the long term will improve costs (RIs). Based on time commitment and upfront payment, there are attractive discounts provided. Your saving can be up to 75 percent with the right RI adoption, making it a powerful cog in your cost optimization strategy for the cloud.
Invest In Spot Instances
A smart way to reduce the cloud spending can be Spot Instances, which are available for sale. These are for immediate use once purchased. The window for the bid, however, is generally short, so you have to be constantly on the lookout and move quickly if the price is right.
Optimization of Cloud Cost- Need of the Hour
Operating without insight and adequate preparation can have significant financial consequences as cloud spending continues to grow. That said, as long as attention is paid to cost management to remove unforeseen spikes, overpayment, or insufficient efficiency, the cloud holds great potential to boost business operations.  Cloud Computing Services can help you monitor and track your cloud spend without burning a hole in your pocket.