We are a generation that considers processed data to be the most valuable resource. Data is the essence of gathering relevant information and a majority of organizations today are centered on data collection and segregation. 
This is where the data Analytics service comes in, they use these data to provide valuable information about the performance of a company. Equipped with powerful tools like Artificial Intelligence and Machine Learning, these analysts help predict the future performance of the company. Such features, along with its very powerful data visualization powers make every company rely on such kind of software. 
The cost required for supporting the software and hardware to use a data Analytics platform is very high and cannot be afforded by many companies. Therefore, today, there are a lot of service providers who are providing Data Analytics as a SaaS (Software as a Service) which negates the excessive costs and makes it accessible for everyone. 
This system of providing software as a service has only been possible due to the integration of the Cloud with such services. Cloud Data Analytics not only ensures that every enterprise can have a cheap effective data Analytics solution but also allows analytical tools to become more powerful. 

In the following subtopics, we will be discussing Cloud data Analytics in-depth, its benefits, and its various service providers. 
Cloud Analytics and its Types
Cloud Analytics is based on a Cloud service model where the data is stored and processed in a Cloud database. This saves costs for companies as they can rely on a third-party database instead of hosting a Cloud server of their own.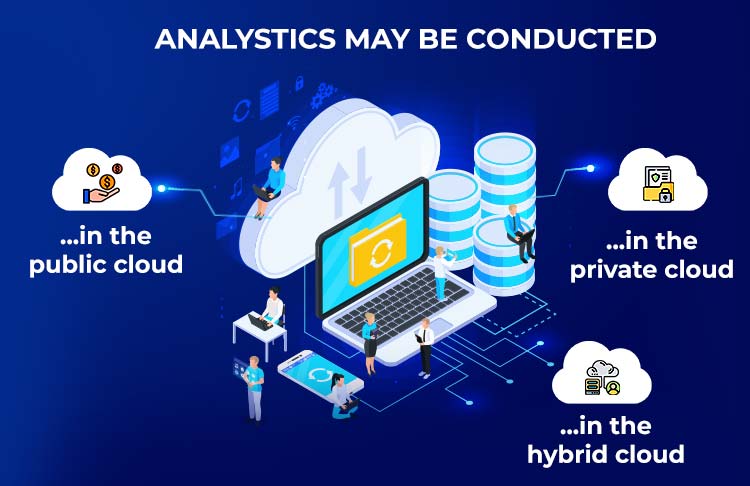 Cloud Analytics helps business Analytics and business intelligence by automating various labor-intensive processes. Further, such solutions provide proper insight into the company's performance, based on which different reforms can be made. Above all, Cloud Analytics has the ability to work with both structured and unstructured data which improves the flexibility of the business process.   
Want to convert your idea into a successful app or website? Schedule your free call with our expert now.
The different types of Cloud Analytics available are: 
Public Cloud – This is a type of multi-tenant architecture where the basic framework and the services are shared among multiple companies but the data is kept private. The benefit of this type of system is that as more people are paying for a fixed amount of resources the effective price for each company is getting lowered. Which makes the public Analytics Cloud the most affordable choice of all. 
Private Cloud – Private Cloud, as the name suggests, belongs to only one company and the infrastructure is not shared with any other enterprises. It is relatively costly but it provides a lot more privacy and security. Also, a lot of additional features can be implemented in this without thinking about how it will be affecting other companies. 
Hybrid Cloud – This is the most commonly used service where the company can have access to both public and private Clouds. The company will be able to store sensitive data in the private Cloud while storing non-sensitive data in the public Cloud. 
Cloud Analytics Benefits: 
Almost all successful companies use Cloud Analytics services for their benefit, it can be very efficient in improving sales and the net profit of a company. As per research, unicorn companies using Cloud Analytics services can make decisions 5 times faster than companies that don't use Cloud Analytics.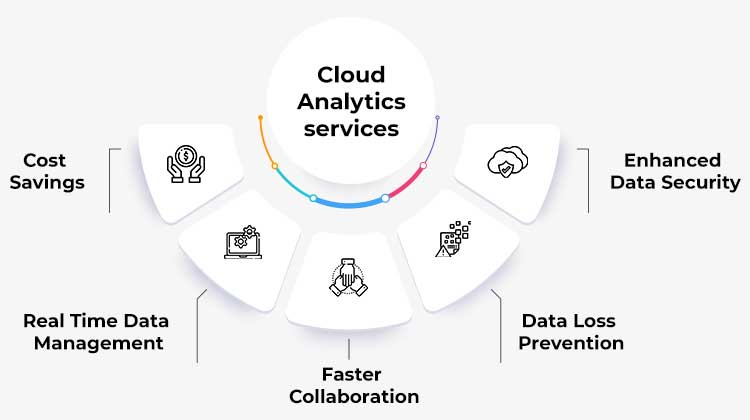 Following are some of the prime advantages of using Cloud Analytics:
Scalability and Agility – The Cloud platform is very flexible, having very few limitations. Data storage and data analysis abilities can be increased on-demand. This is a very efficient process for growing enterprises as they will not have to upgrade their existing infrastructure every time their company grows. 
Break Down Silos – Communication and coordination between different employees of a company start when they are working towards realizing the same goal. Cloud Analytics help in providing valuable insights by gathering data from multiple sources in a company. This cross-organizational nature improves transparency in a company along with the relationship between employees. 
Encourage Collaboration – When a central Cloud database is used then all the different parts of a company are referring to one single source for accessing data. This ensures that all the components of an enterprise are coordinating among themselves to provide information-rich data to the Cloud Analytics platform. 
Increase Data Security and Governance – A Cloud Analytics framework can provide secure access to the data. The admin will be having a lot more control over smaller details that will provide a better data governance ability to the company. 
Top 3 Cloud Analytics Tools
There are a lot of third-party Cloud Analytics service providers that allow companies to use their analytical and storage services. It can be very difficult to choose the best SaaS platform for your enterprise, but the following list consists of the top 3 Cloud Analytics tools that are preferred by the biggest enterprises in the world. 
Azure Stream Analytics – Based on Microsoft's Azure Cloud Computing platform it is capable of carrying out complex analytical calculations on your data. It is a very powerful platform with an interactive user experience that makes working with big data easier than ever. 
Other than this there is no need for any hardware infrastructure and information can be retrieved using basic SQL queries. And for more complex operations languages like C++ and Java can also be used. It is a scalable platform so the company has to pay for only the services that they are using. 
AWS Analytics  – Amazon Web Services is also another analytical platform that provides a wide variety of tools to carry out critical analysis and prediction processes. This is also a SQL-based platform so there is no need for any hardware or virtual server. Which saves a lot of operational costs and makes it a viable option for smaller companies as well. 
Using AWS Analytics additional complementary tools one can get deeper insights into the data. Also, AWS supports a wide variety of programming languages which helps in providing flexibility to the platform.
IBM Cognos Analytics – This makes use of powerful technologies like machine learning and artificial intelligence to find out complicated relations between the different data that other Analytics systems are not able to identify. IBM Cognos also uses its AI features to analyze the productivity of different company processes and suggests changes in places where improvement is possible. 
It also has an extensive collection of tools for data visualization that helps employees to understand the trends in the company and work accordingly. It can be a little more costly than other alternatives but the amount of features that it has is incomparable to other Cloud Analytics solutions.   
Cloud Migration Services
For using the benefits of Cloud Analytics services, an enterprise has to first transfer all their existing data and processes to the Cloud platform. This can be quite tricky if not done properly as most of the data is very sensitive and important, losing any data during the migration process is not acceptable. 

Conclusion
Cloud-based Analytics services are preferred over on-premise Analytics software as they are much more cost-effective. Both big and small enterprises are now starting to understand the importance of Cloud-based services. 
Cloud storage is a very flexible form of storing data as its size can be increased or decreased on demand. All these factors accompanied by smart analytical methods make the process of running a company a smooth experience.