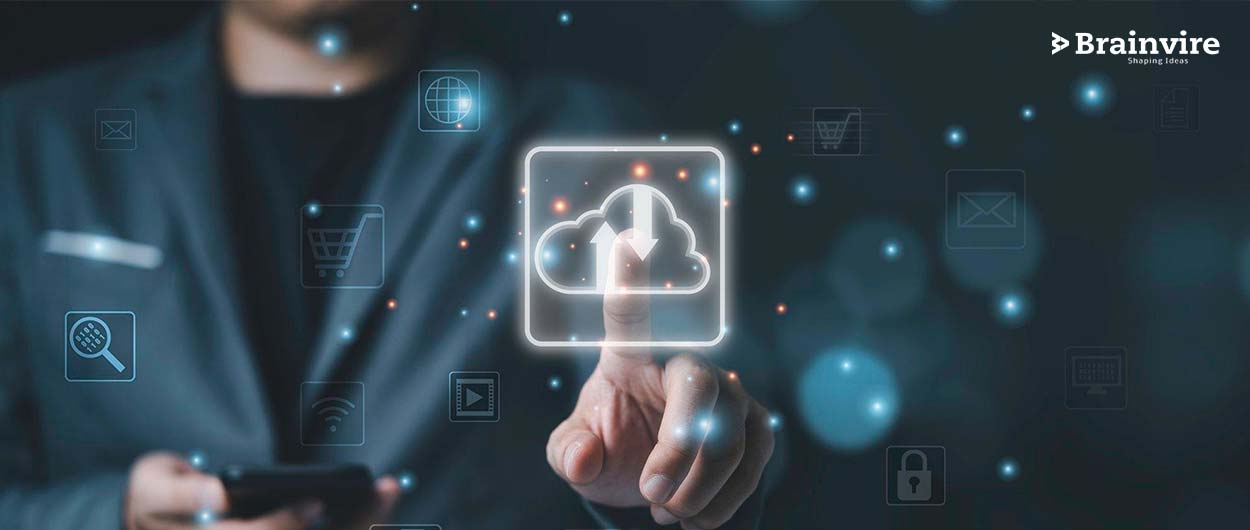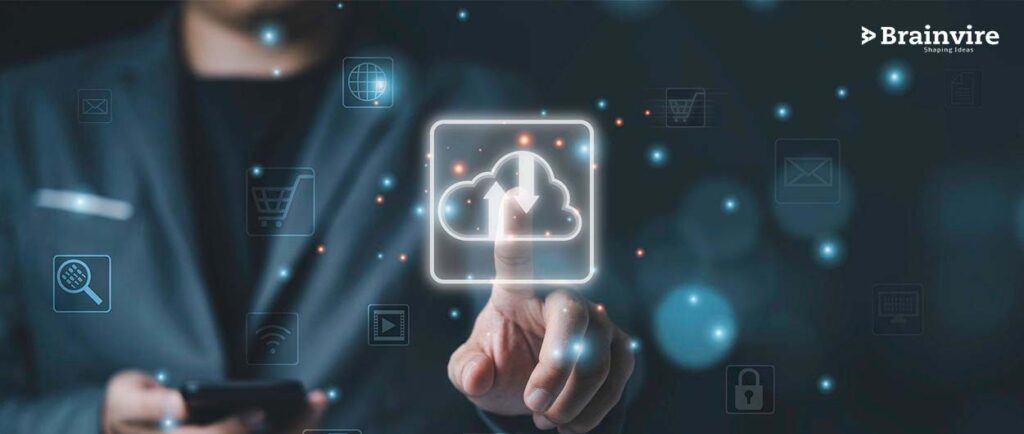 COVID-19 has affected businesses drastically. Businesses that were quick to adapt to digital transformation have stayed afloat. Some have even surpassed their pre-pandemic profit. Cloud adoption has become a necessity for businesses to keep up with the turbulent landscape.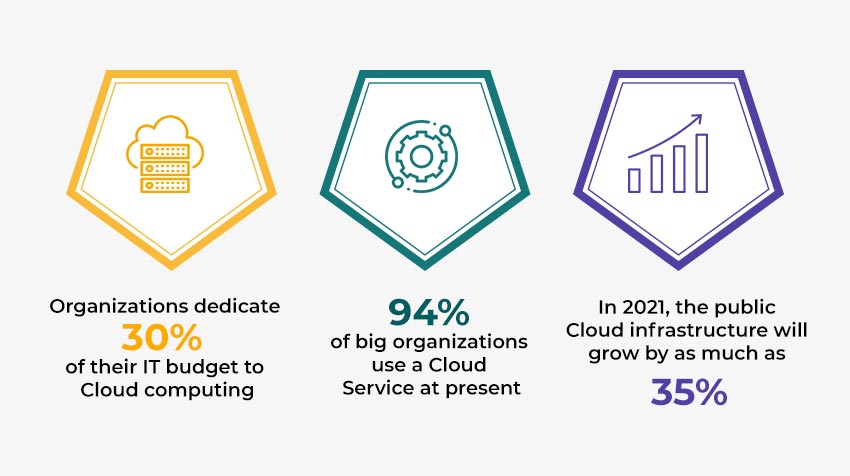 The Cloud Migration Services Market
Cloud computing is not a fad. It is here to stay.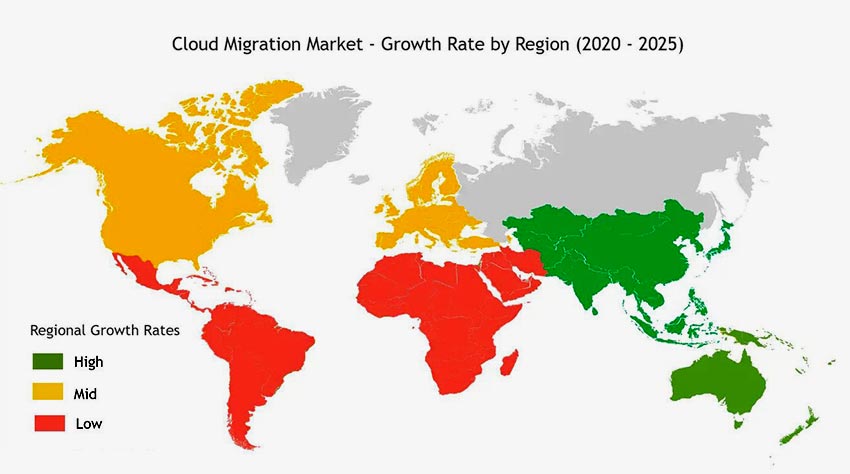 In 2020, North America held the biggest share in the Cloud Migration market. Asia-Pacific is projected to grow at the swiftest compound annual growth rate in 2021-2026. According to Mordor Intelligence, the migration services market will grow at 28.89 percent during the upcoming 5 years.
Join the list of the handful of businesses that have surpassed their pre-pandemic profit!
Speak to one of our experts to join the list.
Types of Cloud Computing
Cloud computing is based on a cloud service model where the data is stored and processed in a cloud database. It saves costs for companies as they can rely on a third-party database instead of hosting a cloud server of their own. 
Let's discuss different types of cloud environments so you can explore the options available for migrating to the cloud.
Public Cloud – Private cloud, as the name suggests, belongs to only one company. It is relatively costly, but it provides a lot more privacy and security. Also, you can implement a lot of additional features in it. Government and financial institutions generally prefer this type of cloud to have more control and customization. Private cloud providers include Dell, IBM, Oracle, Hewlett Packard Enterprise, and public cloud biggies like AWS, Google Cloud, and Microsoft Azure.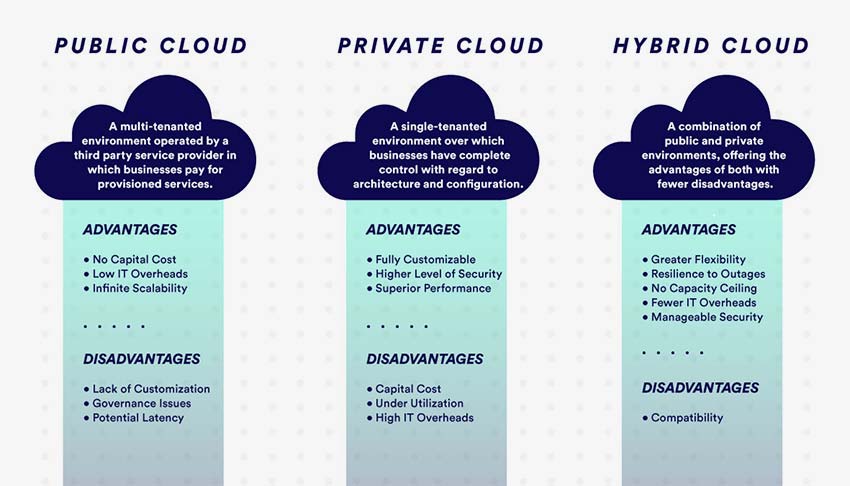 Hybrid Cloud – It is the most commonly used service where a company can have access to both public and private clouds. With its help, a company can store sensitive data in the private cloud while storing non-sensitive data in the public counterpart. According to a report published in March 2020,  over 90 percent of enterprises worldwide will rely on the power of the hybrid cloud by 2022.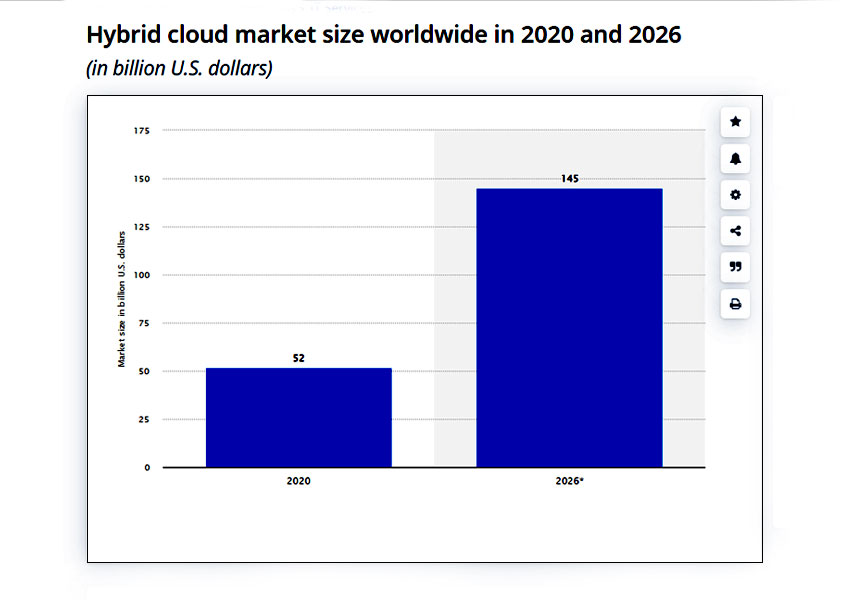 Cloud Migration Benefits
Let's run through the main benefits of using Cloud Migration solutions.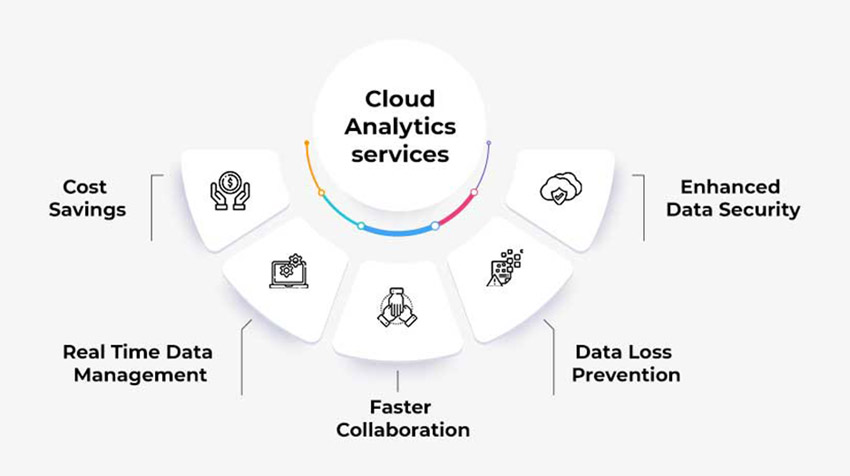 Cost-effectiveness- Cost reduction is the most significant driving factor that companies migrate to the cloud. It is because despite getting a host of world-class services with the click of a button, you only pay for what you avail.
Scalability and Agility – Cloud is very flexible. Data storage and data analysis abilities can be increased on-demand. In this way, it is beneficial for growing enterprises as they don't have to upgrade their existing infrastructure every time their company grows. 
Real-time Data Management- With cloud migration consulting, you can access your data from any corner of the world and view any changes in real-time. This benefit of cloud platforms has made many businesses shift to them during COVID.
Encourages Collaboration – When a central cloud database is used, all the different parts of a company refer to a single source for accessing data. Thus, it ensures that all the components of an enterprise coordinate among themselves to provide information-rich data, significantly improving organizational efficiency.
Increases Data Security – When it comes to sensitive data, security is a big concern for companies. Leading cloud service platforms like AWS, Microsoft Azure, and Google Cloud deploy advanced security measures to ensure that your data is always protected. You can fortify this security with the help of a cloud migration service provider.
Data Loss Prevention – Data loss is a nightmare for any business. It can cost big in terms of time and money. With the cloud, you can be assured that your data will stay safe despite unexpected downtime, power failures, or even natural disasters. 
Top 3 Cloud Analytics Tools
There are many third-party Cloud Analytics service providers that allow companies to use their analytical and storage services. It can be challenging to choose the best data analytics applications for your company, but the following list consists of the top 3 Cloud Analytics tools preferred by the most prominent enterprises in the world. 

Based on Microsoft's Azure Cloud Computing platform, it can carry out complex analytical calculations on your data. It is a powerful platform with an interactive user experience that makes working with big data easier than ever. 
Other than this, there is no need for any on-premise infrastructure, and information can be retrieved using basic SQL queries. For more complex operations, you can use languages like C++ and Java. Moreover, it is a scalable platform, so a company has to pay only for the services they are using. 
AWS Cloud Analytics  – Amazon Web Services is also another analytical platform that provides a wide variety of tools to carry out critical analysis and prediction processes. This is also a SQL-based platform so there is no need for any hardware or virtual server. Which saves a lot of operational costs and makes it a viable option for smaller companies as well. 
Using AWS Analytics additional complementary tools one can get deeper insights into the data. Also, AWS supports a wide variety of programming languages which helps in providing flexibility to the platform.
IBM Cognos Analytics – It uses powerful technologies like machine learning and artificial intelligence to find out complicated relations between the different data that other Analytics systems cannot identify. IBM Cognos also uses its AI features to analyze the productivity of varying company processes and suggests changes in places where improvement is possible.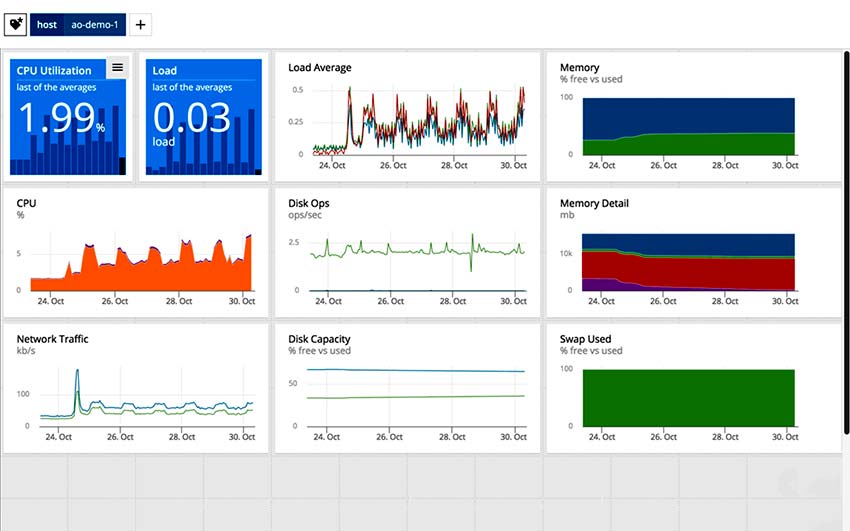 It also has an extensive collection of tools for data visualization that helps employees to understand the trends in the company and work accordingly. However, it can be costlier than other alternatives.
Cloud Migration Strategy
Now that you have a deep understanding of cloud migration, you might wonder how to migrate to the cloud. Let's run you through how you should go about your cloud migration journey.
Step 1: Assign a Migration Architect- A migration architect will be responsible for defining requirements, laying out the right strategy, setting priorities, and taking technical decisions during the entire migration process.
 Step 2: Choose Your Cloud Integration Level- This step will require deciding between making shallow cloud integration (making limited or no changes to apps while migrating) and deep cloud integration (adapting apps to make the most of the cloud's capabilities).
Step 3: Choose between Single Cloud and Multi-Cloud- While migrating from an on-premise data center to a cloud, you'll have to decide whether you want to opt for a single cloud provider or more than one for more flexibility.
Step 4: Set Key Performance Indicators (KPIs)-Once you migrate your app using cloud migration tools, you may need to re-check whether your KPIs are still relevant in the new scenario. For instance, page load time, session duration, and response time help to track user experience.
Step 5: Determine Your Present Performance- Knowing your present performance will help compare it with the post-migration version and serve as a guiding step for several problems. It can also be a great way to diagnose problems during the cloud migration process.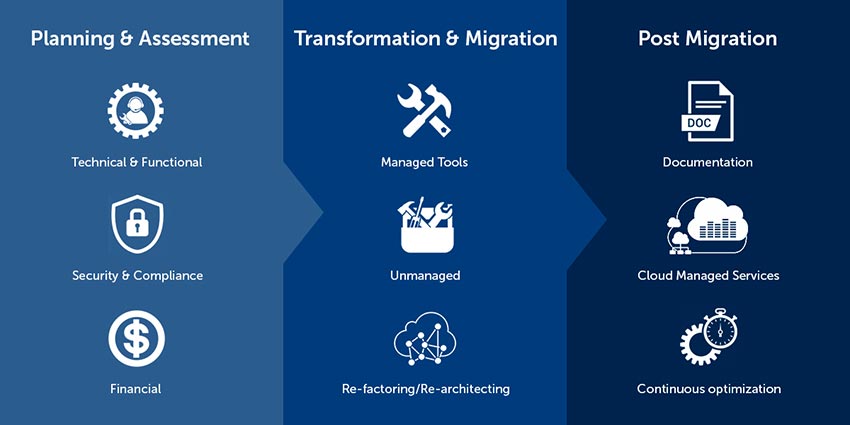 Step 6: Set Cloud Migration Priorities- You need to determine which components to migrate first before starting the actual process. You can simplify this with your cloud migration tool- a dependency diagram. It is recommended to start with the services that have the least dependencies.
Step 7: Create a Data Migration Plan- The location where your data is stored can immensely affect your app's performance. Depending on your cloud migration strategy, you can choose between one-way synchronization, bi-directional syncing, and cloud solutions from eminent cloud providers like AWS.
Step 8: Switch Over Production- You have to decide how to go about your cloud strategy-whether you want to migrate all your services at once or migrate little by little, so you can measure the performance and proceed accordingly.
Step 9: Review Resource Allocation- You can scale as per your evolving business needs after moving to the cloud. All you need to do is ensure that your team has the appropriate application architecture to support this scaling.
The benefits that cloud migration can accrue to your business are huge. However, the process requires technical expertise to effectively untangle the knots as they come in the way. Cloud migration consulting would be an excellent option to take the burden off your shoulders and help you tap the benefit of the platform effectively.
Conclusion
Cloud has become a no-brainer if you want to create a sturdy yet flexible, robust yet agile digital presence and improve your business processes. Moving your business data to the cloud environment is not an easy task. A cloud migration expert can simplify this task and help you reap the benefits of the cloud to accomplish your business goals.
If you are looking for cloud migration solutions, Brainvire is an experienced cloud migration service expert with more than two decades of experience in serving the IT industry.