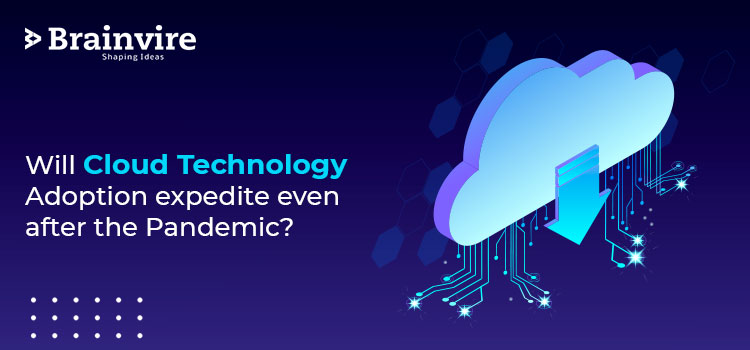 Cloud is here to stay!
The global pandemic and lockdown entailed by COVID-19 was the most challenging state of affairs the IT industry ever faced. Most certainly, it revolutionized the way different businesses functioned. With the increased adoption of work from home during the crisis. IT companies had to rely on cloud technologies to keep their businesses afloat.
With the assistance of these cloud computing services, work became manageable for the organization. Cloud usage seamlessly helped businesses thrive in these difficult times. The employees were able to connect and cooperate in remote working environments. This wouldn't have been possible without video conferencing tools and virtual meet software like Zoom, Google Meet, Skype, etc.
 Zoom witnessed a rise of 169% in its total revenue due to massive adoption in the year 2020 and will continue to grow even after the pandemic.
Secondly, storing and managing large volumes of data can be overly expensive for small to medium-sized companies if on-site servers are used. Therefore, implementing Cloud computing can provide easy access to online data backups. Bigger firms use tools like Dropbox or Google Drive as online storage solutions. 
Lastly, the pre COVID-19 period involved physical business interaction to achieve the objective. This ensured efficiency and productivity. Even in the wake of COVID-19 similar results were expected by the IT leaders. That's where Cloud collaboration applications came to light. Cloud collaboration applications allow users to access, share or make changes to the files at distributed locations. 
Companies after surviving the pandemic, have realized that adopting Cloud computing has helped businesses manage and fulfill their targets even during the hardest of times. Hence, the use of Cloud has grown in leaps and bounds which has now been acquired by most businesses permanently which once was a far fetched plan. 
Statistics say that around 66% of companies all over the world reported that even if they plan to return to workspaces they will continue to use Cloud services and applications they implemented during the crisis. 
COVID-19 accelerated Cloud adoption but before advising you to do so, we would also like to run you through some mere challenges that occur during Cloud implementation. 
Want to convert your idea into a successful app or website? Schedule your free call with our expert now.
Few of them are –
Data Security -Data is the most expensive asset that a business cannot afford to jeopardize. Before utilizing cloud services, businesses should think twice about data breaches, malicious threats like hacking, and virus attacks. If you transfer any data to a third party from your organization make sure you have a sound cloud security management system.

Seeking Professional Help– IT administrators prefer the familiarity of the status quo, which is accomplished by a perceived combination of cost/complexities and business value. The transfer of current technology to the cloud necessitates a major investment, preparation, a paradigm change, and specialist expertise which must be recruited externally or upskilled internally. To get the most out of Cloud, IT teams must be more flexible and use constructive rather than responsive models.

Compliance and Security Concerns – Compliance is one of the biggest challenges companies face while adopting Cloud computing. Cloud computing comes with its own set of threats and limitations which service providers must ameliorate before an enterprise embarks on such a path. These include pricing and cost models, migration issues, and enforcement and safety concerns. Owing to the rapid deployment of Cloud-based applications in response to lockout constraints, the pandemic aggravated enforcement and protection concerns.

Complete Control over IT Services – IT doesn't always have a complete grasp over infrastructure delivery, provisioning, and operation in this world led by Cloud facilities. The standard of the complicacy of IT to offer governance, risk management, compliance, data quality, has risen. To make the process of shifting to the Cloud easier, the conventional control and IT management procedures to incorporate the Cloud must be welcomed by IT. IT plays a major role in the intervention, choices, and command over Cloud services.
Cloud Cost Management- Some reports state that handling Cloud expenses has passed security as the biggest Cloud computing challenge for most companies. According to the reports, companies are wasting almost 30% of the money they invest on Cloud. Expenses increase due to minute mistakes of the companies. Many times, IT personnel forget to turn off the Cloud server that they used to imply or test any service. Several technological solutions and Cloud spending management challenges can help companies to execute it better. 
For example, Cloud spending management solutions, containers, serverless services, automation, autoscaling features, and numerous management tools provided by the Cloud developers help lower the possibility of the issues. Some companies have built a core Cloud team to analyze its costs and usage.
Bottom Line
Despite all the limitations, Cloud computing is a powerful technology that has impacted the IT industry big time.
We believe Cloud adoption has helped companies escalate their business during the pandemic and its implementation will keep growing as more and more companies will witness the intrinsic importance and benefits of Cloud computing.