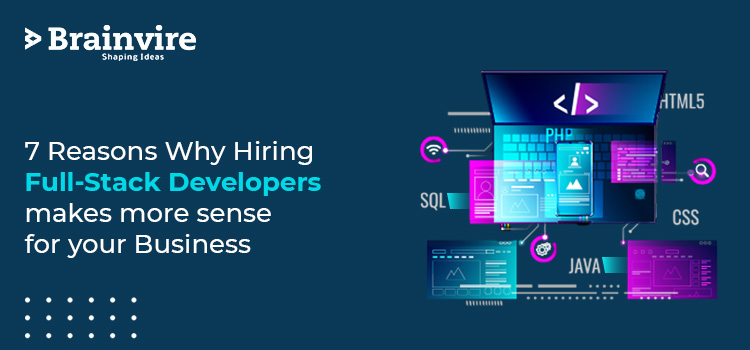 In a cricket team, who is an all-rounder? Someone who regularly performs at both batting and balling, right? Similarly, a full-stack developer can handle an entire project single-handedly. They have knowledge surrounding all aspects of development from ideation to deployment.
Stack developers are projected as the knights in shining armor who can help to bring your minimum viable product home automagically. They have in-depth knowledge of languages and they possess appreciable skills to apply in different situations. 
What are the trending traits to hire a full stack developer?
Good understanding of web frameworks 
Ability to work with media queries and single-page applications
Carry an adequate experience in open-source relational database management systems and cross-platform document-oriented database programs 
Should be familiar with IoT app development
Hiring a full-stack developer can do wonders for your business!
There are ample reasons why hiring a full-stack developer can be the best decision you make. Let's explore them one by one. 
Want to convert your idea into a successful app or website? Schedule your free call with our expert now.
A Versatile Approach
Full-stack developers know the technical requirements of the business, a great deal which allows them to provide better solutions in comparison to any other web developer. 
The ability to handle frontend and backend development comes in handy in many ways especially when you are working on a tight budget. They can have streamline and fast-track delivery by controlling the server-side and client-side of the website or application. 
Full-Stack literally means Full Stack
Full-stack developers have a stack of skills and experience that help them to handle the projects from ground zero to launch. These developers have a 360-degree perspective and therefore they can add customer-centric features to the product. Their skills go beyond the realm of web development to maintaining and optimizing systems. Full-stack developers can build a wide range of web development projects that other developers can't.
Dexterous Skills
A full-stack developer has a plethora of skills that can help the business in expanding further. Front-end developers build codes that manage the appearance and interactivity of a site in a browser. Back-end developers build prototype codes for websites that connect to other content management systems. Full-stack developers can easily work on the frontend and backend along with the protocols that connect these two. They are enthusiastic professionals who are always foresighted about the customer expectations and they come up with solutions without leaning on others.
Extensive Know-How
A full-stack developer works on various projects, their experience is endowed with in-depth knowledge of various technologies. Therefore, you can expect that their insight will, in the long run, will be highly beneficial to the performance and market reception of your project. Handing over the ownership of a project is simple and easy for a full stack developer as they can take end-to-end accountability of the project due to their knowledge and experience.
Cater to the Design Structure
Full-stack developers not only deal with the development of the code but are also very well versed in structuring the code and the User Interface designs. They take it one step further in terms of optimizing and managing the current structures. They are well-versed with the latest technical advancements. They will integrate smart features into your project to ensure that your clients get the best responsive and engaging website possible.
Excellent Problem-Solving Capabilities
Full-stack developers are well versed with each of the development stages, and thorough knowledge of technology will be able to identify the root cause of any issues and deploy long-term solutions. Professional full-stack developers can improve the usability of your web project. They are knowledgeable enough to spot the concerns that emerge during the project. They will also make sure to put in place long-term solutions to ensure the optimal functioning of the website or application.
Cost-Effective Services
If you are working with a shoestring budget and still need a spectacular site, hiring a full-stack developer is the way to go. You won't need to recruit many developers for a single project because they can manage all aspects of the work. Hiring a capable full-stack developer would save you a lot of money.
Since full-stack developers work as part of a team, they can collaborate and segregate work responsibilities efficiently, resulting in better production and on-time project delivery.
What are the Fundamental Challenges that a Full-Stack Developer should deal with?
Code Optimization for the Front End
One of the most difficult projects features a full-stack programmer faces while working on a website or application is frontend optimization. The term "frontend" refers to the interface solutions that occur when working on a mobile or web project.
Backend Programming
The backend is the second most important component of a full-stack developer's ability set. Backend refers to the logic of a website or program that handles user authentication and data processing.
Database Management
Full-stack experts should know how databases function in addition to frontend and backend skills. They must be able to differentiate between various database relationships and be familiar with the cloud integration services.
Extensive Infrastructure Understanding
General machine understanding is one of the most essential attributes of a professional developer. Developers can quickly identify troublesome issues and transform project drawbacks into benefits.
Solving Security Issues
Aside from pure development and basic administration, a competent full-stack developer must ensure the basic security of the project.
Final Thoughts on Full Stack Developer
Hire full-stack developers to create apps from the basics and engage actively in the entire journey of application development. The best part of having a full-stack developer on board is that, even if they land in the middle of the project, they can blend in effortlessly and chart the best course of action. Full-stack developers assist with quality assurance and quality control. They offer huge benefits for an organization as they are proficient in various technologies and capable of solving problems across various streams of web and app development. 
Though recruiting a full-stack developer is a good idea, the knowledge, and experience that a full stack development services can bring to your projects are amazing and game-changing. If you want to partner with the best in the industry, get in touch with us today!