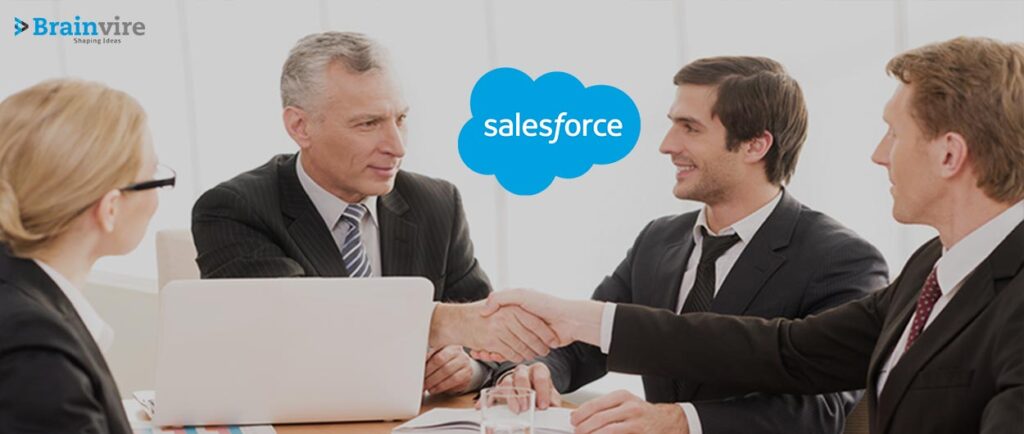 Salesforce is a leading cloud computing company. The company provides customer relationship management, enterprise social networking, and analytics applications. 
Salesforce helps its clients connect to customers in an easy and efficient way. The company also helps businesses deliver the right content to the right people at the right time using analytics and data insights. 
It enables companies to manage their entire operations- from CRM for managing customer data to social networking for marketing purposes. The company has also introduced artificial intelligence into its products which makes it one of the most innovative companies in this space. 
Why is it so beneficial for your business?
Salesforce is beneficial for businesses in various ways. Some of the advantages of customer services are:
User-friendly
Multiple Salesforce customization services for better customization
Easy to build apps
Improves sales conversion and Increases revenue by 25%
Better decision making
Stay competitive with the peers
Many cloud-based services
Provides effective analysis and reporting of businesses
Keep track of customers
Automates tasks
Encourage employees in sales and customer service to be more assertive in order to keep customers satisfied and the company successful
Seamlessly integrated with other systems
Mobile accessibility through the salesforce mobile app
Provides data insights
Excellent community support
Manage multiple companies at once
Despite all these features, many organizations struggle and face multiple challenges to manage their Salesforce systems by themselves and invest in the implementation, configuration, and upgrading phase for Salesforce.
Challenges for all size of businesses 
Salesforce implementation has many challenges to it, but all of these can be quickly resolved with the right salesforce advising services. Here are a few of the challenges. 
The output and quality problems of Salesforce are complicated
CRM inaccessibility issues and rehabilitation sessions
Consumers' bad acceptance
Salesforce development issues. Questions
Surveillance and repair challenges
Supporting salesforce applications specifications
These were important challenges for salesforce maintenance. All challenges can be resolved fast by the best Salesforce support partner. Having the proper support and maintenance of Salesforce is necessary to ensure the correct implementation and the success of your use of the software. Salesforce support and maintenance partners can help you and your company in this regard. 
In this blog, we will discuss why we need support and maintenance partners for using salesforce CRM.
The following are 7 reasons why you need a support and maintenance partner from Salesforce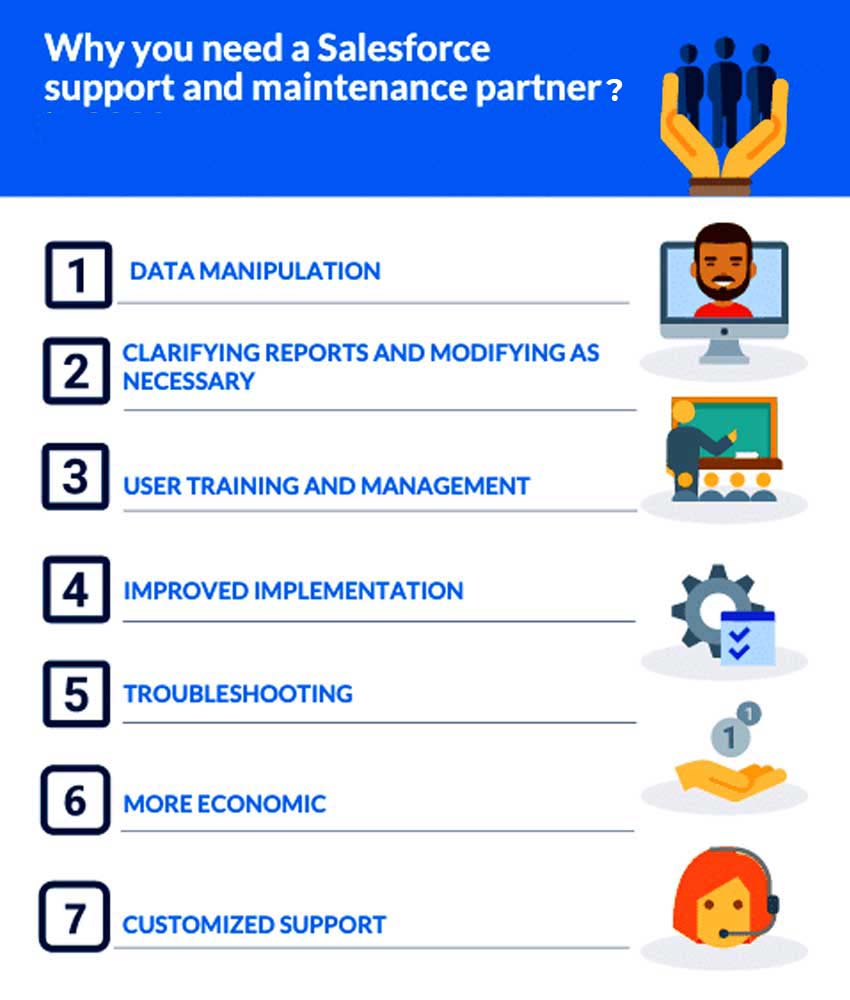 Data manipulation
Salesforce support partners can help with the management roles of Salesforce, including data manipulation so that a better result from the platform can be achieved and your business can take full advantage of its offering.
Clarifying reports and modifying as necessary
Salesforce platform reports should be interpreted, and this can be done appropriately and effectively by a support and maintenance partner. They can change issues so that the software can better meet the business needs of your company.
User training and management
A good Salesforce maintenance and support partner will be able to train software users to be more trained and more effectively applied. They can also assist in managing users and fix any errors during the use of the platform.
Improved implementation
It can be difficult to implement it correctly in your company if you're new to Salesforce software. The right support partner will ensure that this process is as smooth as possible and, even after implementation, is available to deal with any potential difficulties. You can rest assured that the first step in using the platform has been done correctly.
Grow our businesses, and skill up our workforce
Troubleshooting
With your Salesforce software as a support and maintenance partner, you can deal with almost any problems that you might experience on the platform. In addition, a partner can check any bugs that are present to improve software performance.
More economical than those provided by Salesforce
Recruitment of a Salesforce support partner external to Salesforce can be more economical, in particular, if the work is outsourced.
Customized support
You should be given the best support to make the most of your use of Salesforce software. With a designated Salesforce support and maintenance partner, you can be sure that you can provide your company-specific support. This may be very useful if business requirements change and a company needs assistance translating these developments into the Salesforce platform.
Closing Words
A salesforce is a powerful tool with many levels of services. A significant number of companies have been able to monitor customers and their corporate development closely with salesforce CRM. You should have the best support available to maximize your use of Salesforce software. You can be sure that they will be able to support you specifically for your company by using a designated Salesforce support and maintenance partner. This can be very useful if the business needs change and a company needs assistance to translate these changes into the Salesforce platform.
Finding the best salesforce support and maintenance partner could be the most difficult task. And here we come in.
If you are seeking support and maintaining a customized salesforce partner or are looking for custom salesforce services. Contact Brainvire, and our specialists will soon reach you.