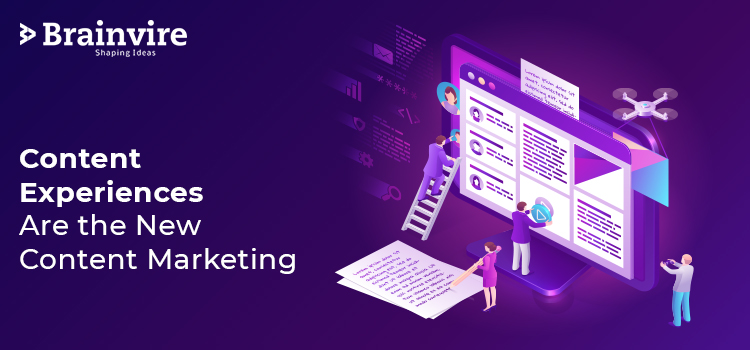 One amongst the most effective ways to engage your audience and ensure they return for more is through content experiences. The new content marketing paradigm is focused on content experiences and how to create them. Experiences deliver an exceptional opportunity to engage your target audience on a deeper level. 
Content is no longer simply information. Content now includes more than just text. It now includes images, video, and rich internet applications (RIA) that deliver richer experiences through rich media.
WHAT ARE CONTENT EXPERIENCES?
Randy Frisch is the person who coined the very term "Content Experiences." He introduced the same in his book, "F#ck Content Marketing: Focus on Content Experience." While explaining the same, he describes three essential attributes.
He explains that the content experience is:
· The environment in which the content survives.
· How is the content structured?
· How your content compels your prospects to engage with your business.
In the new SEO paradigm, the content experience is the new content marketing initiative. Now is the time when digital marketing services have evolved to reach more people than ever before. 
Want to convert your idea into a successful app or website? Schedule your free call with our expert now.
With the help of new content solutions, you can get content across inbound links, distribute it as content via RSS feeds, and even embed it in social media feeds to share it with your audience.
WHAT DOES CONTENT EXPERIENCES HELP IN?
Planning & Executing Innovative Content Experiences
Social media is one of the fastest-growing areas of focus for content makers. Today, many SEO services understand the value of engaging on social media platforms to connect with their target audience. 
More importantly, many companies realize that this form is the next big step in evolving content. To take advantage of your company's marketing efforts, you need to plan and execute innovative content experiences.
Offering Amazing User-Experience 
Content experiences are one of the best ways to leverage content marketing to drive traffic to your website. By providing your users with an exceptional user experience, content makers become content consultants. 
They become experts in their field. This helps establish your credibility as a content creator and makes you more valuable to your customers because you understand what they want.
Prepping Responsive Content for Users
Imagine this: you & your team are working on a new content experience for a customer. You decide to create a mobile version of your content. With this new feature, your users will be exposed to your content wherever they happen to be, no matter where they go. 
If they happen to be on the go, they can view your content on their phone while they are jogging or waiting at the doctor's office. If they are at home, they can enjoy your content by listening to it through their car's earpiece.
Content experiences are an important ingredient to content strategies. Today, almost every business utilizes some mobile device or application in one way or another. 
As a content creator, your job is to provide your audience with content that works on mobile devices. That way, you not only make your content accessible to your audience, but you also ensure that it is engaging and entertaining.
SO HOW DO YOU MAKE SURE THAT YOUR CONTENT MARKETING IS SUCCESSFUL?
One of the biggest mistakes that many businesses make is to replicate content on their website or blog. This opens you up to duplicate content penalties, which can cost you your whole campaign and make it seem like you don't have any content strategy at all. 
Instead, consider engaging your audience on a more personal level and allow them to immerse themselves in your content experience.
The content industry is quickly growing, and there are more opportunities than ever before. If your business does not have a content strategy, then now is the time to create one. Content is the backbone of the modern e-business, and without it, there is no chance of survival. 
WHY IS IT THAT CONTENT EXPERIENCES ARE THE NEW CONTENT MARKETING?
Simply because they are powerful, fun, and, most importantly, fresh, people are busy with many responsibilities, and they don't have time to read boring text anymore. On the other hand, content is what they will remember and what they will be attracted to when they do visit your portal.
Creates Emotional Connect
Content can create an emotional connection that will make your customers talk about you and talk about your brand. 
You will find that your content experiences will get featured in your social media conversations. People will tell when you are using content for digital marketing services and when you are not. That's a powerful strategy!
Engages Target Customers
If you haven't done that yet, then now is the perfect time to step into this brave new world of online marketing. Content is no longer seen as an article or blog post, but rather as an interactive video or short video series, an audio recording, a short report, or just a blog post. 
The best content experiences are the ones that engage the customer and make them want to know more. Content that shows the customers how they can solve a problem for themselves or others is far more compelling than content that tells your brand or company's story. Engaging the customer is the foundation of successful online marketing.
WHAT IS THE VALUE OF CONTENT EXPERIENCES ANYWAY?
Well, the answer is simple. Content allows you to put your brand out there in front of potentially millions of potential customers. When you use content to engage with your customers, you give them something that they will love and want. When you use content to sell your products, you tell your consumers why they need what you are selling and why you think it will work for them.
SO WHY ARE CONTENT EXPERIENCES SUCH AN IMPORTANT PART OF SEO SERVICES TODAY?
Implies the Right Information
One reason is that people are simply not thinking about content as much as they used to. People are bombarded with a lot of information online, and if they cannot identify with some of it, they stop caring. 
People have become so jaded by advertising online that they stop reading at all if they do not feel like they've received enough information to be impressed. This is a shame because content offers so much opportunity to consumers, and if you do it right, you can create a long-term relationship with them.
Makes the Content Interactive
Another reason is that content is interactive. Consumers expect to receive an experience when they visit a website. They want to be able to interact with the website or online marketing message to be more involved with the experience they are having. 
When they come to your website through a content experience, they feel engaged and interested in what they see, which creates a greater chance of making a purchase.
Keeps Your Brand-Image Fresh
A third reason is that content experiences are a great way for your brand to stay fresh in your consumers' minds. You may think that this is not important, but you would be surprised at how many times brands fail to keep their feet planted firmly in the online sand. 
Branding is all about the association, and if you cannot establish a connection with the consumer, you are fighting a losing battle. Creating content experiences for consumers is the perfect way to do this.
SUMMING UP
Content experiences are the new wave of content strategies. Don't ignore them. They're an excellent way to get your content in front of millions of eyeballs without spending thousands on content development and testing.
The content experience is a growing trend, and if you want to take advantage of it, then now's the time to do so. As long as your company is willing to invest the time, effort, and resources required, content experiences are the new content marketing.