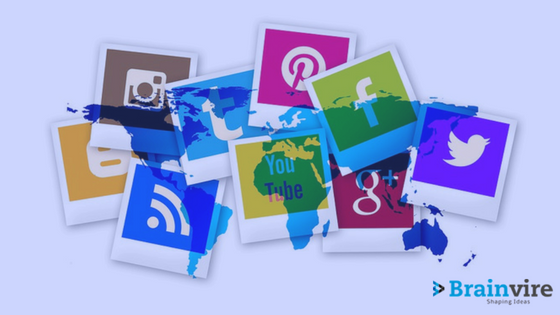 In a world where the attention spans of people are constantly reducing and the phrase 'out of sight, out of mind' is becoming deeply relevant for businesses, the need for brand building to stay in sight, is greater than ever. Social Media is a natural extension of branding and marketing given the large number of youths across boundaries spending their time on the social media platforms. If you know the right way to leverage social media, you're sure to have a successful business!
Staying Above the Cut –
Indeed, the competition is growing. It is becoming fierce. You either go all out with your branding or you perish. There is no middle ground. There really is no way I can exaggerate the need and importance of branding – the right way – in this digital day and age. With the multitude of available avenues a business has to utilize for its brand building, it is a no brainer to use them to your advantage, regardless of the size, scope and segment of the business. But also due to the abundance of options and a severe lack of understanding of them, we can see countless examples of failed businesses that otherwise had a unique product or service with the potential to be successful. However, this is where social media marketing comes in.
Social Media, a Boon –
The stupendous growth of various social media platforms such as Facebook, Instagram, and Twitter among others, offers a crucial and highly lucrative opportunity. In many ways, these platforms have evened out the playing field. They provide the same potential customer base and the same tools for brand building to all companies, without discriminating on their size or what they sell. One of the biggest factors that any digital marketing agency looks for is a place or platform that has a high concentration of their favored demographic in order to be able to effectively focus their efforts and resources and ensure profitable and consistent sales from those promotions. Social Media platforms offer exactly this on a digital silver platter! Whether a business knows how to properly take advantage of this, however, is a different story altogether.
How to Use Social Media to Your Advantage –
A few key things can completely change the outcome of a business's Social Media marketing and branding strategy. These are –
Know Your Customer
Know Your Personality
Know Your Content
Learn, Improve and Learn Again
So, let's get onto these NOW!
Know Your Customer – People of literally every description use and frequent social media. If you don't know who needs your products/services, you are trying to find the needle in the haystack with a sledgehammer. What is the age of your ideal customer? Where does he/she live? What are his/her interests? How does your product help solve his/her problems? The answers to these questions will help you funnel your efforts on social media, resulting in a far better conversion rate for a lot less resources.
Know Your Personality – This is a branding basic for any brand marketing; an oldie but a goldie; and yet critically ignored. Every company has a personality that is imprinted in the minds of public. The success of every branding strategy depends on how a business projects its image and how it is perceived by its potential customers. The smaller the gap between the image and the perception, the more success there will be. Every article, every post, every advert, every single piece of content you put out on social media should follow the same statement and thought process – effectively, persona.
Know Your Content – By understanding the type of content that is engaging and pleasing for your potential target customer base, you are drastically increasing the success chance of your social media branding strategy. From images and infographics to videos and adverts, make sure it is simple, easy and quick to consume whilst leaving an impact.
Learn, Improve and Learn Again – No branding or marketing strategy ever made was flawless at the beginning. It requires for

Social Media Marketing Agency

to keep observing, identifying what needs to be improved on and could be done better and make the necessary optimizations, much like tending to a garden. Thankfully, there are quite a few Social Media management tools out there which provide highly useful data analytics for all your social media content. Using these analytics, you can make the tweaks and social media optimizations you feel are needed.