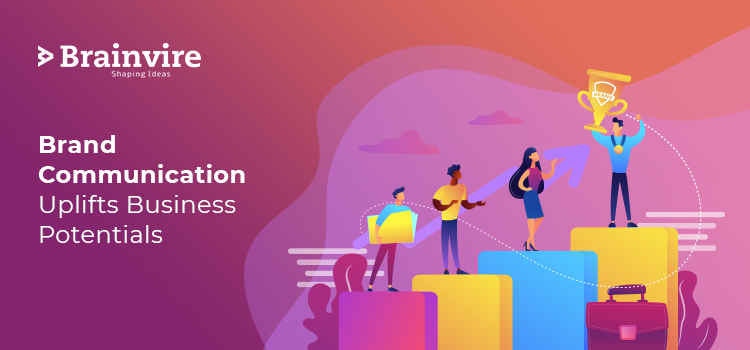 A company starts to communicate about its existence since its inception. The firm puts conscious efforts to create an identity, and improve brand communication as the brand evolves. A good website and an appealing logo are the two strong parameters that have a significant impact on your brand. Brand identity may hold a strong stance but it fails to provide results without effective communication.
With strategic brand communication, consumers are introduced not only to your services but also to culture and business value.
Today, consumers prefer different platforms to communicate with their favorite brands.
As per digital marketing services, communicating the right message to the right audience through the right platform and at the right time defines effective brand communication.
Regardless of the communication platform you choose, it is important to take into account the following aspects for effective brand communication:
Share Creative and Clear Messages
Precise Target Audience Description
Increase Customer Engagement Naturally
Design Impactful Campaigns
Include Integrated Marketing Communication
Make Optimal Use of Multiple Channels
Adopt a Flexible Approach
Companies are clueless about what their core message should be or what message they should send to their customers. Firstly, it is your core message and you need clarity on what to communicate to your customers and stakeholders.
A message that offers a meaningful essence to your brand is necessary so that customers can rely on your services and enjoy a memorable brand experience.
One of the cruces of marketing is that it can ease communication through messages. This feature has the power to strengthen brand value. Digital marketers have a team of experts that can create crisp, short, and creative messages along with appealing graphics.
A good eCommerce website development company has the potential to share relevant creative messages consistently with their audience.
Want to convert your idea into a successful app or website? Schedule your free call with our expert now.
Precise Target Audience Description
Audience research is one of the fundamentals of effective marketing and brand communication. This research provides you a clear personality of the target audience and design strategies accordingly.
This research is also beneficial to create audience-specific content. This makes it essential that you as an organization have clarity on audience profiles.
Unless you have a precise audience profile description you are likely to beat around the bush and tap different audiences. Instead, ask your research team to define an audience based on:
Age
Gender
Location
Purchase habits
Lifestyle
Nationalities, etc.
This data informs you about the right format in which your customers prefer or consume data. It also notifies you about their other interests apart from their job.
With all this data, your creative can produce consumer-centric content. Your digital marketing team can share the content through the right platform and at the right time.
Increase Customer Engagement Naturally
The marketing team has the caliber to showcase the lucrative features of products/services to engage with the audience. This offers clarity to the audience in terms of what they should expect from a product.
Audiences can make informed decisions with this information. In lure to enhance product features, marketers tend to hype product functionalities and push their audience for purchases.
This may work fine for a certain period but not in the long run as it develops a negative impression in the minds of the audience.
Instead, try to implement strategies that can grab the attention of your audience naturally so that they show interest in your services willingly.
Use captions or graphics that naturally attract the audience to click on your website or make a purchase. Audiences tend to make their mind in the initial few seconds when they watch an ad or a post.
Plan and execute strategies that allow you to engage with the audience naturally.
Design Impactful Campaigns
Campaigns play a significant role to shape brand communication and identity. They are a stepping stone to accomplish marketing goals. They serve the purpose to communicate effectively either to obtain new customers or retain the existing ones.
A consistent theme coupled with a time-segregated approach frequently through different channels offers a strong foundation in the industry. Campaigns are an innovative way to break through the clutter and create your own niche.
Creating innovative campaigns can redefine your product journey, bring stability, and enhance your communication with the audience. Good campaigns have the potential to eliminate barriers in your way to reach your audience and increase reach.
An increased reach is beneficial for the company as it leads to conversion and actual sales.
Include Integrated Marketing Communication
Most entrepreneurs end up inquiring- Do I really need to spend on this?
Yes, a company needs effective and streamlined brand communication across different channels to reach its wide audience.
Integrating tools such as digital marketing, social media, and email marketing to name a few can bring clarity and consistency in the communication process. Besides, these are the most impactful channels to communicate with your audience.
One strong message from a brand across all channels has a tremendous effect. For instance, Brainvire's digital experts proposed and executed an impactful strategy inclusive of SEO services and Facebook advertising for a leading publishing house in the USA. The team worked on three websites, improved their digital presence, website content, website layout, and reached the right audience. This eventually increased the number of subscriptions of the client.
Make Optimal Use of Multiple Channels
With the advent of social media platforms, networking has turned out to be convenient as well as imperative. Digital marketers can utilize different channels optimally to enhance brand communication.
It has been observed that organizations can strengthen brand communication with the use of multiple channels. Hence, avoid sticking to a few channels, especially at the inception of your business. Firstly, you can embark on your presence and gradually develop brand identity across channels. Mere presence is not sufficient, it is equally important to stay active on these channels and communicate with your audience regularly.
Social media platforms are the best suitable choice for effective communication.
Adopt a Flexible Approach
Once you have successfully crafted a personality and a brand image, make sure that you keep your presence casual and fun-loving. A boring website personality restricts your potential and makes it difficult to retain customers.
Offer fun-loving, informative, and relevant content to your audience. An interactive website that is full of surprises can remain on top-of-the-mind of your audience.
Share versatile and productive posts that your audience can relate to so that they visit your website regularly. You can alter post content as per geographic location to tap different markets.
A static and standard process may lead your website to stagnancy and hence it is necessary to adopt a flexible approach. An approach that allows you to evolve with audience demands, and current and future market scenarios.
Alongside, it is important to be honest with your audience. An honest conversation with your audience holds more accountability than any other mode of communication. Give your audience the liberty to share their feedback so that you can discard flaws in your approach.
If needed, switch your content tone from direct to comforting as it helps build long-lasting relationships with your audience.
So far, we have discussed all that you can include in your brand communication. However, there is one thing that you must skip and that is overselling. When you compel an audience or constantly feed them the same content, they are less likely to stay around.
Curious to know more about brand communication?