What is the first thing that we do in the morning after waking up? Jump out of the bed, pick our cell phones and start social media surfing. Checking out posts related to our own interest while enjoying the chats and other fun facts on media has become a habit for many. Almost all the businesses present online are benefitting from this lifestyle and are using it to engage fans and grow their brand.
But now is the time for businesses to start using social media marketing in a more effective manner in order to boost sales and increase ROI (Return on Investment) of the business.  But before you comprehend the ways to accomplish the same, we would like to talk on some important aspects related to ROI –
Why there is a Need to Measure ROI?
The ROI is calculated as-
Return on Investment or Social media ROI % = (Capital gain/ Investment) * 100
It is very aptly said, "You can't improve what you can't measure" which means that measuring and tracking ROI of your business periodically should be a priority to increase the sales. It is imperative to keep an eye on your social media revenue to –
Determine the value of social media marketing for your business
Know if your social media advertising techniques are effective or not
Identify the areas of strategies that need to be enhanced
Outline the aspects of your strategy which aren't working anymore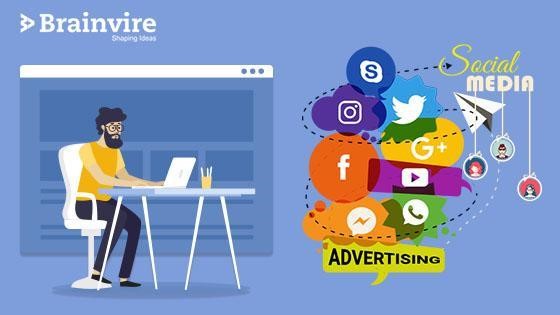 Continuing this blog further, you will learn 5 of the most effective strategies of using social media to drive sales and revenue. These are-
Comprehend the 'REAL' Reason Behind Placing Advertisements
Know Where Your Audience Spend More Time
Plan the Content Incorporating Optimized Posts
Research About Your Competitors
Always Be Ready to Change Strategy
Comprehend the 'REAL' Reason Behind Placing Advertisements
It has been found that 40% of the global population uses social media which shows the usefulness of social media platforms for businesses. Even a study conducted by Statista, the statistics portal, shows the number of social network users worldwide from 2010 to 2021. It is estimated that in 2019, the number of social users will grow to 2.77 billion users approximately around the globe, up from 2.46 billion in 2017.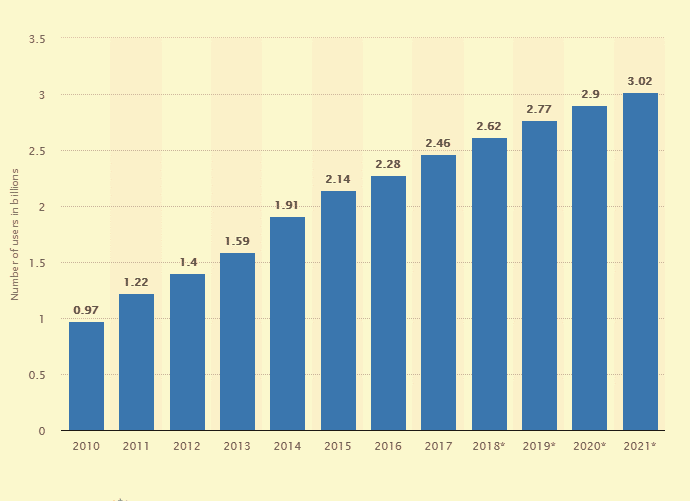 Source: Statista
https://www.statista.com/statistics/278414/number-of-worldwide-social-network-users/
Therefore, just like many other marketing activities, it is essential for businesses to define what they want from their advertising on social media platforms like Facebook, Twitter, Instagram, etc. There is little or no point in running campaigns just for extra likes or followers; the money spent on advertising should generate appreciable leads. So, what businesses should do? They can include Key Performance Indicators (KPIs) that can help them make smart decisions. Determine the main reason for posting advertisements which can drive relevant traffic. Focus on goal conversion rate of best ppc management service by posting ads that directly resonates with the target audience and brings awareness about the brand.
Know Where Your Audience Spend More Time
The first rule of social media marketing is to mainly use those specified platforms which your targeted audience uses.  For example, you can't just wander on Instagram expecting to target B2B customers over there. You might think that staying active on every social media platform is beneficial for you, but it is nothing more than a time-consuming process if you are unable to convert the targeted audience. Therefore, first, consider your target demographic and then find out where they spend most of their time actively.
Once you are on the right platform, it will become a lot easier for you to reach your targeted audience and convert them into potential leads.
For example- If your targeting B2B audience, LinkedIn is the most appropriate platform followed by Facebook as Facebook has a huge user base.
Below are the statistics to show the number of active users on each platform.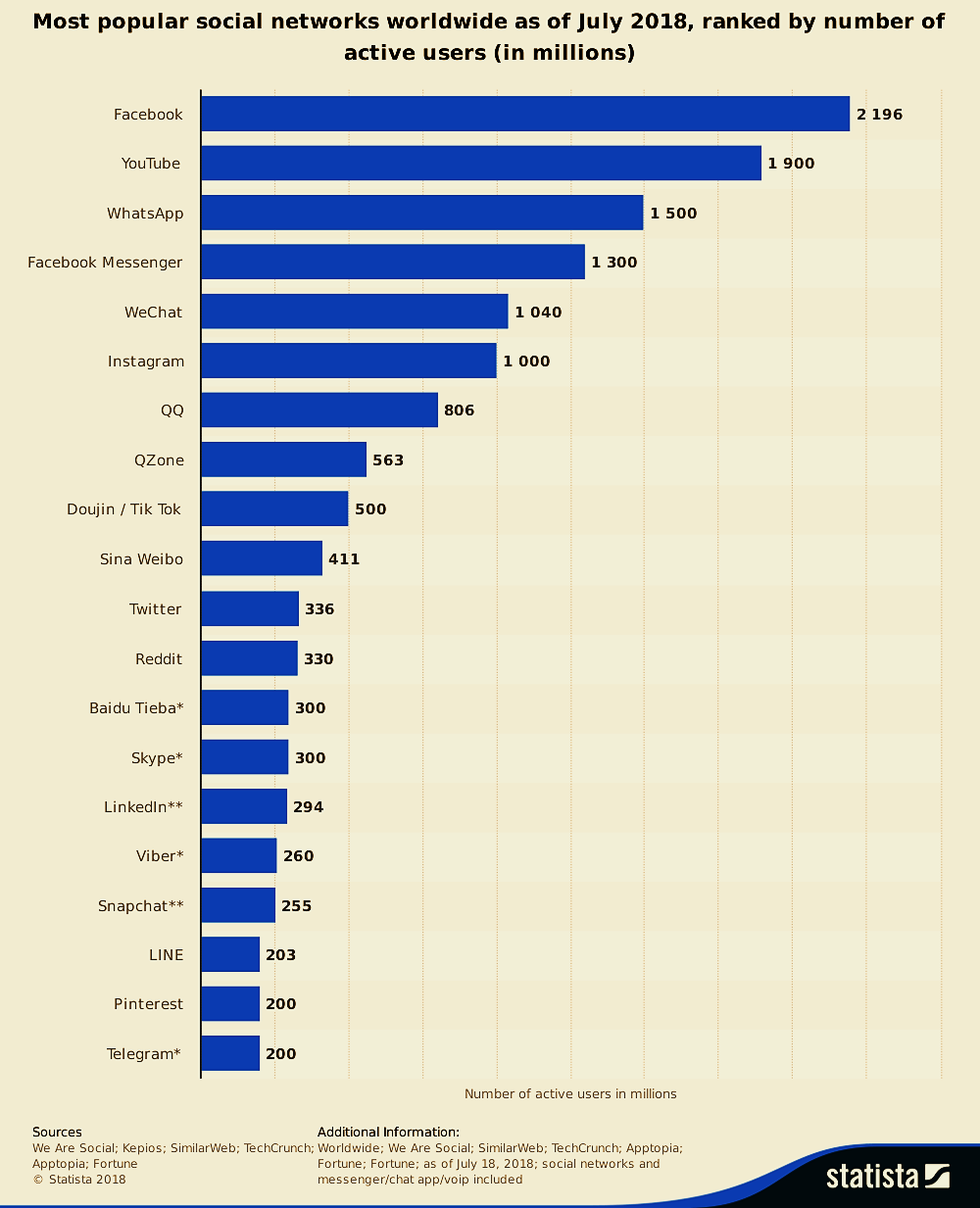 Plan Out the Content Incorporating Optimized Posts
After ensuring the main reason and the appropriate platform for advertising, your goal must be to produce the right content for your advertising campaign. For the businesses that have just started, low engaging social media posts becomes one of the main matters of concern.
To make certain that your content resonates the target audience, you are required to have a thorough understanding of where your audience spends the most time and what type of content they engage with. You can strategize a layout containing images, infographics, GIFs, etc. that attracts your target audience and compels them to read the content on it.  If your audience likes video content, then produce some short video advertisements to encourage engagement with your brand.
For example, let us assume a B2B company in a niche market creates a white paper on a significant subject to be promoted. They can accomplish the same by encouraging downloads using the promoted tweet feature on Twitter or post on Facebook. Also, the company can target the audience based on keywords relating to the report and/or relevant accounts that they follow.
Research About Your Competitors
It is well said, "Know your competitors and your battle is half won" meaning knowing your competitors, studying about them and analyzing their approach makes you half win the competition. Before advertising your content on social media or planning any brand marketing, take a look at your competitor's content and research about their popular networks. Also, find out which of their posts engage the maximum audience. Know the pros and cons of the strategies followed by your peers and plan yours accordingly.
We are not asking you to do this research to follow your competitor's strategy but looking at their strategies and studying the weak points can help you improve your advertising campaigns.
Compile a Creative and Targeting Advertisement
The best part about digital marketing is that it has a lot of data to deal with! So, utilize this data in terms of figures and facts and track the campaign to know where do you stand in the competition. Keep the focus on your goals and do not be restrain yourself to change the strategies if required. Try to enhance your content by making it creative and educational that can entice your audience and compel them to buy your product or services. Ideally, your content should be informative and contain information such as user guides and how-to content.
For Example- You can use the Facebook page to share videos consisting of tutorials for your target audience. Similarly, you can upload content that provides useful tips on how to use your product or services.
Always Be Ready to Change Strategy
Social media platforms are used to create awareness in the minds of customers about your business's services and products. If you find out that the strategies that you have been following for your brand building and lead generation are not bringing any effective ROI to your business, then you might want to try amending your ways of advertising. You can try another creative and innovative approach such as making short videos, using GIFs, slideshows, or might consider switching to a different network of the audience.
The Conclusion
Coming up with a robust and 'customer-attracting' social media advertising strategy by social media marketing agency should not become a complex task for you. If you are not seeing any significant growth in ROI for your business, then you should implement the above-discussed points while strategizing for your business. As going with a planned and structured strategy is going to show you results in numbers, maybe not immediately but surely.
Do you need some help in defining social media advertising for your business? Call us for Digital marketing agency or ping us at info@brainvire.com and we assure you to provide the latest and innovative solutions for your business.