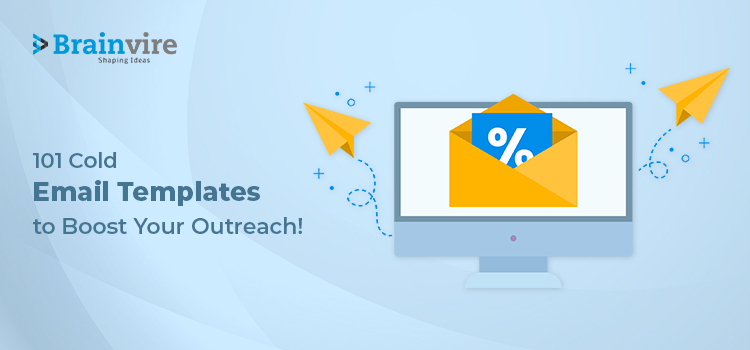 You might have come across multiple blogs on ways to warm up your mail. So this means, next time your emails land in someone's inbox there is some sort of credibility in the minds of recipients. It is evident when your email is warmed up, the cold emails land. But there is one other factor that makes the cold email campaign a success is the choice of the email template.
We do not endorse the fact that you can just Google up some of the standard email templates and just copy-paste the same. It just doesn't work that way, you need to add a personal touch to it. Some of the cold email templates innately include the personalization factor. But in other cases, you need to be proactive and add the element of personalization.
Let us break down the cold email to understand the structure that needs to be followed while drafting a cold email.
What Makes Cold Email Work for You?
NO matter which email template you use, the framework always remains the same. If any of the elements is missing or is wayward, the success depends on prayers and luck in such cases.
Mention a clear subject line indicating what the recipient can expect once they open the mail.
Start with an intro of a couple of sentences giving an introduction. Keep it short.
Move into the detailing in the next para. Here, you can be a bit verbose and explain the subject matter.
Add a clear CTA, which fits the purpose of the email.
Lastly, add relevant personal experiences, or social proofs.
Want to convert your idea into a successful app or website? Schedule your free call with our expert now.
Top Cold Email Templates Ideas
1. Sending a Warmup Email
It is always a good ploy to start interacting with customers or prospects through a series of emails. It gives a sense of where your services or product is based. Once you have their affirmative mails in your inbox, you can take the plunge of reaching out to strangers. People know people, and there is a good chance you might find a common connection from somewhere among the friend's circle.
2. Approach Your Prospect's Customers
Reach out to your prospect customers or partners in the initial stages to know to have an idea of the target prospect. Having prior knowledge will help you draft a binding email to the specific needs prospect.
You can use the information of the customers that you have interacted with to reach new customers or partners directly. You can send the same references to the end prospect as well but all of it has to be with full consent of the customers or else it will leave a bad impression.
3. Explain Why You Are Better Than Your Competitor
In case you have done thorough research on your competitor or believe that you can do a better service, let the customers know about it. This also allows you to showcase the features of your product and create a point of comparison that sticks in the subconscious of the customer.
4. Inform About Events
The success of a cold email depends on the kind of relationship it provides you at the end of the day. One of the guaranteed ways to start building a relationship through cold email is by inviting the customers to the events.
Make sure that the consumers benefit from attending the events, i.e., give them a discount or a freemium membership. It is necessary that you explicitly mention the details about the benefits that customers can have on attending the meet.
5. Communicate to Your Target Audience About Free Trial Run
Whenever you offer something for free, there is a small star indicating T&C applied, which most consumers miss out on. But what if you can provide a free service with any such T&C, you can just imagine the users lying up. This can be made possible with a free trial run for one month or a FREE sample product.
So, it's time you draft a mail for the customers informing them about the trial run or sample product offer. You can follow the template given below.
6. Talk About Your Findings by Sending Relevant Blogs
If you are trying to convince a lead or a potential customer about anything related to your line of offering, adding a blog link to the mail is a great way. Add blogs that meet the contextual requirement, adding irrelevant might push your customer away.
There are certain elements that you should include in a mail that has a blog link. Try to validate the subject with some sort of examples, and also add a CTA button to get a response. Here, you can personalize the mail as the customer nature you are targeting.
7. Congratulating Them
Whenever your prospective client has achieved something substantial in their domain, you must push a cold email congratulating the team. That's not all about it, you need to make sure that congratulatory mail doesn't turn into straightforward business direction. No one expects an underlying tone of business motive wrapped in a congratulatory mail.
On the other hand, what you can do is, show them you share a common vision and how your services can help the team to achieve their vision. Maybe discuss on the surface about a new sales service that meets the end of the clients, but remember to do it subtly.
Key Takeaways
Any ideal cold email template should be followed in such a fashion that it makes the addition of value creation factors normalcy. The subject matter of your mail should be able to add the missing value that prospects or customers are looking for. Also, adding basic but crucial elements, like a CTA, proof of concept, social media mention pushes the chance of response a tad bit more.