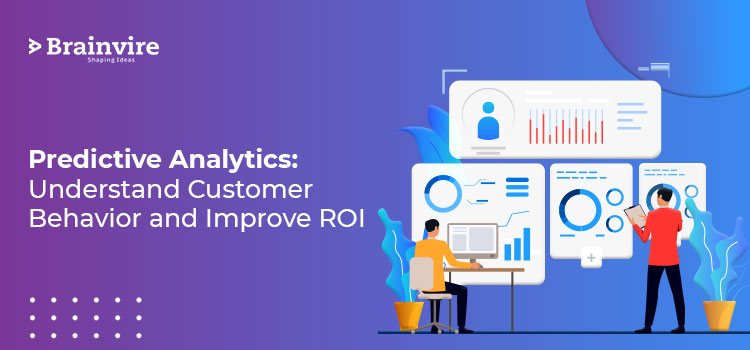 As the name suggests, predictive analytics leverages historical data, algorithms and machine learning to provide insight into the future. It comes into play when an organization demands the generation of high-quality data to apply business intelligence and analytics applications. 
In the customer relationship context, predictive analytics is used to determine the response of your targeted audience to your products or SEO services. With this type of analytics your company can derive valuable information about their current and potential customers from unstructured as well as semi-structured data from different sources like system logs and social media sites. 
These days, you can find a large number of business corporations using predictive analytics to improve customer relationships and profitability. Read on to find out how predictive analytics can help you achieve a better ROI and comprehend customer behavior. 
The Many Benefits of Predictive Analytics
Predictive analytics is closely related to the concept of the data lifecycle model. It enables you to determine information that is most relevant to your organization. There are several benefits of predictive analytics, which include:
Want to convert your idea into a successful app or website? Schedule your free call with our expert now.
Increases revenue
Studies show that organizations generate huge amounts of revenue with the help of advanced data management solutions. Now, add in quality data-driven insights. Predictive analytics allows you to access more accurate insights, which improves revenue and profitability. 
Enhances customer experience
Customer experience is highly influenced with the help of predictive analytics, where you can get instant feedback for your products or services from the clients who show an interest.
Improves efficiency
Predictive analytics helps you determine the efficiency of your business model in relation to your target audience. This makes it easier for you to design a marketing plan that will ensure profits in the near future.
Boosts marketing and sales tactics
Predictive analytics enables you to draw insights on customer behavior, habits, likes and dislikes from interactions through marketing and CRM initiatives. This allows you to channel your marketing and sales efforts in the right direction. 
Accurate insights
Predictive analytics helps in organizing the data in an efficient manner, which eventually results in quality data that offers accurate forecasts of the future. 
Addresses data and architectural complexity 
Be it structured or unstructured information, it is difficult for the enterprises to maintain it without a proper data management solution. Predictive analytics software allows consolidation and management of data that solves rids organizations of such challenges.
Ensures data quality 
Evaluating accuracy of manual data records every single time can prove to be a cumbersome task. Moreover, lack of synchronization and proper management of data adds to the tedious job. With predictive analytics, all this is no longer an issue. It collates, segregates, and eliminates duplication to ensure access to quality information.
Offers meaningful information 
It is essential for executives within your organization to understand the importance of powerful data management to extract meaningful information. Predictive analytics provides real-time insights that the c-level professionals can leverage for better decision making. 
Resolves data security issues 
Organizational data is at the risk of cyber-attacks and requires high levels of protection. Although mechanisms have been developed to provide the needed online data privacy and security, it is not always easy to curb data-breach issues. Predictive analytics can be used to understand the propensity of security concerns, and design solutions in reducing these attacks.
Assists with financial functions
If you are a business in the financial sector, then predictive analytics can be helpful in bringing efficiency to various functions including portfolio management, fraud detection, and underwriting.
Aids in product marketing
With the help of machine learning in predictive analytics you can identify common patterns in customer behavior and get accurate sales forecasts. With the valuable data, you can design a solid marketing plan to position your product and improve sales. 
Improves efficiency of predictive maintenance
In the manufacturing sector, the use of high maintenance predictive plans can slow down the risk of unexpected failures which might affect the overall performance and productivity.
Helps with product design and recommendations
Your sales and marketing teams working on product recommendations can leverage predictive analytics to analyze customers' purchasing history. Based on this they can recommend products to customers that they are likely to purchase. Moreover, by harnessing customer data you can even design products that are viable in the market.
Refines target audience
With the help of predictive analytics tools, you can determine ways to group and align potential customers who are likely to associate with you in the long-run. Based on this you can craft marketing, advertising and sales plans to attract their attention.
Testing decisions
Taking decisions is one thing and testing them to ensure they are feasible is another. With the help of SAP predictive data analytics tools, professionals can easily determine if a given business model, product idea or a marketing plan will work well for your or not. 
Enhances advertising strategies
With the help of big data in predictive analytics, you can recognize advertising trends that help you position your products to drive maximum engagement and user attention. 
Predictive analytics is surely the need of the hour and helps in solving complex business problems and understanding consumer behavior to improve ROI. Consult experts in analytics to help you with a robust solution tailored to your requirements to scale your business.