The dynamic and competitive auto industry is ever-changing. It demands business owners to continually evolve and stay on the right foot with the latest trends to make the most of their operations. Besides, thanks to the continually growing competition, dealerships are busy seeking new ways to improve sales performance and gain a competitive edge. 
Talking of new ways to revamp your business, many dealerships struggle to miss up on leads even though you have the best salesman at the job. Interestingly, this is where auto dealership CRM software enters as a powerful tool that can drive success via data-driven decision-making.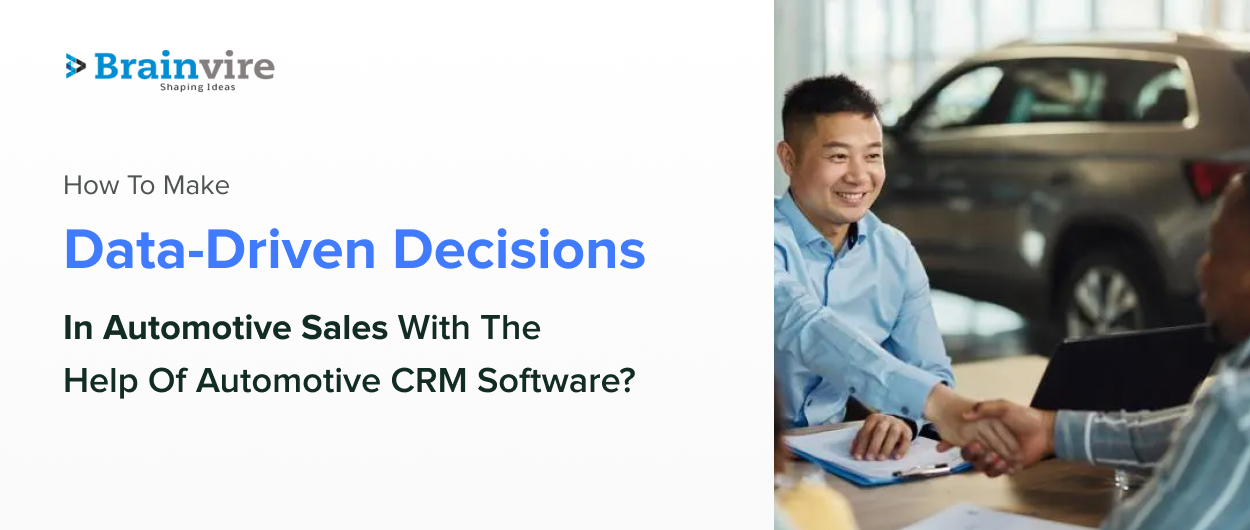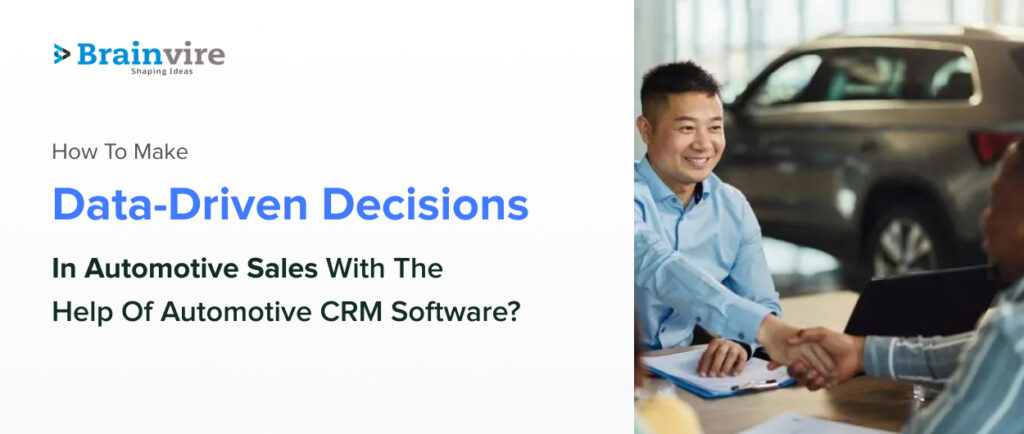 Automotive CRM software adds to a dealer's ability to segment their operations and manage customer relationships effectively. The software uses razor-thin margins, analytics, and insights to help dealerships make informed decisions. 
Interestingly, this is just the peak of the abilities of automotive CRM software. This blog tends to explore the possibilities of data-driven sales in automotive dealerships. So continue reading as we look into the different aspects of CRM software in detail in the following sections. 
Understanding Data-Driven Decision Making In Automotive Sales
Driving data using sales is the new normal for companies of all scales and sizes. Gone are the days when organizations could crack sales with half-hearted measures. The rise of dynamic auto dealerships has forced business owners to upgrade, curating sales strategies while improving marketing efforts and delivering exceptional customer experiences. 

Today, it's possible for businesses to track key metrics and optimize their marketing campaigns while enhancing data-driven decision-making offers that add insights into sales. 
Let's look at the perks that data-driven decision-making adds to automation sales in this section:
Benefits Of Data-Driven Decisions In The Automotive Sector

I. Track Key Metrics to Identify Trends and Opportunities:
Making data-driven decisions requires maintaining a close eye on essential variables that offer insights into the sales performance of your business. Keep track of statistics like overall revenue, customer involvement levels, customer satisfaction ratings, and lead conversions. 
When leveraging data to drive decisions, you can spot trends, patterns, and opportunities for development by studying this data. For instance, you may investigate the causes of a fall in lead conversion rates and implement methods to fix the problem. Review and evaluate your analytics regularly to keep informed and modify your sales techniques as necessary.
II. Set Realistic Goals Based on Data Insights:

Setting achievable targets for your sales staff is the first step in data-driven decision-making. Establish ambitious but reachable goals by using the learnings from monitoring essential metrics. 
For instance, if your team converts leads at a 20% rate according to your analytics, you may set a deadline to raise that rate to 25%. Your team will have a clear direction and motivation when your goals align with data findings.
III. Optimize Marketing Efforts through Data Analysis:

Making decisions based on data significantly improves your business's marketing efforts. By analyzing campaign performance data, determine which marketing channels, tactics, and messaging generate the most leads and conversions. 
What's more? Such strategic decisions may also allow you to allocate resources wisely and concentrate on the most successful marketing activities with the help of this information. Utilize consumer information and segmentation to tailor your marketing campaigns further. Customize your messaging and offers based on specific client segments' interests, demographics, and past purchases. This focused strategy enhances the possibility of conversion.
IV. Enhance The Customer Experience With Data Insights:

Making data-based decisions may completely change how customers are treated at your dealership. Gather and evaluate customer feedback information to learn more about their preferences, problems, and satisfaction levels. Make data-supported judgments and use this information to pinpoint areas that need improvement to improve the customer experience. 
For instance, you may employ techniques to simplify the procedure and cut wait times if clients routinely complain about long waits during service appointments. By promptly responding to consumer complaints, you create a satisfying and memorable experience that encourages loyalty and promotes repeat business.
V. Embrace Predictive Analytics for Sales Forecasting:

Your data-driven decision-making may be improved by incorporating predictive analytics into your sales forecasting. You may find patterns and trends that aid in forecasting future sales success by examining previous sales data and consumer behavior. 
This insightful information allows you to forecast demand, set inventory levels, and better manage resources. You may prevent overstocking or understocking inventory with precise sales forecasting, providing a positive customer experience and optimizing income.
While these were some perks of automation, there are some limitations to the process. Let's learn more about these challenges in this section. 
Challenges Faced In The Absence Of Data-Driven Decisions

I. Scattered Data Sets Throughout Your Systems
When working at an automobile dealership, several departments frequently produce, gather, and store data in various systems, including accounting software, sales, and marketing portals, project management tools, or even simple spreadsheets. 
These data silos are invisible to the decision-makers. As a result, decision-making is based on inadequate knowledge. It is crucial to integrate data from diverse sources to give decision-makers a cohesive perspective and comprehensive information.
II. Restrictive Analysis That Limits Your Operations
Legacy data analytics technologies constrain the ability to analyze data. Even when the data is there, such technologies may only offer users a portion of the insights and limit their capacity to do so. 

For instance, users can only be aware of current business trends if outdated technologies only offer analysis of historical data. Decision intelligence provides in-the-moment information for critical decisions in this rapidly evolving corporate environment. Any lag time might result in chances being lost.
III. Poor Data Literacy That Slows Business
The decision-makers may need help to appropriately evaluate the insights even when the data is accurate and readily available in real time. Inaccurate readings might result in poor judgment and poor execution. 
According to Gartner's predictions, executives should promote data literacy and implement plans to deal with the skills shortage in data and analytics. For decision-makers to independently explore data and easily comprehend the insights, organizations must concentrate on developing data literacy and interpretation abilities.
While there are certain restrictions to data-driven decisions, what if we told you there was one efficient way to streamline different aspects of your operations?
Yes, it's true. With CRM software working for your dealership, you can easily amplify your business process for improved operations and returns. 
But what is automotive CRM about? Or how it simplifies your operations? Let's learn more about it in the following section. 
Exploring Automotive CRM Software

An automotive CRM or Customer Relationship Management software includes a suite of CRM applications integrating different aspects of automobile sales for car dealerships. The software incorporates different aspects of car dealerships, including customer service, marketing, and sales, bringing them to one platform. 
An automotive CRM software is designed to cover the entire buying journey of customers. It is designed to summarize the entire buyer's journey from inquiry to inspection and sales for car customers. Once you leverage automotive CRM systems into your operations, it accelerates sales and increases overall operational efficiency.
So now that we have an overview of what CRM software is about let's look at the key features and functionalities that make them unique. 
Key Features And Functionalities Of Automotive CRM Software
1. Keep Your Contacts & Leads Organized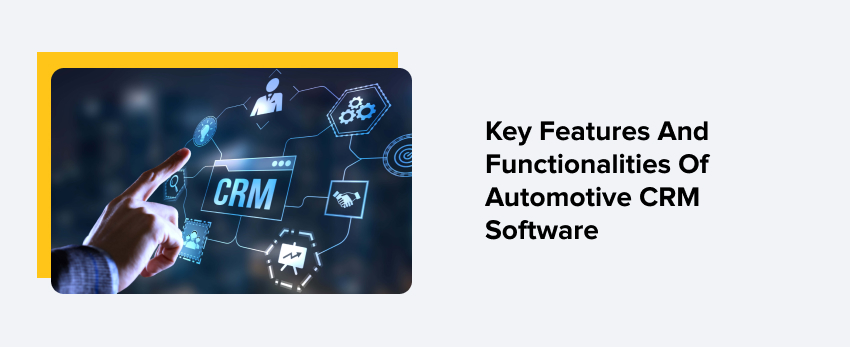 Businesses often need to develop an omnichannel presence to connect with various audiences. As a result, auto dealers' leads might come from multiple sources, such as social media, website forms, online and offline marketing, third-party lead providers, OEMs, or plain old walk-ins.
All of your client information is stored centrally via automotive CRM software. Additionally, it enables you to determine which channel is producing the most leads. In this approach, managing leads for your company can be done more effectively.
2. Win At Marketing Management
Automobile CRM software's ability to conduct individualized, targeted marketing campaigns across numerous channels is another crucial benefit of integrating it into your dealership business. It divides people into groups according to various criteria, such as demographics, purchasing patterns, etc. This way, the auto dealership CRM allows marketers to leverage email marketing while automatically creating and nurturing leads effectively. 
What's more? Sales managers can also automate follow-up tasks to sustain client connections after a transaction. Real-time data regarding lost sales, closed deals, marketing campaign outcomes, customer happiness, customer inquiry response rates, and much more are generated by automotive CRM software.
3. Helps With Deal Management
An automotive CRM solution guarantees access to individual touchpoints of a buyer's journey during the sales process. It helps create a defined procedure that directs your leads through the sales funnels that may be developed.
Once integrated into your dealership operations, automotive CRM can help boost your sales teams' efficiency by automating and streamlining the workflow process. The time sales representatives spend manually phoning clients can also be decreased through CRM integration with cloud-calling services. Sales teams' productivity is boosted as a result.
4. Establishes A Clear Line Of Communication
Every engagement you have with your leads across numerous channels may be recorded in one location using automotive CRM systems. The software allows you to keep every interaction in a safe system, whether by email, text, phone, or in person. To break it down, automotive CRM simplifies communication by providing quick access to all prior exchanges with a lead.
What's more? The CRM software may also assist your remote sales teams with the automation of assigning and tracking the leads sent to each sales representative. It also guarantees that each sales representative is communicating with a lead from the same perspective.
5. Maintains Compliance
Turning prospects into sales is a mammoth task. Your sales representatives must phone a number of prospects each day to nurture and turn leads into paying clients. Let's face it, while it is a part of their employment; it takes away a significant part of your workflow. Moreover, you can imagine how many consumers are interrupted by whatever they are doing each day by erroneous calls.
Interestingly, this is where the Telephone Consumer Protection Act (TCPA) was enacted to control telemarketing calls, recorded conversations, and text messages. Most businesses need to get permission to continue contacting their customers via phone, email, or text message. However, things are different when using CRM. Your dealership's customer communications may be made TCPA-compliant using an automobile CRM. This will spare your company any more expenses while avoiding fines.
So now that we have an overview of the different perks of integrating CRM software, let's have a deeper insight into the different aspects of integrating the tool into your business. 
Leveraging Automotive CRM Software For Data-Driven Decisions

Leveraging a dealership performance CRM is easy! The software empowers your business to leverage different aspects of your operations and make the most of the process in new and innovative ways. 
This section focuses on how CRM software can help your automobile dealership to drive data-based decisions. Let's get started:
A. Collecting and Managing Customer Data
Implementing CRM software in their operations allows dealers to drive sales using customer data. Once integrated, business owners may combine client information and interactions with the help of automotive CRM software, enabling more effective management and individualized experiences. 
As a result, dealerships are better equipped to make data-driven decisions and use insights for specialized marketing efforts. Besides, such dealerships can also leverage the software for data collection. Automotive CRM software boosts conversion rates and improves lead management by automating lead allocations and monitoring follow-ups. The technology also connects with tools for inventory management, improving stock levels, and speeding up order processing.
B. Analyzing Customer Behavior and Preferences
Organizations of different sizes are known to use CRM and leverage analytics to drive growth via customer insights. With an effective CRM connected to your database, your business is more likely to decrypt trends and analytics and gather customer insights. 
An automotive CRM may greatly improve auto dealership sales and customer support processes. Besides, with access to thorough customer profiles, sales teams may learn more about clients' service needs, preferences, and past purchases. This information allows them to make more individualized suggestions and boost customer satisfaction. 
In addition to enabling seamless communication, the software solution guarantees quick replies to client inquiries and offers a superior overall experience.
C. Tracking Sales Performance and Metrics
A car dealership's success depends on its ability to acquire and manage leads successfully. A dealership CRM has access to strong lead management tools that allow dealers to monitor and nurture prospects as they go through the sales pipeline. By automating lead assignments, monitoring follow-ups, and analyzing lead conversion rates, dealership software enables sales teams to prioritize leads and close transactions more quickly.
Besides, accessing CRM also makes it easier for auto dealerships to make decisions based on data. Automotive CRM systems provide vehicle dealers with useful insights into sales success, consumer behavior, and marketing campaigns through their comprehensive analytics and reporting capabilities. Dealers may discover patterns, gauge the success of their plans, and make defensible decisions to promote company expansion by studying these indicators.
D. Forecasting & Predictive Analysis
Predicting the future of any market would be considered impossible if it was the early 2000s. However, thanks to the growth of software and CRM, it's no longer an impossible feat. With a car dealership CRM working for your dealership, you can easily predict future market trends and demands using your existing data sets. This way, your CRM will enable you to find trends and patterns that aid in forecasting future sales success by examining consumer behavior and previous sales data. 
What's more? As a business owner, you can also set inventory levels, forecast demand, and better manage resources with access to such insightful information. You may also prevent understocking or overstocking inventory with precise sales forecasting, providing a positive customer experience and optimizing your dealership's revenue.
So now that we have an idea of the possibilities that a dealer CRM adds to your business let's look at how to implement data-driven decision-making in automotive sales processes. 
Implementing Data-Driven Decision Making In Automotive Sales Processes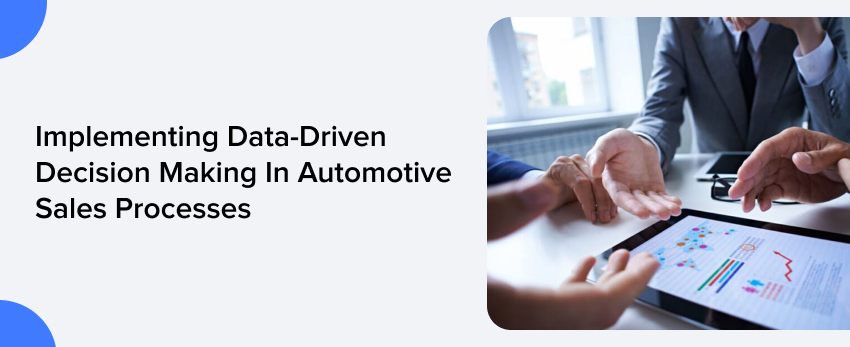 A. Integrating CRM Software Into Sales Operations
Integrating automotive CRM software allows your staff to understand client demands better, making it essential to your dealership's success. Having CRM software working at the core of your operations makes it possible to provide more individualized solutions by keeping track of customer interactions and assisting your staff in better understanding the demands of your clientele. 
However, while you're at it, there are a few best practices that you must follow to ensure you get the best of automotive CRM.
Best Practices Before Implementing Automotive CRM
Be Clear About Your Pain Points & Goals:
While many dealerships claim they want to leverage new technology, most fail to do so. Many business owners frequently simply move from one cloud solution to another without [carefully examining] their focus, goals, and processes, among other factors. 
That's why it's essential to be first clear about your goals and pain points before integrating CRM software into sales operations. Being clear about your goals and pain points makes the entire process simple and more straightforward than expected. 
Ensure Your CRM Is Customizable:
When choosing a CRM platform that can deliver a customized solution for your organization, it's essential to think strategically and comprehend what is required right now and what will help your organization scale and expand in the coming years. 
Therefore, ensure that your CRM is customizable, making it a future-ready platform for your operations. This way, you won't have to undergo new transformations or updates every time you scale your automotive business. 
Roll Out Your Transformation In Phases
Implementing a CRM car dealership involves balancing value, time, and functionality. People lose interest, the project is canceled, or the processes become too complex if you take too long. 
On the other hand, if you go too rapidly, you run the danger of overwhelming consumers or having important information or tasks go unnoticed. As a result, it's important to organize your deployment in stages, ensuring that each user group is familiar with the system before going on to the next.
Provide Proper Training To Your Workforce
Let's face it, implementing CRM software demands you to change management, making it necessary for business owners to train their workforce. While training your workforce to adapt to the new CRM, you should focus on topics like contact segmentation, list creation, event management, and reporting. 
Your team also requires training for entering and updating data, adding contacts to lists, and managing tasks, among other similar functions. Therefore, before you sign up for any software, ensure that the implementing team is ready to spend some time preparing your team for the implementation. 
Keep Your Data Sets Clean
Data integrity is a crucial aspect of CRM integration into your automotive dealership. This is important because incorrect data leads to poor judgments, which no organization can afford. Maintaining data integrity requires proper data management and cleaning.
The creation of clearly defined and put-into-action procedures for collecting, adding, organizing, modifying, and keeping data in your CRM is the best CRM practice. Therefore, while you're at it, ensure that your team undertakes routine CRM data checks to ensure that the data is accurate, legitimate, and complete. 
B. Utilizing CRM Data for Targeted Marketing
CRM is a great tool to leverage data for targeted marketing. Once integrated into your existing systems, it's crucial to monitor important indicators that provide information about the sales success of your dealership in order to make data-driven decisions. Besides, having access to the right data allows you to keep track of statistics like overall revenue, customer involvement levels, lead conversion rates, and customer satisfaction ratings. 
What's more? Using CRM data will also allow you to spot opportunities, trends, and patterns for development by studying this data. For instance, you may investigate the causes of a fall in lead conversion rates and put methods in place to fix the problem. Review and evaluate your analytics on a regular basis to keep informed and modify your sales techniques as necessary.
C. Enhancing Customer Experience with CRM Software
Data-based decision-making may completely change how you connect and engage with your customers at car dealerships. Once your CRM system gathers data, evaluates customer information, and feedback, the software uses such information to learn more about their preferences, problems, and satisfaction with a product. 
Besides, you can also leverage these data-supported analytics to pinpoint areas that might use improvement to amplify your customer experience. For instance, you may employ techniques to simplify the procedure and cut wait times if clients routinely complain about long waits during service appointments. By promptly responding to consumer complaints, you create a satisfying and memorable experience that encourages loyalty and promotes repeat business.
D. Optimizing Inventory Management with CRM
Optimizing your inventory is another added benefit of integrating CRM into your business. Access to data around the current trends of the market, the demands of different customers in your database, and access to data sets allow the software to analyze different patterns and trends. 
These data structures further aid in forecasting future sales success by examining consumer behavior and previous sales data. As a dealership owner, you can leverage such data to forecast demand and set inventory levels to better manage your resources. Besides, your business can also utilize such data sets to prevent overstocking or understocking inventory for better business.
Overcoming Challenges and Risks in Data-Driven Decision Making

A. Data Privacy & Security
Data privacy has recently been one of the most significant concerns for business owners and customers. Customers today are wary about how their data is used and whether they can rely on businesses with their data. Therefore, you must ensure your CRM complies with the latest data safety and security regulations. 
Moreover, ensure that your business complies with the latest security measures while at it. With the latest security measures safeguarding the data of your operations, it acts as an added layer of safety for your operations, winning the faith of your customers in the process. 
B. Data Accuracy and Quality
What's worse than having no data? Having low-quality data. Your organization cannot utilize any deficient, outdated, or unreliable data. 
Having faulty data simply makes it more likely that you will make poor choices, which will eventually result in a loss of income. Besides, stats suggest that inadequate data quality costs firms between $9.7 million and $14.2 million yearly.
Therefore, ensure that your dealership follows these five guidelines to ensure access to data accuracy and quality:
Accuracy
Consistency
Uniqueness
Completeness
Timeliness
C. Building a Data-Driven Culture
A data-driven culture is the new normal for companies of today. Organizations with a data-driven culture focus on obtaining and analyzing data minutely. Instead of responding to tradition or presumptions, they utilize properly controlled data to guide their decisions and change how the organization functions.
Therefore, it's crucial for business owners to strive for a data-driven culture where they understand how to use data. With data being used wisely, it becomes easier for you to maximize the impact of your operations. 
Conclusion
Today's fast-paced automotive market requires you to leverage CRM solutions for dealerships. Having a CRM simplifying different levels of your operations allows you to streamline processes but also provide a unified brand experience. 
So now that you have an idea of what makes the best CRM for auto dealerships, when do you plan to make an upgrade? 
[You may like to read: How Important Is CRM In The Healthcare Industry?]
FAQs
What is automotive CRM software?
A software program called an automobile CRM (customer relationship management) assists automakers with sales, marketing, and customer support. It gives dealerships the ability to compile leads, manage a multi-channel sales operation, and cultivate stronger client connections.
How does automotive CRM software help in making data-driven decisions?
CRM systems provide users the ability to track sales leads and prospects, manage marketing campaigns, and analyze customer data. These features can aid vehicle transport companies in better understanding the demands of their clients, spotting industry trends, and developing data-driven business choices.
What types of data can be used to make data-driven decisions in automotive sales?
A CRM can leverage almost every type of data set to make informed business decisions. For instance, you can leverage the existing customer history, service record, and feedback to form analysis and improve sales.
How can data analytics help in automotive sales decision-making?
Sales and marketing teams may learn which levers have been successful in the past and under what conditions by using big data analytics. Automakers may improve consumer engagement and involvement with their brand through more focused, regulated, and educated sales and marketing operations.
Can automotive CRM software help in lead generation?
Yes, a sales team can generate quality leads using automotive CRM software.
How does automotive CRM software improve customer engagement?
CRM software consolidates all client data in one location, simplifying management and analysis. Auto transport businesses can offer a tailored service experience, anticipate client demands, and identify trends or problems early on since they can access all consumer contacts, transactions, and preferences.
Is data security a concern with automotive CRM software?
Much like any industry, automotive dealerships have equivalent chances of data security.
How can automotive CRM software assist in inventory management?
The presence of an automotive CRM can help you analyze customer trends using their previous data. Such data sets help them understand whether they need to overstock or understock for their business.
Can automotive CRM software help in tracking sales team performance?
Yes, automotive CRM software can help you track sales team performance. It enables sales teams to follow up on leads, automate crucial sales procedures, and gather insightful data on client behavior.