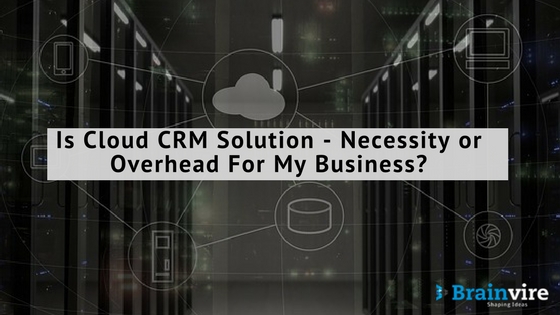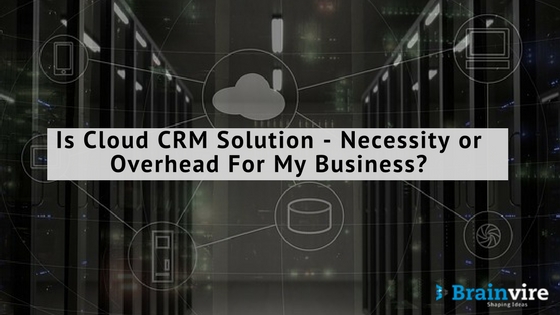 The answer lies in the next line. The super office research revealed that nowadays 87% businesses have opted for cloud CRM solutions compare to 12% 10 years back. Of course, CRM comes with a lot of benefits and improvements. But can a small scale company afford to have it in the system? A CRM that answers the following queries has the right to be in placed in the business.
A CRM has to be cost affordable to fit the shrinking budget of a business.
It should be fruitful from the very first day of an implementation.
Easy to deploy, easy to operate and easy to use without much a complexity.
Accessible anytime and anywhere to understand what's happening.
Today's business' challenge is not only attracting new customers but also retaining the old customers, plus regaining the disconnected customers. Moreover, the huge competition in the business demands you to craft more and more strategies to allure the users. And this means involving more and more intelligent brains to accomplish sales targets. In such scenarios, where customer data is in the center, opting for a CRM application development requires a lot of brainstorming.
How Cloud CRM Solutions Help A Small Business Compare To In-House CRM?
A powerful CRM gives you insight on what's happening with customer relationships including order management, customer information management, quotations, cart abandonment, pipeline monitoring, scheduling marketing, reporting analytics, integration with other systems and many more.
It's been forecasted that by the end of this year, CRM industry will cross $37 billion undoubtedly. The most important part here is – as stated above – 87% business is opting for a CRM. So to think something ahead of conventional CRM is necessary here to march ahead in the competition.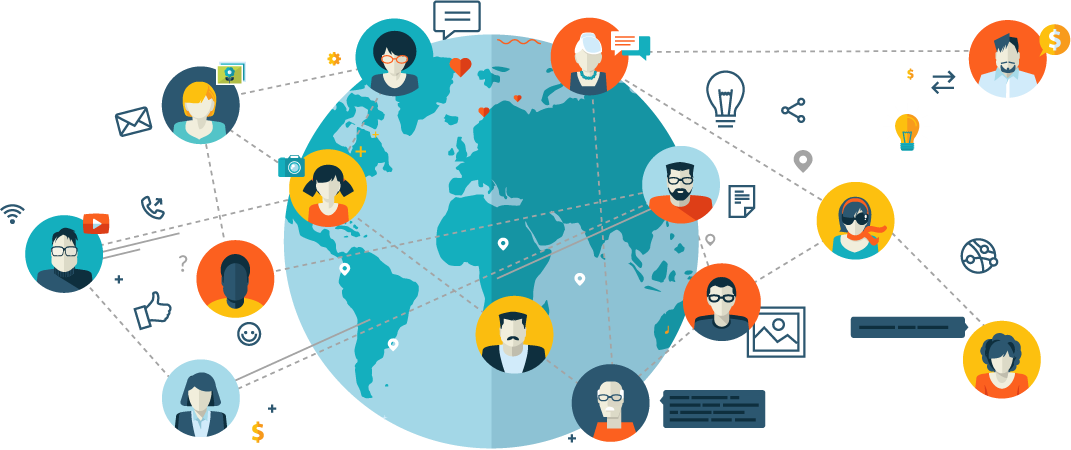 Credit: navantis.com
Click here to know – 7 Signs Your Business Requires a CRM System
Cloud has an edge over conventional CRM by following factors:
Mobility
When we are discussing this, the figures state that there are total 2.1 billion+ smartphone users in the world. In such a huge sea, mobility is inevitable. The cloud CRM gives an option to use a smartphone to operate the business seamlessly.
Cloud is the only way to stay connected with both customers and employees anytime & anywhere.
The cloud CRM solution will enable the employees to connect to CRM application through whatever device available like desktop, laptop, tablet or a smartphone. The organizations such as construction, engineering, supply chains etc. need the mobility because their employees are either on-site or at sales areas. In order to determine the innovative marketing strategies and sales plans, they need central access to all the customer data such as customer preferences, tendencies, frequencies, and much more. Being wherever they are, whenever they want, fetching the relevant information becomes handy to employees.
Internal as well as external Collaboration
In an organization where the workforce is not centrally located, it's imperative to have a central portal to collaborate. In order to achieve the targets, the employees can collaborate internally with each other, pass information, analyze the data and accelerate towards achieving goals.
Moreover, the systems where the connection with outside world is also required such as social media integration, the cloud-based CRM services support like anything. A marketing executive while collaborating with the peers through the portal, can connect with social media and market the business at the same time.
Scalability
What if a business needs an expansion to cater a wider user base or larger number of employees? With the in-house CRM, it's merely hectic. Starting with an infrastructure, a business will have to buy more data servers, space occupancy, and faster processors in order to cater a million number of users at the same time. You will have to invest a huge amount in order to scale the infrastructure to match up the growing needs. Moreover, after few years, if a business plan for the expansion or gets a huge demand for the supply, there needs a scaling in infrastructure again. All these things not only involves huge money but also involves huge efforts and time. If the cloud CRM is opted, you just have to make a call, select the plan, pay for the plan and go ahead with the strategic planning of the business.
If there is a strong baking of the infrastructure which is scalable at the fingertip, the customer engagement processes get a significant boost. This CRM will be called a CRM for ecommerce because a marketing person or a salesperson doesn't have to think anything about how many users a system can afford. Instead, their focus will be towards bringing more users to the higher extent.
Wrapping Up,
Opting for a cloud CRM solution means automation of the in-house departments, more importantly, production, sales, and marketing. The organization's key strategy planners can have a bird eye view of an entire system with an end to end transparency. Most importantly, anyone from the salesperson or marketing one to a business administrative gets to understand what customer does and what customer wants. This helps hugely to determine what to present to the customer and how to achieve that. Opting for cloud CRM means leaving every scalability hassles to the cloud, and going towards the best thing our brain is made for- strategic planning!