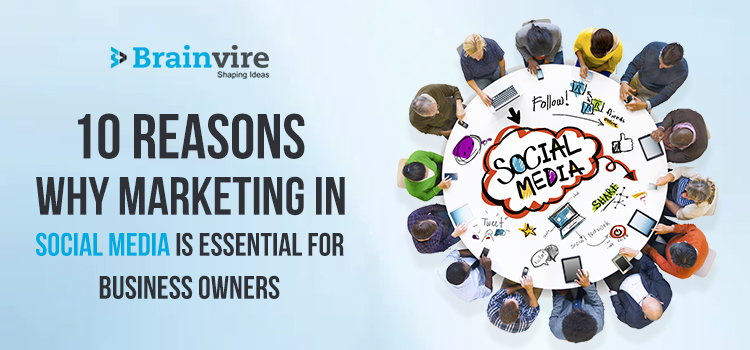 Businesses, especially the smaller ones, are very careful about the type of marketing channel they choose to advertise their brand or product. Since such businesses have very limited resources, it becomes very important that they allocate their financial resources thoughtfully and wisely.
Undoubtedly, marketing with social media is not just cost-effective but also flexible, which is particularly useful for small businesses to reach out to their target audience and strategically boost their sales. Goes without saying, this is the reason why 97 percent of business owners today have chosen to benefit from the effectiveness of social media to market their businesses.
Here's your answer…
1. The majority of your customers are available online
One of the best reasons why both big and small businesses should indulge in marketing with social media is because their customers are spending most of their time surfing the internet. According to a popular survey, more than 70 percent of the US population has at least one social media profile. Consequently, the number of social media users is easily expected to cross 3.1 billion users worldwide by 2021. Now that so many people are using social media, businesses, both big and small, have tremendous opportunities they can use to effectively target their audiences online.
Businesses need to remember that not only do their audiences use social media, but they also check several commercial websites daily. Simply put, do not entice your audience to come to you, rather you, as a business, should take the initiatives to go to your audience. Therefore, if you don't already have a social media profile, understand that you are missing out on a big chance to increase your revenues.
Want to convert your idea into a successful app or website? Schedule your free call with our expert now.
Since social media is fun, entertaining, and interactive to use, users are often tempted to spend their quality time on these sites. They use social media to keep in touch with your close ones, and they use it to stay connected with the world. Generally, your audiences do not expect you to market your product and reach out to them through social media. However, this does not mean audiences are not following or interacting with their favorite brand that's marketing with social media and for that you should more strategize about your ppc management services to reach more audience.
As per statistics, about 95 percent of online users aged between 18 to 34 years follow their favorite brands online. The only reason they follow these brands is that they find their content interesting, engaging, and relevant to what they are searching for. The reason your audiences will receive you better on social media is that such interactive handles expect you to be conversational rather than upfront and direct. The content that goes on social media contributes to your brand's voice informally rather than formally, which usually is the case in traditional marketing. That's exactly why consumers are more responsive to social media marketing compared to other channels.
The effectiveness of social media allows you to improve your overall visibility, which ultimately allows you to increase the recognition of your brand. Using social media, you have the opportunity to showcase your message and content in an innovative way to influence your audience. When you post enticing and compelling content on social media that can drive your brand's personality to your audience, you are making your brand more accessible and familiar to new leads and existing consumers, but make sure your URL is short enough while sharing on social media platforms, you can use Rebrandly for custom URL shortener.
Take an instance where new leads find themselves on your social media handle… Now, even though they might not know much about your brand, but after going through your posts, they will easily be able to learn more about your company and the value you provide. The same condition can be applied to your existing customers. Once your existing customers see your promotions on various social media handles, they become better acquainted with your brand and might increase their purchases with your company.
Another easy and simple way to increase your inbound traffic is by using social media. This consequently makes social media marketing an effective strategy that can complement your current SEO strategies. Every bit of content you put on social media paves the way to invite a new visitor to your site. Once your new lead stumbles upon your website, you will have full opportunity to convert him/her into a loyal customer.
If you consistently publish original, informative, engaging, and valuable content on your social media pages, you are expected to receive maximum inbound traffic. The better your content is on social media, the better your chances are to engage new leads and have them directed on your website to generate revenue. Now, if you have utilized eCommerce development properly than your website is well-optimized for lead generation, it will only take you a matter of time to convert those leads into devoted customers.
Marketing with social media has quite a few benefits, and one of the most important ones is that you can strategically target different audiences completely based on the social channels that your company is active on. Unlike the traditional hoardings where you just put out a message for everyone to see, on social media, you can reach a specific target audience to drive better-qualified leads to your business.
You can start by creating a list of your audience demographic values: the more detailed your list it, the better it is for your business. This list should have information ranging from gender, age, location, interests, professions, hobbies, and more. Gathering the maximum amount of information on your target audience will give you a clearer idea of what kind of social media channel you should use to reach them. When you are armed with the knowledge of what your audience prefers, you can easily create engaging and relevant content that can influence your audience and increase your chances of conversion.
No matter who your target audience is, you can definitely find a niche audience group on at least one of the many popular social media handles available today.
One of the best benefits of using social media, especially for small businesses, is that they can reduce their marketing costs without compromising on the results. Therefore, the majority of your social media results will be apparent once you allocate dedicated resources who create and publish engaging content, ultimately leading to conversions. The best part about social media is that even though you just invest a few hours' time a week, you will clearly be able to see your desired results in due course.
A popular survey reports that 84 percent of online marketers were easily able to generate increased online traffic by just putting in 6 hours of weekly efforts on social media content.
Even if you want to adopt a full-fledged social media strategy to indulge in brand marketing, you can rest assured because even then, social media is a very cost-effective and efficient way to increase your inbound traffic.
7. Social media marketing can help improve your search results
Any company that has an online presence is always working to improve its search engine optimization. The bonus fact here is that your concerned search engine may also be utilizing your social media content to decide your search ranking. A strong social media presence ultimately acts as a signal to search engines stating that your brand is credible, valuable, and reliable. This is exactly why most of the big and successful brands have an overly active social media presence. Despite the fact that ranking factors change as per the Google algorithm updates, utilizing social media to the best of its abilities will remain a safe bet to take.
Along with visibly impacting your search rankings, your social media pages may also turn up first on the Google search page every time a potential customer is looking for your brand. Now, if a consumer clicks on your social media page only to find the content on it is outdated or dry, they might immediately bounce back at a business, which they find creative and engaging.
This is exactly why it is important to stay active on social media platforms with quality posts. So don't forget to periodically check the look and feel of your profile. If needed, you can also hire a social media marketing agency to help you with your online page.
No matter what industry your business is about or who your target audience is, in this highly competitive world, you are bound to have a competitor who is trying to outrun you. Knowing that your competitors are doing the best they can to outdo you in all fields, including social media, it clearly means that some of your potential customers are already conducting business talks with your competition as you read this blog.
Therefore, to maintain your position and beat your competitors in this digital landscape, you must work hard towards building a strong social media presence. Apart from acquainting your audience about your brand, you can also use social media to establish your industry knowledge and expertise in the said field. Hence, social media is an excellent way that can help you stand out from your competitors to bring in potential customers.
9. Social media marketing can help increase brand loyalty
While big, established organizations have the resources to develop successful customer loyalty programs, small organizations, unfortunately, don't have that kind of resources or revenue. Consequently, small companies are always on a lookout for affordable means to build their brand loyalty.
If you are having a WordPress website then WordPress development services and Social media can be very beneficial to use if you want to build a relationship with the audience that can lead to customer satisfaction and brand loyalty over time. In fact, various studies conducted by popular varsities showcase that brands who engage with their audiences on social media platforms enjoy higher loyalty from their audience compared to those who don't.
If you build a strong relationship with your customers online, you can easily set yourself apart from your competitors. By building a strong rapport with your customers, you not only are indicating that you care for them, but you are also being more reinforcing than your competitors. Remember, by bonding with your customers, you are not only making them happy but are also turning them into your brand advocates.
Having a strong brand authority is an important aspect to achieve if you want to effectively position your business as a market leader. Therefore, the more valuable and informative your content is, the more opportunities you have to display your expertise to your potential and existing customers.
Simply put, if your content is valuable, your existing customers will share your posts on their pages. This allows your existing customers' friends to view your brand as credible and useful. Now, if you are able to target your potential customers through your existing ones, you already are building a brand authority for your business. When social media users start talking about your company and products or digital marketing agency, your brand becomes all the more valuable to your potential customers. This will ultimately inspire new audiences to take an interest in your business and to follow your page for more updates and better insights.
Parting note
If you are desisting using social media in this day and age, you are making a major mistake. Social media is a boon to both small and big companies alike. You can try out the above-mentioned strategies to engage your audience, or better rope in a reputed brand management agency to look after your entire online presence. We Brainvire as professional online marketing team will know all it takes to build and maintain a flourishing social media audience for big and small organizations.