A high-quality CRM system can be a valuable tool for your business. It can help make your employees more efficient, increase customer retention, improve data collection, and much more. Despite these advantages, however, a CRM system may still require a significant investment. Not only will you have to purchase a license, but you will also have to spend time configuring the system and learning how to use all of its features. And even then, there's no guarantee that it will instantly return the investment that you put into it.
For these reasons, it's important to decide on a CRM system only when it really makes sense for your business. The following are seven signs that your growing business may have already outgrown the methods it uses for managing customers and is ready for a more advanced solution.
1. Inefficient Data Processing
Spreadsheets, handwritten records, and emails may be all the tools you need to track customers and incoming orders when you're just starting out. However, as your business grows, moves into more channels, and begins interacting with customers in multiple ways, you'll need a more sophisticated and efficient system for recording customer information.
If your data is dispersed among too many different spreadsheets, emails, and even employees for you to quickly find what you need, then it's likely time for you to use a more efficient data management system. A CRM will centralize all of your customer records, making it easy to search for and immediately bring up important data, such as contact info, company details, sales records, and more. This will also allow you to easily compare different customers, map out relationships, and keep all of your data up-to-date.

The screenshot of Account Activity view taken from OroCRM.
2. Different Teams and Departments Unable to Collaborate
Without a unified system, your business may not be able to ensure that each of its departments and teams is using the same set of customer data. In fact, it may be difficult or even impossible for them to share information. This could likely lead to situations in which two different sales representatives target the same lead, or when customers have to repeatedly explain their issues to different support reps, wasting both your time and resources.
A CRM system can solve this problem by consolidating scattered information, organizing all customer activities so they can be viewed at once, and making data globally available across different departments and teams. This will make it easier for them to coordinate their activities and to know how and when customers need to be targeted. In addition, because a CRM system can capture data across multiple channels and track customers across various touch points, it will be able to give your employees a 360-degree view of customers. This will further eliminate any potential blind spots and improve data sharing across the business.
3. Loss of Potential Sales Revenue
If you are still using spreadsheets to manually follow up with prospective clients, you may be overlooking or even losing vital data. The chances of this happening grow even higher as you try to reach out to more leads. Without a way to automate your tracking and marketing efforts, you will be unable to build a complete picture of how and when you should nurture potential customers. This will result in lost sales opportunities.
A CRM system can simplify this process by keeping track of all communication records, optimizing and mapping out the nurturing process, and automatically notifying sales representatives when they should follow up. That means you can go beyond simply looking at who your best customers are and instead start drawing connections between various data points throughout the sales funnel, such as which prospects you meet with, which ones turn into customers, and which of these customers come back. This will allow you to put together a more holistic sales and marketing strategy.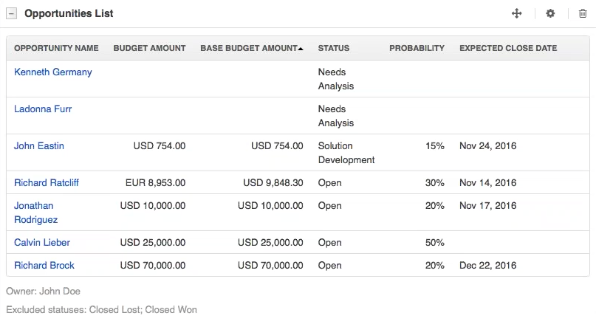 Opportunities view in OroCRM that helps forecast and keep track of sales.
4. Poor Reporting and Data Analysis
If your company only has a handful of customers, you may still have the capacity to manually fill out and produce reports. However, as your business grows, it will become harder to monitor and record every process without using automated analysis tools. This will limit your access to valuable, real-time data, making it impossible to see how well your business is progressing toward its goals, as well as determine what actions it needs to take to keep expanding.
A feature-rich CRM system will not only be able to collect all of your customer data, but will also be able to comprehensively analyze this information for you. For instance, use it to track variables such as customer buying behavior, individual preferences, sales margins, website revenues, sales-force pipelines, and more. You can also use this data to generate custom reports to help you assess your overall business performance.


Customer behaviour view in OroCRM.
5. Lack of Individual Customer Approach
The more customers your company has, the more difficult it will be to give them individualized attention. Instead, you may become tempted to send them all the same offers and email campaigns. However, in today's competitive business landscape, it's more important than ever to retain loyal customers. That means having the ability to personalize your interactions based on multiple factors, such as where the customer is located and the value they bring to your business.
By letting you view and control every interaction customers have with your sales, marketing, and support channels, a CRM solution will allow you to treat each customer individually. This also makes it possible to track any previous communications they've had with your company, as well as see the success of past marketing campaigns. You can also view the current state of customer service tickets and refine a strategy to minimize the total number of open tickets and time to resolution. Having access to all this data will ultimately let you take the necessary steps to ensure that each customer remains satisfied and loyal. Contact to Magento ecommerce web development company for CRM integration.
6. No Space for Scaling Up
If your business is planning for future growth, you need to make sure that your internal processes can scale and keep up. Otherwise, your productivity may suffer. Can your existing tools or homegrown solution handle any future changes to business requirements? Can they accommodate an increase in the number of customers, sales, or marketing campaigns? Or will your business be struggling to keep up?
A quality CRM system uses a flexible architecture so that it can scale with a business as it grows. This allows it to be easily updated and expanded in order to accommodate additional requirements, as well as be customized to fit any specific needs. It should also come with the ability to integrate with other third-party systems.
7. Slow Customer Support
If your business lacks a centralized system to log customer support issues, it may be hard for your support team to react timely to customer problems, even for recurring issues. This could make upset clients even more unhappy, and possibly lead to lost sales.
With a CRM development system in place, all customer request tickets, including those from different channels, will be compiled into a single repository. This will let your customer support team view them all at once in order to develop a strategy to handle them collaboratively. In addition, by keeping track of customer activities, a CRM system can help you detect whether customers are facing the same problem repeatedly, allowing you to quickly solve them based on past scenarios.


Customer support cases tracking in OroCRM.
Conclusion
If you are experiencing any of these issues, your business may be ready for a full-featured CRM system. While this will require an upfront investment, the right system will give you the tools to manage and synchronize your company data, as well as analyze this information for future opportunities. For instance, your sales and marketing departments will be able to gain a complete view of how prospects turn into leads, as well as be better equipped to give each customer a more personalized experience. Likewise, your customer services department will have the information they need to respond to any issues or complaints efficiently.
As you consider different CRM systems, remember to choose a solution that will not only solve your short-term problems, but will also address any issues you anticipate having in the future. Although it may be tempting to focus only on your sales or marketing challenges for now, the right CRM should also come with the flexibility to grow with your business and help you expand into new markets. After all, the last thing you want is for your technology to box you in.
About Oro Inc.
Oro was founded in 2012 by industry leaders in open-source business application development, and is the company behind OroCRM, OroCommerce, and OroPlatform. Prior to founding Oro, its senior leadership team helped turn Magento into a leading eCommerce web development company. Oro is committed to delivering innovative solutions that will further improve the customer experience.
Oro's founding team consists of Yoav Kutner, co-founder and former CTO of Magento; Jary Carter, former VP of Sales and Channels for Magento; and Dima Soroka, former Lead Architect for Magento. Roy Rubin, co-founder and former CEO of Magento, has also joined the Oro team as an advisor.
For more information, please visit www.orocrm.com.