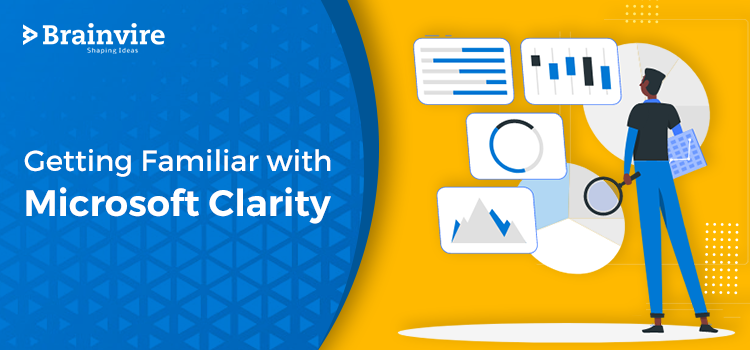 Over the years, Microsoft has introduced several intuitive solutions that have helped businesses and individuals as well. Microsoft Clarity is yet another advanced analytics tool that can help several organizations in different ways.
We will discuss the following about Microsoft Clarity in this article-
Significance of Analytics
Understanding Microsoft Clarity
Exclusive Features of Clarity
How Microsoft Clarity Helps Your Business
Significance of Analytics
The entire process of collecting, analyzing, and gaining insights assist organizations to make improved business decisions. Analytics can shorten and simplify the entire decision-making process for your company.
Want to convert your idea into a successful app or website? Schedule your free call with our expert now.
Analytics has gained fandom because they can help you in different business areas. The main reason why analytics has gained fandom is because they can help you in different business areas. Following are high points of using analytics –
Better Efficiency
Redundancy in Employee Turnover
Improved Customer Experience
Trace Fraudulent Activities
Optimize Investments
Reduced Manufacturing Costs
Effective Product Management
Quality Advertising
Surpass Uncertainty
Better Competitor Analysis
Improved Problem Solving Capabilities
Let's look at an overview of this cutting-edge utility.
Understanding Microsoft Clarity
Microsoft Clarity is an open-source and easy-to-use analytics solution. This innovative solution offers in-depth information about site visitor behavior that assists website managers to enhance their website experiences.
This solution consists of several tools that can guide website managers to make informed decisions. this can help modify websites. It showcases pages that gain the most and least engagement.
Furthermore, it notifies you about important interfaces for debugging.
Microsoft Clarity also comprises tools that can provide you actual evidence based on which you can make effective alterations to your website. It also allows you to respect user data security and privacy.
Enterprises that are inclined to enhance the website experience can use Microsoft Clarity. Microsoft experts have designed an easy-to-use solution for developers as well as non-developers.
For instance, if you want to know your users without diving into the pool of data, then Microsoft Clarity is an ideal option.
Clarity doesn't slow the process of loading the page, this means that users can enjoy a quick navigation experience. Moreover, Clarity can manage an increased amount of traffic with no additional costs.
Besides, Microsoft Clarity possesses enriched features and abilities that can help businesses to improve website experience.
Let's have a closer look at features of Microsoft Clarity.
Exclusive Features of Microsoft Clarity
Microsoft Clarity is an enriched analytics solution that can compensate for flaws of Google Analytics.
Discussed here are the striking features of Microsoft Clarity-
Session Recordings
This is one of the appealing features of Microsoft Clarity. This impressive feature allows you to view recordings and heatmap of all the user sessions that occurred on your website.
Google Analytics informs you about the duration that a user stays on your website. On the other hand, Clarity can give you a clear picture about how user navigate for that particular timeline.
You can obtain a clear idea about the number of visited pages and clicks the user made on that page. This feature also informs you about the number of times a user scrolled a particular page.
Though this feature provides you ample details, there are certain details such as date and such other information.
This feature is quite lucrative to tracks user behaviour on a page. This information can help you design future strategies. You can design an effective content strategy with right advertisements, and CTA placement at the right spot.
Session Heatmaps
Heatmap is yet another significant feature of Microsoft Clarity. This analytical solution creates a Heatmap for every session. This heatmap feature indicates the following-
Spots where the user tapped
Places where the user clicked
Areas where the user scrolled
It provides you with a bifurcation of cold and hot regions. Heatmaps provides deep insights to know where your user clicked and the most interactive sections of your page.
This information can help you place a call-to-action button on the right page and area. You have an upper hand to change website design and generate more leads.
Rage Clicks
When a user clicks rapidly at a particular spot within a short span, then it is referred to as rage clicks. This feature can help determine the number of clicks of the call-to-action button.
You also get an accurate figure of clicks on the advertisement. 
Dead Clicks
Dead clicks are when individuals click randomly anywhere on the page. If the user clicks intentionally or unintentionally on the page despite the absence of a CTA button or advertisement, it is noted as a dead click
Dead clicks can help you determine if something goes wrong on the page. You can also track if a CTA button is ineffective due to rendering issues or some JavaScript. Such details are not visible without Microsoft Clarity.
Excessive Scrolling
This figure informs you about the net occurrences of excessive scrolling. For example, when you have introduced a new layout, theme, or advertisement on the page, then you can trace their scroll figures.
An increased number of scrolls indicates that there is some layout error. Alteration in font size can also lead to excessive scrolling.
How Microsoft Clarity Helps Your Business
Microsoft Clarity provides you all minute activities on your website. This information can guide you to understand user behavior, their pain points, and preferences.
Clarity allows you to quickly review user activities, offer better user experience, and improve engagement. This information helps understand users and provide customized services. This increases the ratio of satisfied customers and eventually boosts sales.
Final Words
Microsoft Clarity is a new-analytical solution with unconventional tools that can enhance your business capabilities and generate positive outcomes.
If you want to gain more insights about what Microsoft Clarity can do for you, talk to Brainvire experts. Connect with us for a session on this innovative solution.