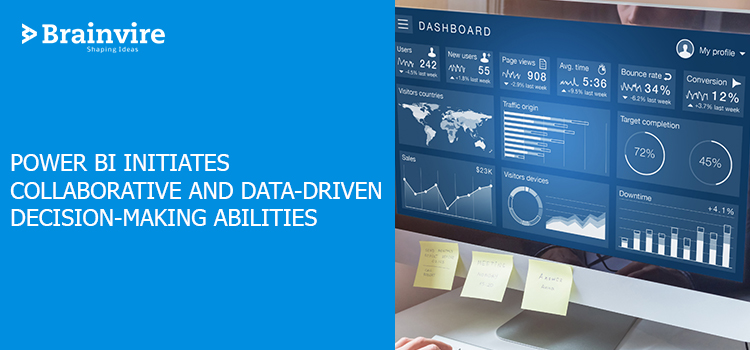 Modern businesses command and demand intuitive and advanced automated features such as collaboration and analytics. Such features provide flawless flow of information within the enterprise and among people.
Due to the pandemic and even before the outbreak of COVID-19, businesses thrived to make data-driven decisions. Quick and accurate reports have the power to assist you to make an impactful decision for your business.
Thrusting all the data or data-understanding ability to a random department can leave you crippled. It is important to invest in the right tools, technologies, and experts as they can guide you to make the right decisions.
In this article, we have shared the following about Power BI and its abilities-
Trending Features of Power BI
Perks of Power BI Collaboration
Perks of Data-Driven Decision-Making
Trending Features of Power BI
Power BI possesses several lucrative features that can set your enterprise on a remarkable expansion journey. The advanced Power BI solutions can provide you with the following features-
An interactive desktop- This tool empowers you to review data and generate reports quickly. You don't need any renowned degree or skills to produce this report. All you need is a powerful and easy to learn BI tool that can simplify your task. Any individual without a technical background can download this tool and create effective reports.
Improved visibility- You cannot make a business decision based on a single piece of information. Power BI helps you to take into account a variety of information from different datasets. This improved visibility helps you to make meaningful decisions and get a lead over your competitors.
Trusted access- The biggest threat to any business is that of data theft. Data leaks such as customer or business information can ruin your reputation in the industry. Therefore, you need a reliable solution that can provide secure access to your data. Power BI has the capacity to keep trespassers at bay and provide access to only people who need them.
Power Query- This feature helps to combine all the data from different sources offline as well as online. The best part about this feature is that you can convert all the information in an Excel sheet. This makes it convenient for you to examine all the information and analyze it. You can make the following data modifications for your convenience-
Switch values for better understanding
Rename columns for clarity
Merge the same data to avoid duplicity
Power Pivot-This feature integrates and imports varied datasets from diverse sources to build in-memory models. This integration ability enriches the data value and is quite precious for several data sources.
For instance, you can use the Power BI tool to combine demographic, psychographic, and geographical data of your customers and determine sales opportunities. This analysis can showcase key performance indicators and simplify complex calculations. Ultimately, you get clarity about your customers and potential sales.
Power View- In case you want to view a clear picture and in an interactive manner, then Power View is the best choice. This tool can help you to cross-filter and highlight important data. Besides, Power View is a familiar tool since it resembles PowerPoint and Excel sheet properties.  
Alongside the tabular data, graphs, and charts, Power View also allows you to zoom and pan maps for better a takeaway.
Want to convert your idea into a successful app or website? Schedule your free call with our expert now.
Perks of Power BI Collaboration
Power BI holds a range of essential features that can provide a new dimension to your business. One of the many features comprises the collaboration of data to generate reports.
Discussed here are few perks of collaboration feature in Power BI-
Context- Often, when you acquire data from varied sources, it becomes difficult to find the crux of it. This Power BI feature can provide you the ability to understand the information clearly. It helps you to determine the context and then comprehend how it is beneficial for your business. At this stage, you can overlook information that is not valuable for your enterprise.
Data flow-Once you have contextual clarity, there is yet another BI feature that can assist you to streamline all the lucrative information. This is also referred to as data flow. Power BI can help you sieve information and create an organized data flow for improved understanding and effective use of the available data.
These collaborative features empowers your organization to improve performance and make effective decisions rapidly. This helps you to grab the right opportunities and not lose them.
Perks of Data-Driven Decision-Making
Modern businesses need a smarter solution that can assist them to make the right business decisions. Power BI which is a cloud-based solution with advanced capabilities is widely used across the globe in different verticals.
We have shared some exhilarating advantages of how Power BI activates effective decision-making ability-
No formal technical history is required– Power BI is based on a robust natural language interface which makes it convenient for anyone to understand its use. It also consists of advanced graphical tools that are easy-to-use. Although, you can approach an expert to gain more knowledge for better implications it is not mandatory.
No speed or memory restrictions- Cloud Power BI solutions eliminate restrictions of memory and speed. Instead, they encourage you to retrieve and analyze data at a faster pace. In case, you are using an outdated BI version, then it is time to upgrade and switch to the latest version.
Smooth integration with multiple applications- It is easy to integrate Power Bi with your existing workflow and adopt analytics and reporting perks. A refined and trust-worthy IT firm can help adopt this innovative tool with your existing applications and obtain interactive visuals.
Excerpt BI precisely and effectively- BI helps you to transform data into communicative visuals. Skimping through rows and columns can be time-consuming; instead a clear and informative visual can shorten the process. It is therefore recommended to use BI for conscious and impactful decision-making.
Advanced data services-Skillful BI teams can integrate the environment with contemporary cloud services such as Cortana, Cognitive services, or Bot framework. This way, the verbal data query can provide you better outcomes using natural language.
Enriched and customized dashboards- The capping feature of Power BI is the interactive and informative dashboards. These dashboards can be tailored to suffice the needs of an organization. Embed BI reports and dashboards to unleash a unified experience.
Secure reports- The tool possesses the ability to refresh data automatically and publish a report based on current information.
Power BI Consulting

is the best way to unleash the potential of your BI tools. They can design and recommend a customized BI roadmap to improve business performance and make actionable decisions.
Seek Brainvire's expertise to know more about Power BI.