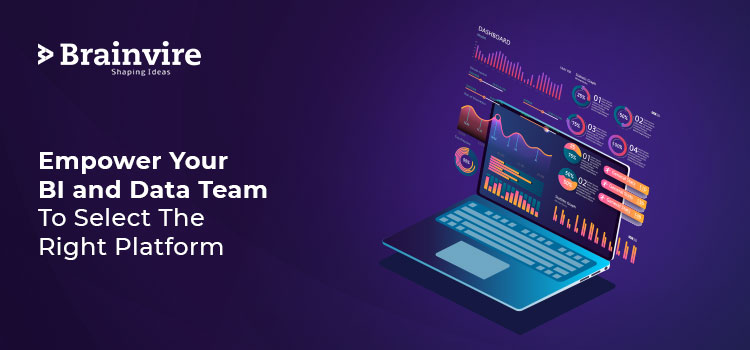 Introducing analytics in your firm cannot be done single-handedly. It is important to amalgamate different aspects such as app builders, end-users, and data experts. This will help you to choose and shed analytics platforms rapidly and effectively.
The process of selecting and implementing a brand new BI and analytics platform is a tough decision. This platform plays a pivotal role in digital transformation of your firm.
BI and advanced analytics provide access to data and deep insights. A reliable platform ensures that there is less dependency on data professionals.
As your business advances, an increased amount of data is likely to get involved. This makes it quintessential to implement a platform that can manage data and benefit your organization.
Answering these questions may help you to choose the platform-
Who is responsible to prepare the data?
Who is entitled to build models?
Who can connect datasets?
Will this platform help trace opportunities, solve problems, and make smart business decisions?
Is your current system reliable enough to make effective decision-making?
Is it tricky for you to track and evaluate data?
Do you make optimal use of your analytical and IT resources?
Do you know how data can be helpful for your business?
It is imperative to address key concerns related to the platform to ensure that you make the best choice that is beneficial for your enterprise.
Once you have gained answers to these questions, the next step is to segregate them in different categories. Some of these categories are discussed here:
Usage
The data team is engrossed in storing, preparing, and connecting data for analysis. The BI and analytics team is eager to examine the data, compare and co-relate datasets to gain insights and visualize the data.
Data team has in-depth knowledge about data and are known as data experts. The BI and analytics team concentrates and prioritizes business usability and requirements.
In due process of selecting the platform, the data team focuses on a platform that can meet needs of both the teams. They need a sturdy platform that can manage any data in cloud and on-premise.
On the contrary BI and analytics team concentrates on a user-friendly platform that provides self-service analytics. This way the team doesn't have to work through the complex data to make the right business decision.
Want to convert your idea into a successful app or website? Schedule your free call with our expert now.
Traditional and outdated BI platforms can be difficult to handle. A minor shift in data can change the entire picture and the analytics team has to work all over it again. However, the latest BI and analytics platform offers high-end functionalities and features.
It is convenient to use them for multiple business purposes. Team mates with minimal industry knowledge can also work efficiently on these modern platforms with quick training.
Reliability and Precision
The data team wants to implant a solution that restricts mis-management and malpractices around the data. This way, you won't face troubles while setting up dashboards or new KPIs.
Protecting data is their ultimate goal alongside varied methods of access, analysis, and graphical representation. The BI and analytics team will hunt for a solution that allows them to easily access data, analyze, and quick visual generation.
Ideally, both teams are apprehensive about the data quality. The BI and analytics team aim to receive and analyze precise data. However, the data team is responsible to prepare and optimize the data.
They are entitled to eliminate the drawbacks, duplications, and clean the data even before it is transferred to any authorized user.
This means that the data team must consider access settings precisely. A well-programmed access to team, groups, departments, and groups is what they are in search of in a BI platform.
Often, it so happens that organized data also appears to be cluttered. You fail to understand the big picture or the trends. It eventually leads you to nowhere. But, the BI platform can give you a precise and true glimpse of the data in visual format.
This information can further guide you to make several smart business decisions rapidly.
Governance
Yet another feature that the data team constantly looks for in the BI platform is data management and security. The BI and analytics team prioritizes accessibility and optimization of data.
Make sure that the BI platform can provide smooth and quick access to several counterparts and eliminate hurdles.
Diversity
Imagine, a mid-level member wants to access high-level performance reports to improve their productivity. They will need access to gain this information.
A rigid access policy creates roadblocks and an increased time is wasted to gain access and work on the data. The requirements of the BI and analytics platform are diverse based on the nature of organization.
An easy-to-access platform makes it convenient to pass the information. You can quickly generate reports and make the right decisions for your business.
Flexibility and Capacity
The Power BI and analytics team works in favor of the company and ensures to maximize profits. This is one key reason why they always search for a future-proof platform that can provide them with quality data in the coming years.
The data team is keen to select a platform that can accelerate and has significant capacity to work on high data volume.
You can connect with technical experts to test the sharpness of the platform. This can help you to understand the platform better and then make your decision. Make sure that you get in touch with reliable tech professionals since they possess the caliber to show you the real picture.
They can assist you for a smooth setup as well.
Implementation
Implementation is possible in swift sweep with access to limited departments in a company. During this process make sure that you have clarity regarding whether you want to include white-labelling and embedded analytics.
Transparency on all such factors makes the implementation process comparatively smoother and quick.
It is imperative to get in touch with a team that has profound knowledge on these platforms. Your internal team may do their homework but fails to consider each important aspect and their potential effect on your business.
Technology experts can tick-off all the boxes on your checklist and provide you a platform inclusive of all the essential features required for your business.
On-Premise, Cloud, or Hybrid
This is one of the prominent factors to consider while you are checking several BI and analytics platforms. Cloud is predominantly the future of data and analytics. It empowers you to be limitless.
All you have to do is pay for the uncountable capacity and power that it offers you. You don't have to spend unwanted costs to hire a permanent IT team. The cloud experts can carry out the deployment and installation process successfully.
Among all the options, a cloud solution is predominantly recommended as they provide better facilities.
A cloud-based BI and analytics platform is comparatively cost-effective and you don't have to change it any-time soon. Invest in a platform that can comply with all its commitments, what each desires and wants, and eventually benefits your organization.
A speedy platform can provide you real-time information and make quick yet impactful business decisions for your firm.
Don't wait for the ship to sail, instead reach out to Brainvire's professionals for quality Business Intelligence Managed Services.