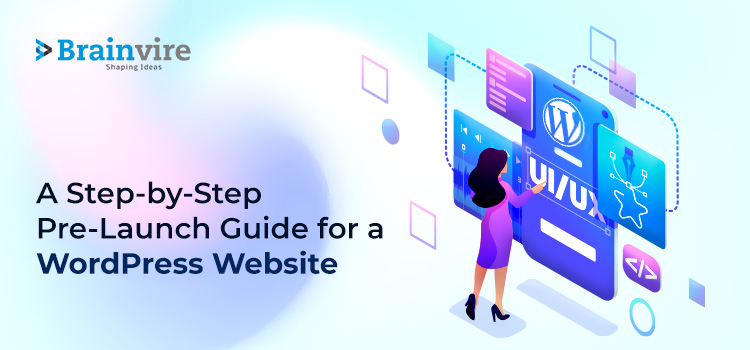 It is not a one-day job to create and launch a website. This takes a lot of preparation and commitment. To shape and establish a functional site, several distinct pieces have to come together. With so many things to do, it is possible to miss some of them.
In a scenario like that, having a roadmap is always a safer option. It not only improves your chances of a positive outcome but also assures tangible results.
In this blog, you'll know about a pre-launch checklist for a WordPress website. It is a step-by-step guide that will make sure that you don't forget any crucial step in the launch journey of a successful website. But, before talking about the checklist, let us take a look at why we need WordPress. 
Of all the CMS tools available today, WordPress is the fastest and easiest tool for building feature-rich and robust websites. The best part is that the WordPress development services are user-friendly and highly effective to develop all sorts of websites.
[Also Read: How much will a website development cost you?]
According to Netcraft, WordPress powers 35% of the total web. It is deployed by everyone from small personal blogs, small personal websites to Fortune 500s like Facebook, Time magazine, Sony, The New Yorker, and Disney. 
Here are some predominant reasons for opting for WordPress development services:
WordPress is an open-source platform with a very easy installation that just takes minutes to execute.
WordPress is versatile in terms of design. So, if you don't want to hire WordPress developers to build a website for you, it has various predefined themes that help you customize the design on your own. But for more scalability and reliability the suggestion would be to hire WordPress developers.
WordPress is SEO-friendly. It is written in high-quality, straightforward coding which makes all the WordPress sites rank higher than the other sites in SERPs.
WordPress comes with a built-in management framework for alerts. When a new version of WordPress is available, it notifies you, so you can update your site, plugins, and themes within your WordPress admin dashboard.
To execute the complicated process of cloud migration, you don't need technical knowledge. With the WordPress migrator plugin for Cloudways, it can simplify the process of cloud migration from some other hosting platform to Cloudways. All you need to do is provide the plugin with the SFTP information and the rest will be done with utmost care.
For building a website, WordPress is an excellent option, particularly when you aim to expand your business online. Although there may be numerous tools to help users customize and improve WordPress, it is still imperative to use a WordPress development service from a good development company and hire WordPress developers. 
Want to convert your idea into a successful app or website? Schedule your free call with our expert now.
Getting back to our WordPress website pre-launch checklist:
1. Content
Content is the core of any website. If done correctly, it can bring users to your doorsteps.
Replace Dummy Content
A default dummy content comes with each WordPress installation. Make sure that the actual content that is approved is revised. The same applies to images, it is important to delete stand-in images and replace them with real ones.
Set Up a 404 Error Page
Most templates have a content default page that is not visible on the site. Still, you should consider setting up a personalized 404 error page. Installing a 404 page before you launch your WordPress website, allows you to engage your audience and guide them to another page on your site. 
Check Page Links
Make sure that no connection is broken, that internal links point to where they are supposed to be, and that external links in a new tab are available. If any redirections are required, make sure that they are set up correctly.
Examine Downloadables 
When your website has downloadables, ensure that they are read because if the content has grammar and spelling errors, it appears very unprofessional. Always double-check all texts on the website for errors and verify that they are properly downloadable. 
Have a Content Plan for Launch 
Upon launch, prepare some posts to share on social networks. This will not only boost brand awareness but also provide you with a base of followers.
Double-Check the Content for Spellings and Grammar Errors 
Nothing looks more unprofessional than spelling and grammar errors on the website. So, double-check the content and don't give anyone a chance to judge your website. 
2. Design
Your design is the representation of the website's content. The more attractive it looks the more audience attention it will draw. It requires a lot of planning and efforts but in the end, it is worth it.
Validate HTML and CSS Markups
Validating HTML is critical as there are negative outcomes associated with invalid HTML. Even though Google says HTML validation is not necessary, it is important as it affects the crawl rate, browser usability, and promotes a good user experience. 
Check Browser Compatibility
You should always make sure that the website is compatible with all technologies hence, runs properly in all the browsers, which is why cross-browser compatibility testing is needed.
Add a Favicon
Favicon is a term used for a favorite icon. Having a visible favicon on your browser tabs, bookmarks, history files, etc. helps your users save time by enabling them to quickly locate and browse your website, thereby improving the probability of user engagement. This will increase the time spent and interactions with your website, thus enhancing your SEO.
Check your site on different Gadgets
Lots of people use their mobiles to search websites. Mobile these days brings a lot of traffic and it is a must to have a website that looks interesting and easy to use on mobile devices. Test your concept on the gadgets (both phones and tablets) and platforms to guarantee an optimal user experience (Android and iOS).
3. Functionality
A well-functioning website can help market your business to consumers and clients. You may be missing out on potential leads without a functioning website and may even leave a poor image for the brand.
Test Webforms
Make sure that all of your forms display and function properly before launching your WordPress website. Don't just work for perfecting the content and design. Make sure that any forms that collect data are stored in the right place.
Have a WordPress Backup Option 
On your website, you can still have a back-up solution. You'll still have a backup to fix things the way they were if something goes wrong. Make sure that the plugin you pick schedules your backups automatically to save to the Cloud. Google Drive, Amazon S3, and Dropbox are common options for Cloud storage services.
Review Autoresponders
If you have any kind of automatic email that responds to a question from users, make sure they act correctly. They are important as they create a good impression and generate audience engagement.
An Accessible Website
Make sure that anyone, irrespective of their skill, can access your platform. It involves visitors who have difficulties with their vision or hearing.
Examine the structure of your web.
All the pages should be easily reachable
The content should be readable and understandable.
There should not be any obstacles.
Double-Check the Speed
The site should not take more than 2-3 seconds to load. The user experience must be easygoing and smooth.
Add a Coming Soon Page
Don't forget to add a starting shortly page. Especially if you're still working on the website's final outlook. A coming soon page is like your site's preview. It makes people aware of the things that are coming and gives them a way to stay updated.
4.  SEO and Marketing
The next segment of your WordPress launch checklist deals with Search Engine Optimization (SEO) and promotion for your platform. This will help you get more traffic and clients. How?
You connect to Site Analytics
To grow exponentially you need to keep tabs on your website's performance. This way you get to know how many people came, how they reached there, and where they spent most of their time, after all the hard work you worked on creating the website.
For many websites that are trying to track this data, Google Analytics is a standard option. Some fantastic plugins help combine WordPress with Google Analytics for a seamless experience.
Setup Metadata
Meta tags tell Google what your site is all about. The search engine bots read the meta tags and description to know about your website. 
Setup Permalinks
Every website must pick the permalink framework that is optimal for SEO purposes right at the very beginning. You may want to choose the Custom Structure choice for larger websites that needs categories and tags to be reflected in URLs. It is not good to modify the permalinks later in the future. By making permalinks right at the beginning, you can save a lot of time.
Examine Social Integration
Make the best use of social media power. Make sure that on social media sites such as Facebook, Twitter, and Instagram, users easily communicate with your blog. Also, verify that all social plugins on your web are running correctly.
[Also Read: Top 15 Questions to ask when hiring WordPress development company]
Grow your social audience before you launch by encouraging visitors to share your website with their network. You can also reward them with referral monitoring every time they share a post. This can produce a good follower base.
 Optimize Images 
Together with the title tag, adding Alt text will help search engines determine how an image relates to the rest of the content on the website. This will help users witness relevant content on your website. 
This comes at the end of every page. A copyright footer shows that the work from the time it is produced is protected by copyright laws. Or you can (if you want to) list your content under a license from Creative Commons to encourage the audience to use your content.
Many sites often prefer to provide essential data such as their company address or contact details. Others provide a list of a mini-site with links to all the main pages available on your site.
Final Words
It is a complicated job to launch a WordPress website. It may, in turn, be daunting and overwhelming as it is confusing to bring everything together. 
Pre-launch checklists like this may help you make every launch considerably smoother, make it less likely that you will miss something important, and ensure a good workflow.
Plus, getting a detailed checklist of your own is an excellent investment in the future.To make things easy you can contact us for WordPress development services.