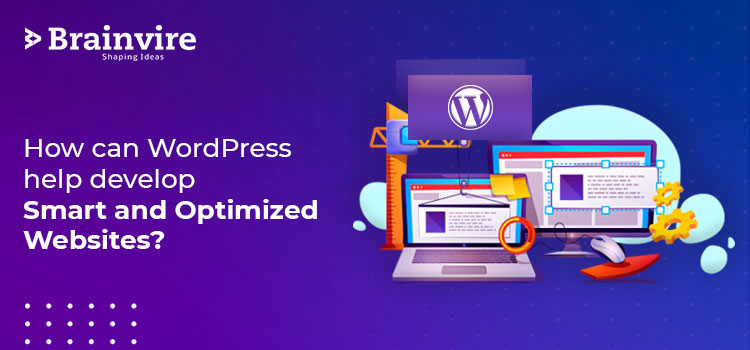 Website development has been a fast-paced domain, with its massive implementation and usage increasing by leaps and bounds. We live in an IT-driven world that entertains websites that are reliable, flexible, functional, and readily accessible. Therefore, choosing the right kind of platform is the most crucial decision you take before rolling out a website. 
Fortunately, there is a platform that has been promising in providing tangible results and fulfilling the requirements in the best manner possible, that is, WordPress – WordPress is the simplest and the most sought-after CMS(Content Management System) tool for building websites and managing web content. More than 40.5% of the top 10 million websites are supported by WordPress. Big shot companies like- Microsoft News, TED blog, Walt Disney, Vogue, etc are backed by WordPress. 
[Also Read: 5 Ways to Enhance Your WordPress Website's Organic Rankings!]
The best part about WordPress is that it is flexible enough to enable users to build all kinds of websites, ranging from business websites, blogs, forums to e-commerce stores, and that too with minimum coding knowledge. This helps users to save a lot of money, work at their own pace, and get a complete business insight. 
A WordPress website can be perfectly curated by a layman without having to hire a WordPress designers, enabling you to develop robust, user-friendly, and search-engine-friendly websites.
Let's see how
In this article, you'll learn how WordPress development services help in building quicker, smarter, and well-optimized web development.
1.It is free and open-source
If you are planning to build a website that is powerful yet cost-effective, WordPress is your tool. WordPress is a free and open-source content management system that makes the code available to the public which enables them to download, install and customize it as per their requirements. 
WordPress core has plenty of features for all the users. For every feature that is not present in the WordPress core, there is a plugin directory available that offers numerous features.
Users get benefited from WordPress's open-source feature in the following ways:
It lets the user have complete control over the website.
Users can update their software codes with the latest market trends.
Beginners can enhance programming skills.
Open-source software is more secure than the other Softwares.
Even if you are not completely capable of using an open-source platform, wordpress.org gives you full control and lets you explore the tools and use them the way you want. 
Want to convert your idea into a successful app or website? Schedule your free call with our expert now.
2. WordPress is intuitive and friendly to newcomers
Learning and implementing anything new can be daunting. Similarly, developing your website on an entirely new platform looks like a lot of work but with friendly tools like WordPress, it can be done in no time flat. 
WordPress makes it easy for users who take up building a website, even if they are beginners and do not possess enough coding skills. These websites could either be static or dynamic. 
Another reason why it is called a beginner-friendly tool is that WordPress contains multiple page builders on the internet which are visual 'drag and drop' editors. Anyone can quickly learn its interface and start creating innovative pages.
3. Implementing WordPress themes and plugins add functionality to the Website
The maximum crowd that uses WordPress is not tech-savvy. This is why WordPress is a perfect solution for the ones that do not hold prior knowledge about web development. WordPress provides thousands of templates to choose from. These templates are easily customizable and suitable to build all kinds of websites. They come with numerous editing options that allow you to change colors, upload logos, images, change the background, create beautiful sliders, and more, that you can use without any coding at all.
To add advanced functionality like analytics, contact form, social media integration, etc., you need to embed plugins into your website.  
Plugins are codes that "plugin" into your website and add custom functionality or extend existing ones. But, not only functionality, there are thousands of plugins that help you transform your website into a new one.   
But a bit of getaway advice here would be to only use the plugins that are required and avoid duplicate functionality. 
4. WordPress is SEO-friendly
Building a powerful website without doing its SEO is like shooting in the dark. To gain maximum traction on your website, you need an effective SEO plan and certainly, with WordPress, you can achieve that. WordPress sites generally rank higher in SERPs as they are composed using standard compliance high-quality code. 
5. WordPress is safe and completely secured
WordPress is one of the most secure to 'run and build' a platform. No matter what kind of website you own, it's safe and sound with WordPress. It regularly releases updates to acknowledge the latest security issues. Moreover, it allows you to download high-quality plugins to protect your site from malicious threats.
It is always beneficial to be alert and take extra precautions when it comes to securing your website as the world is uncertain and most of the time such things are a result of human activities. WordPress also offers a WordPress security guide for beginners. 
Final Words
Having been around for over a decade now, WordPress has become the most popular content management system in use. It was initially built only for publishing blogs but has now evolved to support other kinds of web content also.
[Also Read: Why WordPress Development Services Are Getting Popular?]
WordPress is a highly intuitive CMS platform that understands that building a website is not a low-hanging-fruit which is why it has plenty of support available on the official WordPress site along with community forums and blogs to help users build their website seamlessly.
Customers of this generation are impatient; they don't like to wait. The more you hold them up, the more you lose your chance to convert your leads into customers.
Undoubtedly, WordPress is quite reassuring in meeting developers' expectations and creating customer-friendly websites. But, that is just half the battle, you'll have to optimize it smartly so that it functions faster, resulting in a quicker sale of your products and services.