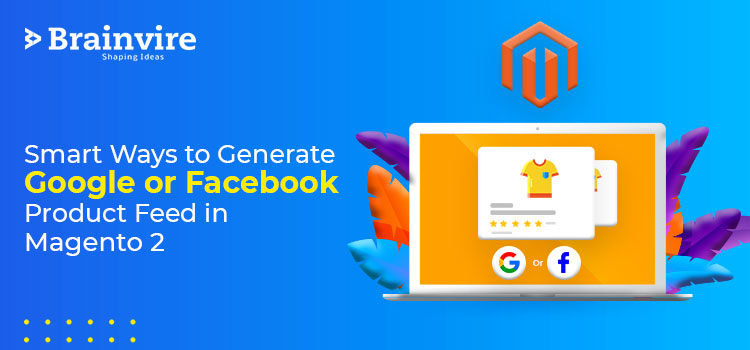 A product data feed or product feed is a comprehensive product list document that consists of all product details. These details are inclusive of product prices, images, categories, and other details.
Every business can obtain this document in varied formats such as XML, CSV, and TXT to name a few. A few entrepreneurs are unaware of the presence of product feeds in the digital realm. These feeds function in the background and help in marketing to boost conversions.
Magento development servicesneed to needs to train marketers the importance of website development ecommerce in the right process to generate Facebook or Google product feed with Magento 2. Market pioneers such as Facebook, Amazon, and Google among others use these feeds to enhance their listings.
For instance, while surfing online you come across a product ad and this is because of the product data feed. Different marketing platforms and the retail eCommerce solution use the feed data to build a strategic campaign.
The same feed can evaluate whether a particular product is suitable for a query or not. The right use of product feels can shape the digital presence of your company.
For instance, if you have recently searched for a specific shoe brand, then you are likely to come across ads for that product for a few days.
In this article, we have discussed the following:
Perks of Using a Product Feed
Understanding Facebook Product Feed
The Ultimate Guide to Create Product Feed in Magento 2
Step-By-Step Guide to Create Facebook and Google Product Feed for Magento 2

Perks of Using a Product Feed
There are significant perks of using the generated product data feed optimally and we have shared a few here:
Data accuracy: Companies obtain precise and genuine data about their marketing platforms, products, and all actions associated with them. You don't have to research different mediums for the same or rely on assumptions.
Improved online presence: Product feeds can encourage and enhance the online presence of your products on the eCommerce platform.
Display ads: Product feeds are used to determine marketing algorithms and display a specific ad to customers. This also helps resolve queries.
Data flexibility: Product feeds offer assistance to improve and alter product data to gain accelerated conversions.
Want to convert your idea into a successful app or website? Schedule your free call with our expert now.
Understanding Facebook Product Feed
With over 1.55 billion users, Facebook is one of the most leading social media platforms. Users across the globe can share images, videos, entertainment, and communicate with others through this platform.
Today, Facebook ads hold a lot of significance for your eCommerce development and social media presence.
A Facebook product feed can guide digital enterprises to deliver targeted ads to the potential audience and those interested in your services. The product data required in Facebook Catalog is compatible with Magento 2 data. This makes it convenient for the Admin to apply different parameters to create a Product Feed.
The default Magento 2 settings do not allow the creation of feeds by configuration so you have to switch to Facebook product feed. The use of the right module permits admins to export product data from websites and sync it with the Facebook catalog.

The Ultimate Guide to Create Product Feed in Magento 2
You can enter all the necessary product details in a .TXT file or spreadsheet and complete the task manually. But, this task can be daunting and time-consuming since businesses have huge product data.
You can either use the existing automated solution available in Magento 2 or an additional extension to generate Product Feeds.
It is convenient to generate Product Data Feeds with the help of the right extension. Data retrieved from these extensions are appropriate for a variety of platforms such as Amazon, Google, and Facebook.
These extensions allow you to use products belonging to any category from any location to create feeds. This means you can create feeds in a few taps. The configuration tab in the admin panel provides the much-needed control to manage this module.
Alongside, the extension facilitates tailored options and other perks such as:
Pre-design feed templates
Include product links in the data feed
Category mapping
Define tailored data feed format XML, TXT, and CSV.
Step-By-Step Guide to Create Facebook and Google Product Feed for Magento 2
Step 1: Skimp through the Facebook business suite and click on ads manager.
Step 2: On the left panel click on assets and the commerce manager.
Step 3: Click on the add catalog option and a catalog configuration menu will pop-up on your screen. Once you see the pop-up select e-commerce products and then on the next option.
Step 4: In the configure settings fill the catalog name and catalog owner. There are two options here, either connect your eCommerce platform or directly upload product details. Once product details are entered click on create option.
Step 5: When you click on create it will lead you to the catalog manager window, click on the catalog, and data sources option mentioned on the left menu. The next move is to click on use bulk upload and then the next option.
Step 6: When you land on the choose upload option, you are exposed to multiple options. You can use google sheets, upload the feed file directly, or schedule the feed. Consider your requirements, add your preference, and click on the Next option.
Step 7: If you have opted for scheduled feed, then you will have to mention the website the URL where the feed is hosted. In some instances, URL is password protected and hence you have to share credentials and then click on next to proceed further.
Step 8: Further, in the scheduled updates menu, you have to provide a precise time when you want to schedule your feed uploads and then proceed further.
Step 9: To complete the process of uploading the feed enters the data source and currency and click on upload.
Step 10: You have uploaded your Facebook product data feed triumphantly.
Simple Tactic to Upload Google Product Data Feed
Google feed permits you to upload product data to Google shopping. The first question that strikes your mind is why should you upload data on Google shopping.
Well, with this initiative online shoppers can reach you with ease. Upload your store's data into Google Merchant which in return populates in Google shopping. This can accelerate conversion rates, amplify sales, and improve your marketing strategy.

Step-By-Step Guide to Upload Google Product Feed
Step 1: Click on Google AdWords, then on Setup, and open Google Merchant center.
Step 2: Tap on the products mentioned on the left menu.
Step 3: Move to settings and click on linked accounts. Send a request to link the existing account with Google AdWords. Switch to Google AdWords and accept the request. For this, go to the setup and linked account section.
Step 4: Search Google Merchant center and insert a new primary feed. This will direct you to a 3-step setup window. Enter the basic language and currency information.
Step 5: Review shopping ads in select destinations and click on next.
Step 6: Mention your feed name and then you will get different options to upload your Google feed. Some options are as follows:
Use Content API
Use Google sheets
Direct upload from product feed file
Schedule fetch
Pick an option as per your feasibility.
Step 7: We have reached the final step in the setup process. Now, all you have to do is enter the feed file name, review time settings, and URL of the file. And, you have uploaded the Google product data feed successfully.
Reach out to our experts for further assistance.