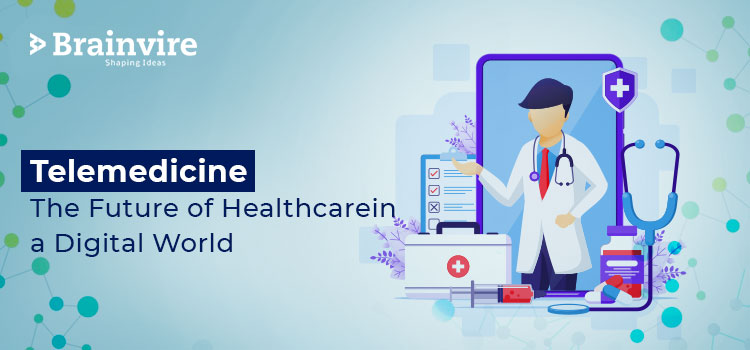 In the healthcare sector, telecommunication technologies are now commonly used and are continuing to grow. 
Digital innovations power Telehealth, which enables us to reimagine the doctor's visit as a house call without travel. For decades, the concept of the virtual visit has been around, and telemedicine has been deployed across specialties and lines of operation, from primary care to radiology, cardiology to orthopedics.
Today, telehealth apps are software-as-a-service (SaaS) and are as similar to the smartphone that doctors and patients keep in their pockets. ASP.NET development services are one of the most popular technologies used for developing healthcare apps. The telehealth systems of today no longer need high upfront operating costs but are part of monthly subscription packages that are as secure and HIPAA-compliant as they are affordable.
However, some care providers, healthcare software solution firms, and digital marketers, however, question whether it is worth spending time and money on the implementation of telemedicine.
This may be due to their unawareness regarding the size and potential of the nolotelemedicine market. 
The global telehealth industry is projected to grow to $191.7 billion by 2025 with a 37.7 percent CAGR (See image below). Such rapid growth is motivated primarily by the following factors:
The rising population and the need to improve access to healthcare
The growth of illnesses and disorders that are chronic
The medical personnel shortage
Telecommunications Developments.
Government support.
The increase of patient awareness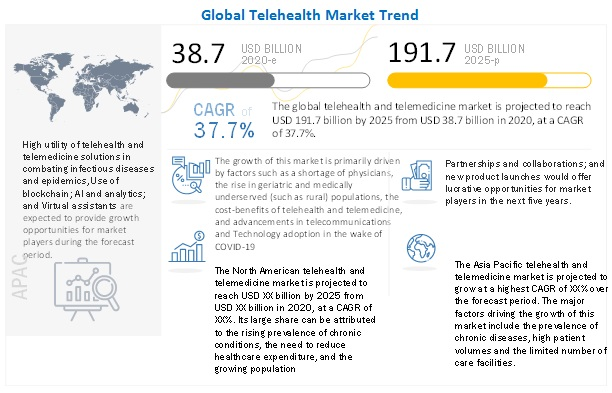 Image source: MarketandMarkets
The key telehealth domains identified by the National Telehealth Resource Center include:
Live video conferencing (Synchronous): Live, two-way interaction using audiovisual telecommunications technologies between an entity and a healthcare provider.
Store-and-Forward (Asynchronous): Transfer of a patient's medical details to a care provider without real-time contact through an electronic communications device.
Remote Patient Monitoring (RPM): The collection of personal health and medical data from an individual at a single location via electronic communication technology that is transmitted to a provider (hospitals, clinics, living facilities, etc.) in a different location for use in care and related support.
HIPAA Compliance- The Greatest Challenge To Telehealth
There has always been a burning question of HIPAA compliance in the healthcare industry. Our customers always want to be sure that we can make their software compliant with HIPAA, whether it is a healthcare provider or a software product company, or a manufacturer of medical devices. So, how can you ensure your product or service is HIPAA compliant?
Want to convert your idea into a successful app or website? Schedule your free call with our expert now.
Measures to ensure HIPAA compliance
Data encryption- Translating patient data into a form that can not be decrypted by unauthorized users or users without an encryption key in transit and at rest. There are lots of forms of data encryption, such as file-level, block-level, etc.
Data access protection measures- Setting up user functions, user authentication, access privileges, action permissions, automatic logoff, etc. These steps help limit device access according to unique permissions defined for user roles so that privacy of patient data can be achieved and the risk of leakage minimized.
Security audit procedures- Routine security steps such as evaluation of vulnerability, penetration testing, continuous monitoring of networks, etc.
Benefits Of Telemedicine For The Healthcare Industry
Let's dive deep into the most significant advantages of telemedicine technology, show how telehealth benefits care, providers and patients, for you to decide whether this technology is worth opting for.
Greater Access to Healthcare Facilities
As telemedicine is inextricably related to the use of telecommunications technologies, telehealth technology eliminates many obstacles to accessing medical treatment. For example, telemedicine makes it possible to access the requisite health services without attending health care facilities that are particularly useful for the elderly, people with disabilities, rural patients, post-surgical patients, etc.
Patients can use a telemedicine app not only for regular e-visits but also with the aid of wireless medical devices and wearable biosensors for real-time body condition monitoring. 93 percent of surveyed doctors note that telemedicine tech increases the access of patients to treatment.
Better Treatment Results
When telemedicine technology facilitates real-time patient health data tracking, healthcare providers can achieve an increased level of care delivery. With the aid of medical devices or wearable biosensors, this knowledge can be gathered automatically. Personal health data may also be applied manually to the system by patients.
Using relevant information on the physiological parameters of patients, doctors can modify or supplement a care plan easily and, if appropriate, prescribe necessary medications. In such a way, telemedicine systems will help to minimize the rate of readmission and usage of emergency rooms.
Healthcare Cost Reduction
Telehealth decreases the usage of emergency rooms and readmission rates, which also helps medical providers save a lot of cash. Telehealth technology often allows care professionals to use remote analysis systems (e.g. telepathology and teleradiology) to outsource and avoid the costs of specific medical instruments and highly trained medical personnel.
Higher Patient Engagement and Satisfaction
Telehealth systems help patients feel safer and more secure, as with a few clicks they can contact a care provider and realize that their health information is monitored by professionals. In addition, high-quality telemedicine apps allow patients to engage in their care process: patients have access to their treatment plan, comments from their doctor, or information about their vitals, suggestions, and related materials for schooling. 
The positive effect on the degree of patient satisfaction of telehealth technologies is revealed in the increase of the patient satisfaction rate for telemedicine services. It reached 851 out of 1,000 (based on a 1,000-point scale).
Leverage Telemedicine Tech In An App
For both patients and providers of treatment, telemedicine systems can be extremely useful. Thus, software product companies investing in .NET healthcare software have the potential to penetrate the healthcare IT market with a profitable product. And it is important to cooperate with professionals experienced in the production of telemedicine applications to increase the chances of market success. 
Conclusion
The medical world is changing constantly. In the medical field, technology plays a big role now. Technology has brought numerous great advances to the medical field as doctors regularly look for better ways to treat individuals. You can gain access to medical services or information that might normally be unavailable, thanks to technological advances such as telemedicine.
Brainvire has vast expertise in developing practical and effective healthcare solutions that help advance the healthcare IT domain. Our solutions provide ease of access and improve the quality of healthcare practices for both doctors and patients.