On an average, over 11,000 Facebook messenger, bots are interacting with real users, at present. These Facebook chat bots for business have become the latest e-commerce trend to be channeled by the brands and retailers for a number of reasons. They automate process – which is literally heaven for e-commerce retailers!
From automating simple tasks such as taking burger orders to complex ones like handing out a parking ticket! These e-commerce chatbots have given a fresh life to the existing customer service model, hence offering a remarkable customer experience. The real-time and conversational offer the feeling of talking to a friend rather than some agent who's bored by offering the same answers to the customers again and again.
What more could Mark Zuckerberg's previous platform have done for marketers?
The multi-billion-dollar social media network has persistently managed to divert its massive user base to Facebook Messenger from another messaging platform in last year. As Messenger accounts for more than 1 billion active users/month (take a look at the graph below), it certainly makes sense that retailers and brands are embracing it to offer an enhanced user experience to their customer via the platform of they've been using in routine.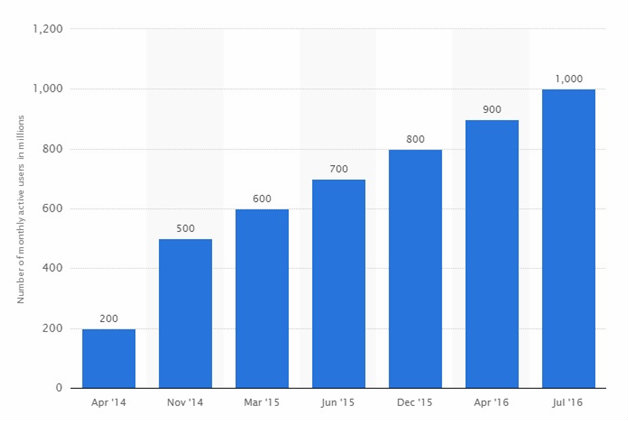 Image: Monthly active Facebook Messenger users [April 2014 to July 2016 (in millions)](SOURCE: Statista)
Are you wondering where to fit a Facebook Messenger Bot in your customer service or possibly business marketing strategy? Should you opt for Facebook bot development? Well, this article contains all the answers. Here's everything you need to understand about the peak adoption rate of these Facebook chat bots for business.
Before we jump any further into this, here's a quick summary of what to expect in this article, i.e. the points you must consider before option for developing a Facebook Messenger Bot for your business.
1. Exploring User Demographic – How many are using the Facebook Messenger?
2. Platform Support – Do you have the required resources?
3. Clear Defined Strategy – How will e-commerce bots add value to your business?
4. Facebook Chatbot for Business – Leading examples of successful business models to have embraced chatbots
I have placed this graph sourced from Statista to understand the dominating influence of Facebook Messenger in the market before we delve into the aforementioned topics.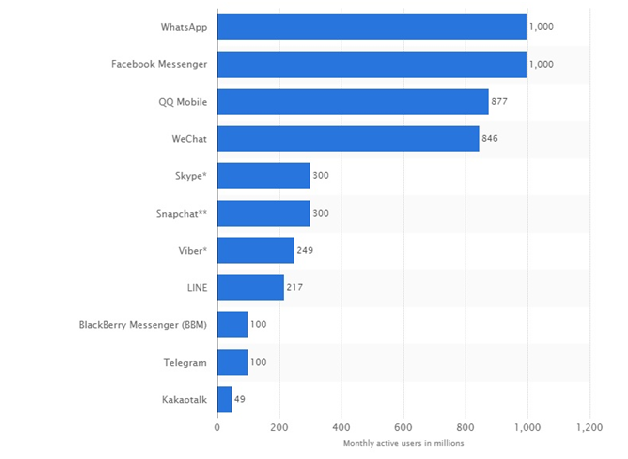 Image: Most popular chat apps globally as of January 2017. Number of Monthly Active Users (in Millions)
SOURCE: STATISTA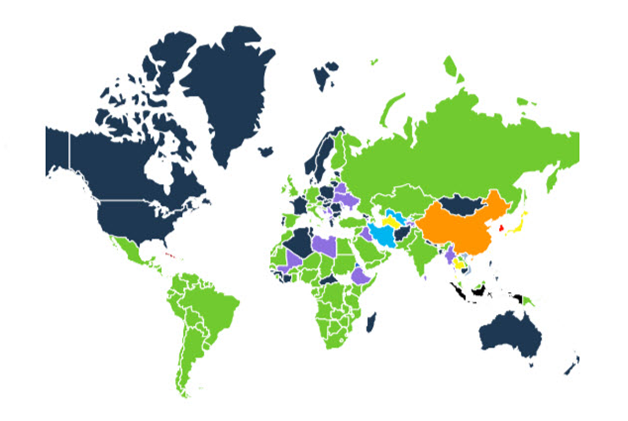 Image: The GREEN color depicts regions covered by WhatsApp and the BLUE stands for Facebook Messenger.
SOURCE: SimilarWeb
Now, moving ahead with our primary concerns, here is the answer to your questions.
How much is your user base divulged into the use of Facebook Messenger?
There are companies that move forward with Facebook messenger bot development without a proper market research. They simply presume everyone using Facebook to be Facebook Messenger users without running a quick check. This is wrong! If the target audience of your business is consumers in emerging markets, or let's say, millennials, Messenger App may not be their primary chat app.
According to a leading research, messaging apps like WhatsApp, Snapchat, WeChat, Kik, and Line holds a strong record for millennials and teen usage. Facebook-owned WhatsApp dominates with 1.2 billion. So if you're targeting this slot, you might as well consider targeting this user base by the platforms mentioned above rather than going for Messenger.
On the other hand, if a large chunk of your audience is using Messenger heavily as their medium, go for the Facebook messenger bot development. There are higher chances they will adapt rapidly to it and appreciate interacting with your brand on Messenger.
Do you have the required resources?
Building e-commerce chat bots aren't that hard, however, it's certainly going to take a large chunk of your time and resource. Mainly this chunk will include expertise and staff time – which will continue even after the launch.
Sure, it's fully automated, but you will need time to keep promoting it, monitor the questions and tasks your bots can't handle, form an overall report on customer experience and keep working continuously with it to improve its capabilities like analyzing, search ranking, user feedback incorporation, etc.
If you think you don't have time and resources either to make this kind of long-term investment, kindly avoid wasting your time in this. Or, you could hire companies who can develop such chatbots for you meanwhile freeing you from the painstaking task. Brainvire is one of the leading companies that specializes in Facebook Chatbot and all kinds of e-commerce chatbot development.
How will e-commerce bots add value to your business?
A common reason why a majority of organizations blew away while trying to build mobile applications was that they saw apps as mere an updated version of their website. They failed to conduct a brief research on how building a mobile app would alter the kinds of the approach used by the customer to interact when they desire. As a result, no additional value was offered for many organization and clearly their strategy to appeal more users via mobile app medium failed.
This is why you need to be sure of the amount of usage from the customer's end before building Facebook chatbot for the business of yours. Before laying the initial lines of code, be clear with your stakeholders about what all you want to accomplish and how will you be moving to the e-commerce bot medium help your business achieve its goal.
Leading Examples of Successful Business Models Using Facebook Messenger Bots
A swath of publishers, retailers, and brands have reportedly engaged themselves into these e-commerce chat bot apps. These names include biggies like The Washington Post and Sep hora to Burger King and K-Swiss.
So, what's more, to think? Take a chance and go for it! In case, you're looking out for a team of Facebook bot developers, Brainvire is an excellent choice to go for. Contact our team to know more about our services.