The confusion between Figma vs. Sketch vs. Adobe XD has been raging for a long time now and it doesn't seem to be dying down anytime soon. We have an impressive guide for you if you find yourself embroiled in this mystery.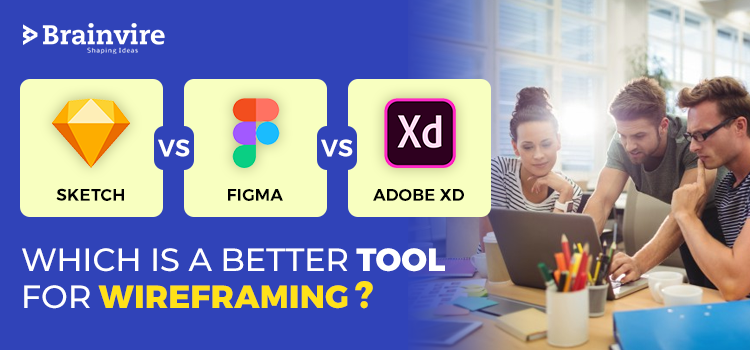 So let's decide, between Sketch vs. Adobe XD vs. Figma, which is the best tool for you for wireframing.
Sketch
Sketch, developed by the Dutch company Bohemian Coding, is a vector graphics editor. Sketch was first launched for macOS on 7 September 2010. Unlike other vector graphics editors, it  does not have print design features. Sketch is only available for macOS. Third-party and handoff tools partially solve this problem.
Want to convert your idea into a successful app or website? Schedule your free call with our expert now.
Adobe XD
Adobe Inc released Adobe XD on 18 October 2017. It is a vector-based user interface design platform available for macOS and Windows for web apps, mobile apps, and voice apps. It also offers iOS and Android versions to preview a design directly on mobile devices. Adobe XD also supports wireframing of websites and simple interactive click-through prototypes are made.
Figma
Figma was launched in 2016. The tool quickly became a go-to choice between similar solutions in the market, owing to its popularity for smooth user interface and sleek feature palette.
As the ultimate UI design tool, designers from brands including Twitter, Microsoft, GitHub, and Dropbox swear by Figma.
Now that we've read a brief introduction of all three tools, let's compare each on different functional aspects.
Comparison between Adobe XD, Figma, and Sketch
Pricing
Figma: Users can develop three projects for free, or they can upgrade for $12/month (billed annually) for unlimited projects and team capabilities.
Sketch: $99 per user license grants you lifetime access to the Mac App and access to the app's next development versions.
Adobe XD: Depending on specific needs, Adobe XD provides free and paid plans. Paid plans start at 9.99 dollars a month.
Live Collaboration
If all your company stakeholders are actively involved in the design process, it is important that the "must-have" list of features involves live collaboration.
Sketch: It does not necessarily allow live collaboration, but supports plugins that can make it easier.
Figma: Regardless of the platform or OS, seamless live collaboration facilities are available.
Adobe XD: Through Adobe ID and recently via Zoom, live collaboration and co-editing is available.
Platform Compatibility
All these three wireframing tools are available on a diverse set of platforms. This can restrict or extend their capabilities.
Sketch: ONLY available on Mac.
Figma: Browser-based for Windows and Mac with dedicated desktop applications.
Adobe XD: Mac, Windows, and support for mobile viewing.
Hand-off
A few apps have recently been built explicitly to provide developers with specs (sizing, spacing, color), but design tools are beginning to implement this functionality natively.
Sketch: Cloud Inspector, its native hand-off feature, has recently been released by Sketch.
Figma: Seamlessly facilitates the printing of CSS, iOS, and Android codes.
Adobe XD: For generating shareable CSS code snippets, designers can generate shared links.
Prototyping
Nowadays, there are literally hundreds of these applications, but as Adobe XD brings prototyping directly to the design tool, they might become extinct.
Sketch: Not native, but Sketch's rich community of plugins, like Craft, allow it to build mobile prototypes.
Adobe XD: Yes, within the programme, native prototyping is possible.
Figma: Yes. It is quite basic, but without the transitions, it looks like Adobe XD.
Symbols
Symbols redefine how the UX is built by users. It helps to solve the tasks of construction and replication and makes your design highly iterative.
Sketch: Excellent features for symbols are available, with frequent updates and responsive resizing.
Figma: In the Team Libraries, symbols support states, overrides, and constraints that can be stored.
Adobe XD: Support for basic symbols is available without responsive resizing, but it promises the potential for growth.
Offline
Some online apps can protect your information even without an internet connection. However, to gain complete access, it is important to open, access, and save from the tool offline.
Sketch: Available
Figma: To be available soon
Adobe XD: Available
Adobe XD Vs Figma Vs Sketch
Sketch drastically loses out since it is only available to Mac users. Figma and Adobe XD, on the other hand, are innovating beyond basic requirements. 
Also, Adobe XD offers a solid collection of responsive symbols while Sketch does not have this feature built-in, but it has several plugins. The browser-based approach Figma has taken is something to look out for as well.
Adobe XD is powerful, and here to stay. Smaller design tools like Sketch will have to work hard to remain competitive.
People would like to design and work under a single platform. If you are a team member, then Figma is ideal for you.
Conclusion
So, this is where we end our comparison between Figma vs Sketch vs Adobe XD.
Finding the best app depends on the kind of project you're working on.
If you're a designer who tackles a range of designs such as website designs to mobile UIs, Figma is a great way to begin your journey as a UX designer. It is secure and directly runs on your browser.
Adobe XD can help test the waters for UX and UI design. It's especially useful if you already have Creative Cloud apps because Adobe XD works well in combination with Photoshop and Illustrator.
Sketch remains the best UX design app for Mac users. But, it's platform exclusivity makes the app hard to recommend for all.
Overall, these 3 tools are exceptionally well suited to the needs of modern designers. 
It all boils down to personal preferences when it comes to which wireframing method is better. 
Luckily, as we have broken down the comparison on a range of features and functionalities, you can make an educated decision based on your preferences.
FAQs
What is wireframing?
Wireframing is the process of creating a visual representation of a digital product's interface design. It's a preliminary step in the design process, used to plan and map out the structure and layout of an application or website before any visual design elements are added.
What are Adobe XD, Figma, and Sketch?
Figma is primarily a web app, but there are also desktop versions available for Windows and Mac. Similar to Sketch, Adobe XD is a desktop app that works in tandem with Adobe's Creative Cloud.
What are some of the key differences between Adobe XD, Figma, and Sketch?
Figma is a tool that has web-based (desktop software), browser-based, and mobile iterations. It enables users to work together on vector-based designs in real time from any location with an internet link, speeding up the process by which they can produce interfaces that are at the forefront of their fields.

Illustrator is no longer necessary for making attractive websites and apps. Adobe XD is Adobe's version of a vector-based design tool; it's a program made for making prototypes that are as close to the final result as possible during every stage of the development process. Adobe XD can be used independently or in conjunction with the other programs in the Adobe Creative Cloud package.

The user interface and user experience design community agrees that Sketch is among the finest tools available. Ever since its inception in 2010, Sketch has introduced several features that are now standard in other programs for creating digital product designs. However, the fact that Sketch is only compatible with macOS may deter some potential customers.
Which tool is better for wireframing: Adobe XD, Figma, or Sketch?
All three tools, Adobe XD, Figma, and Sketch, are widely used for wireframing and have their own unique features and benefits. The choice of which tool to use largely depends on personal preference and the specific needs of the project.

Here are some key differences between the three tools:

Adobe XD: Adobe XD is a user experience design tool that allows designers to create wireframes, prototypes, and design specifications. It's known for its powerful features, including an extensive library of UI elements and interactive design tools.

Figma: Figma is a web-based design tool that enables collaboration and real-time design editing. It's a versatile tool that allows designers to create wireframes, high-fidelity prototypes, and design assets.

Sketch: Sketch is a vector graphics editor that's popular among designers for its ease of use and comprehensive design tools. It's commonly used for creating wireframes, UI design, and prototyping.

In terms of pricing, Adobe XD and Figma offer free and paid plans, while Sketch is a paid-only tool.
What are some features to look for in a wireframing tool?
The following are the key features you should consider in a wireframing tool:

– Design for Users (UI)
– In order for you to feel at ease while using it, it should have straightforward menus
– Integrations
– Price
– Tools for providing feedback and working together
– Choices for Selling
How important is collaboration in wireframing and design?
By soliciting input from colleagues and customers early in the design process, teams can avoid a never-ending feedback loop and speed up the time it takes to market their products.
Are there any free or open-source wireframing tools available?
Yes, there are several free and open-source wireframing tools available for designers. Some of the popular options include, Pencil Project, Wireframe.cc, Mockplus, Figma (free plan), Balsamiq Wireframes, and so on. 

These tools provide designers with the ability to create wireframes and prototypes quickly and easily, without the need for expensive software or a steep learning curve. They offer a range of features and UI elements, making them suitable for a variety of design projects.