Push notifications are indeed a milestone technology in driving mobile engagement. You might have hit the enable or allow tab and got a notification about something very important. 
But there is another underrated notification tool that is as effective as push notifications; yes, we're talking about badges. No, it's not the one that game nerds receive after completing stages. It is the one that overlaps the top right corner of app icons on iOS devices.
Badge notifications have made consumer relations stronger with their core functionality. The USP is simple, don't show the entire notification, but drop a hint that entices consumers to click on it. It's a great way to increase the click-through rate, even without a push notification. Incorporating badge notification with a practical content strategy brings consumer attention, which is later reflected in the revenue. 
If you are looking for a niche that covers the entire badge notification, you've hit the right one. 
(Note: The Android OS features a completely different approach to badges, called "dots". These notification badges have their own set of rules. Therefore, we are primarily focused on iOS for this article.)
What are Notification Badges?
Badges in mobile applications are the colored circle that pops up on the upper right-hand nook of the application icon. They indicate unread notifications and allow consumers to access all significant updates easily. By tapping once on the icon, users can perceive the notifications without push-off. 
Generally, in PCs, the badges are blue, whereas, in mobile devices, they appear red. The white numeric font displays the badge count. It represents the unseen notifications or messages waiting for the consumer when they log in the next time. 
Want to convert your idea into a successful app or website? Schedule your free call with our expert now.
Why are Badges Important for Marketers?
For Marketers, badges can be the next big thing after social media platforms, if utilized appropriately. The psychology here is simple, humans are more reactive to visual objects, and smartphones are the key to receive the user's unified attention. Creating visual triggers helps increase click rates. 

Displaying notifications where users didn't engage helps create a sense of rush and instigates users to log into the application for updates.

Badges can make an application appear active and dynamic, steering consumer engagement. This engagement driving tool comes with no high costs, is cent percent effective if done correctly, is eye-catchy, and all this rounds up with minimal effort. 
If you are looking forward to creating an iOS application and are not aware of the basics, hire a mobile developer and ask them to create a notification badge. 
What does Badge Count Represent?
The badge count represents the number of unseen push notifications that users have received from an app in use. That means this tool can be employed to bring out other unseen texts like content reminders, news feed cards, and in-app texts.
This draws users to check in, and the numbers create a sense of urgency to log in to the application. 
Here's a highlight of demand for notification badges across multiple industries: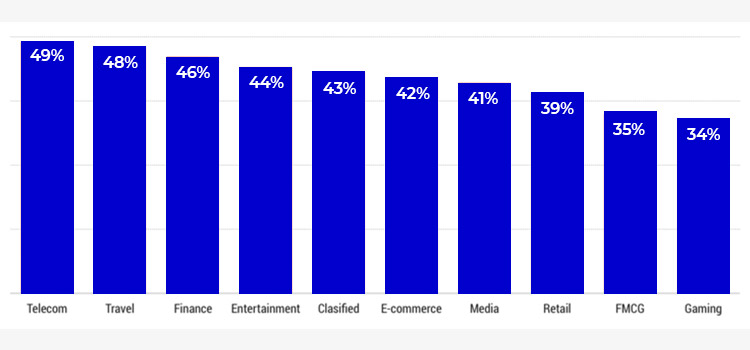 Why are Badges Effective in Driving Consumer Engagement? 
As mentioned earlier, badges create a sense of urgency and compel users to log in; apart from this, there are more factors on why badges work. 
The inbox zero methodology 
The success of the inbox zero productivity process has made it clear that users have developed a habit of going through all the updates and messages. However, this consumer behavior is more common in email inboxes and is also visible in other cases. 
When users who have a habit of clearing their inbox go through their notification bar, they will more likely notice unseen notifications in your app. This means there are high chances you can be a part of inbox clean-up and get clicks.
Helps in developing curiosity 
Badges also built curiosity. Users can see something is waiting for them but have no idea about what it is. There are possibilities of the update being related to some loyalty bonus points or sales. And there is no way to find out without tapping on the icon. By employing badges, you have a chance that users can fall for the psychology of curiosity and engage with the app. 
But always keep in mind curiosity can be wearied over time. Only if all your app notifications include similar content; for example, if you keep on sending a 20% discount coupon every time, there are high chances that they will start ignoring your notifications. Keep altering your notification content and discount offers regularly. 
Influence the social media implication of badges  
Badges have become more common among users through Facebook. This partly implies that many users relate badges as a form of social reward. As in Facebook, the badge might indicate unseen messages, comments, or views on a picture. 
Take inspiration from here, and you can associate your brand with social media levels of user engagement.  
Many companies offer iPhone app development services; choose the one that suits your development requirements. 
Things to keep in mind while employing badges 
While employing any messaging tool, you need to be very cautious and competent about using badges to engage consumers. Here are few things to consider:
Refrain from high badge count- Many brands often find that when the badge count rises significantly, the CTR declines. And it can also provoke users to uninstall your application. 
Be precise about the significance of the badge count- If users are not aware of your badge content, they will not care even when the number goes up. It is better to merge your badge counts with News Feeds or in-app texts instead of push notifications. Any mobile app development company can help you with this.
Best practices of using badges to boost push campaign  
For the majority of brands, badging and push notifications to go hand in hand. To get the best out of this tool, do not rush and implement a badging strategy that complements your push process. So also think about how badging can assist re-engagement with push-notification. Here are some badge best practices to boost push campaigns.

Make sure the badge number is related to something in the app 
A pop-up badge number might steer excitement and boost engagement, but it's pivotal for the application's UX to retain data and ensure it's picked up where the badge proceeds to view what's new. 
You can go for a clear design code to keep the connection between content and badge. Implement a 'notification center' category in your application that is linked to a badging strategy.
Make the clearing process effortless. 
Both understanding the reason for the badge and easy-to-clear badge count is essential when there is a high volume. If your application generates more than twenty notifications and has a complex clearing process of one at a time, it is more likely you will lose users. 
An apt example of this is Facebook; it clears out the full badge count at once when you open the notification menu. 
Create a content strategy by keeping badging and user engagement in mind
Synchronize your content to activate badges according to your user engagement goals. Go for push notification when it's needed and appropriate but choose badges to send out regular content.
If you are going for daily active users, schedule your content releases with badges like LinkedIn's jobs matching your profile and more.
Get an effective cadence, and don't exaggerate it. 
Always remember users for your application can disable badges, so don't overdo them. Like push notifications, even badges can be turned off if overused, or even worse; they will uninstall the app. 
A bunch of notifications is of no use and crowds the app's message center for no reason. One size can never fit all, so consider running tests to check its effectiveness and find the right measure. 
Conclusion
Badge notification can undoubtedly be an effective medium to connect users. It can also be a quick way to annoy and lose an application's user base. Therefore they should be used with utmost care and at appropriate times. 
Now that you understand the possibilities with iOS app notification badges, we hope you understand their significance in your app engagement strategy. Remember, with a combination of notification badges and a proper marketing strategy, you can easily multiply your engagement.