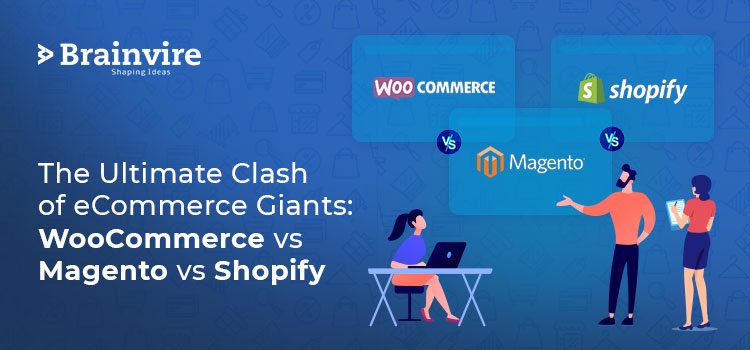 You might be surprised why only these three solutions are considered and compared over here. Well, these are the most famous eCommerce platforms with over 2.5M online stores in the market.
The majority of leading 100,000 eCommerce websites are based on Shopify, Magento, and WooCommerce. Shopify has exceeded 500,000 customers, WooCommerce has millions of active sites, and Magneto has had more than 250,000 websites since a long time.
Most companies either are already on one of these platforms or rooting for one of the ecommerce website development services.
This article will provide you in-depth information about all three platforms-
Understanding WooCommerce
Understanding Shopify
Understanding Magento
Common Parameters to Differentiate Three Platforms
Understanding WooCommerce

WooCommerce is an ideal and most used eCommerce solution across the globe. WooCommerce is a free plugin engineered and powered with WordPress development services and not an entity.
The main attribute of this solution is that it possesses a well-established user-base of WordPress.
4.9% of the total websites are based on WooCommerce
Almost 22% of the leading 1 million eCommerce websites use WooCommerce
28.19% of total online stores are powered by this solution.
Want to convert your idea into a successful app or website? Schedule your free call with our expert now.
Most observers fail to understand the significance of the plugin-platform technicality. However, this feature plays a pivotal role when you are contrasting and comparing the best for the organization.
WooCommerce is at the peak and you will find more about it ahead in the article.
Understanding Shopify

Shopify is the most prominent SaaS eCommerce platform with a constantly evolving user base.
With a 10.98% eCommerce software market, Shopify ranks third in the race of eCommerce platforms. The main reason is that the leader WooCommerce is not a platform, instead a WordPress plugin.
Over the years, Shopify has gained recognition across different brands such as Heinz, and The Economist to name a few.
Understanding Magento

In the eCommerce market, Magento is the most advanced platform. Web developers and huge enterprises prefer this platform to release high-functioning online stores.
Recently, it has gained a lot of steam and here are a few fascinating facts about Magento:
Over 7,500 retailers have switched to Magento eCommerce platform that clearly defines its popularity.
Since April 2020, Magento has 1.4% market share inclusive of all websites and CMS as well
Magento is downloaded more than 5000 times daily
Currently, several popular brands are using Magento:
Paul Smith
Nike
Canon
Christian Louboutin
Now that you have adequate knowledge about WooCommerce, Shopify, and Magento it is comparatively easier for you to differentiate them.
However, further, we have differentiated them based on a few common parameters.
Common Parameters to Differentiate Three Platforms

SEO Effectiveness

WooCommerce
WooCommerce consists of plenty of extensions and plugins. This empowers it to provide a high degree of SEO. Users can alter the settings as per their convenience to run the website better.
Shopify
As an eCommerce first store Shopify is capable of offering SEO optimization. However, the loophole is that there is limited scope for customization. For instance, your business needs certain precise SEO practices, but Shopify fails to grant access for the same.  
Magento
Magento – a modern eCommerce solution comprises advanced SEO features inclusive of inbuilt analytics. This helps generate SEO-friendly meta descriptions, URLs, integrated google maps, etc.
This platform also offers automated watermarks and image resizing options.
Besides, it is easy to customize SEO based on your business requirements provided you have the skilled workforce to execute it.
In 2017, a study reflected that Magento had an SEO score of 100/100. The right Magento SEO guide can help improve a store's organic ranking.
Support

WooCommerce

The WordPress community is quite diverse and large and WooCommerce is a WordPress plugin. This means that you can easily use plugins or codes developed by others to improve your website functionality.
Shopify
Shopify offers round the clock support to customers and this is their biggest USP. They have an organized and reliable system that offers quick solutions to customers. It is easy to reach their customer service via email, live chat, or phone.
Magento
Magento has a large and strong community with more than 300,000 members. Several amateurs and certified members are a part of this community and hence it is quite easy to find assistance and resolve issues.
But, their direct customer support fails to provide prompt response if you are expecting it.
Performance

WooCommerce
WooCommerce provides scalability, however, inexpert may struggle with codes and find it daunting to scale their websites as per their requirements. In case you don't have a coding history, WooCommerce is not the most ideal pick for you.
Shopify
In terms of performance and website speed Shopify is quite reliable. Website speed is one of the driving forces to improve reach and Shopify surely is making most of it.
However, if you question its scalability, then it is not great as compared to the other alternatives. This might cause roadblocks in the process of business development. If you are in search of smooth scalability, then Shopify plus is a better solution and can help boost cost radically.
Magento
Magento is a contemporary solution that can accommodate countless number of products and simultaneously offer high website traffic.
Large organizations or mid-sized businesses aiming high can use Magento's reliable CMS to implement those plans.
At the same time, Magento is easy to scale, which means you can reduce or increase the resources on your server to drive more website traffic. This also indicates that you don't have to go through poor speed on websites during peak hours.
Use

WooCommerce
You can utilize free themes and plugins of your WooCommerce websites as they are easy to use. Entrepreneurs need customizations and this is when the situation gets difficult, particularly when you lack coding knowledge.
Shopify
To use Shopify, you don't need any prior knowledge of coding or development. The platform possesses hosting and software capabilities. This means that users have to be concerned about just the set up and design of their store.
Magento
Magento offers you a great learning curve, simultaneously, you need assistance from an expert to develop and run this platform. Experts have profound knowledge of cloud hosting, PHP, HTML, and it's impossible to run a Magento website in their absence.
Customization

WooCommerce
WooCommerce offers room for customizations to provide an exclusive look to your website. You have the liberty to include and discard core features of the main theme, create customized plugins, extensions, and design a layout of your choice.
In case you have basic knowledge about codes, the you can use PHP, CSS, and HTML codes to customize your website.
Shopify
Shopify users have to stick to the core features included in their themes. However, they can pay additional fees to get access to use extra Shopify gateways not installed in Shopify.
Magento
If you weigh among the three alternatives, then Magento offers the most number of customization flexibility to users. The sky's the limit when it comes to customize your Magento website.
The process comprises developing and hence can be custom-built just the way you want.
Security

WooCommerce
WordPress shares constant updates for security and bug fixing. Users don't have to be worrisome about WooCommerce security as it is monitored constantly. The security plugins protect the website from virus attacks and hackers.
Shopify
Shopify is a global platform and is highly-dependable and secure. It ensures server-side maintenance and regulations. It also grants SSL certificate along with PCI compliance for your convenience.
Magento
Skilled Magento developers have the expertise to protect the website from unwanted threats. As a market pioneer and the first eCommerce platform, Magento development services never misses out on the security aspect.
The security patches and additional plugins and extensions offer a higher level of security to websites.
Still confused about which one is best suited for your organization?
Contact our experts and they will recommend you the best choice!