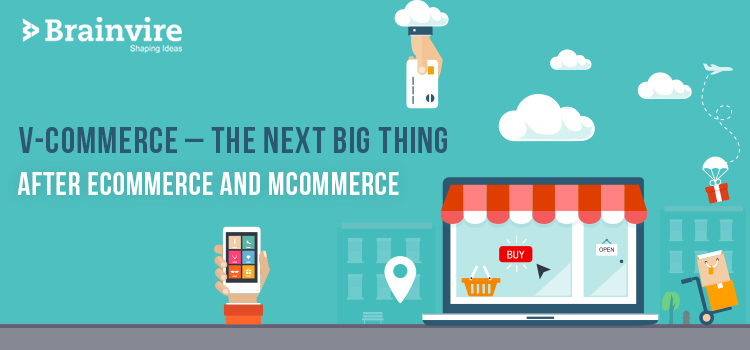 Talking About V-commerce – The Next Big Thing After Ecommerce and Mcommerce, Online shopping has been acclaimed by people across the world since quite a lot of time now. It is no more a new thing in the world market; it has become more of a necessity these days. People have been ordering products online through Magento eCommerce stores. However, with the advent of mobile technologies, smartphones and applications started ruling the world and since then, the world welcomed m-commerce more than e-commerce. Most of the people have got their phones with them most of the times. So, they have been using mobile apps more than websites lately. Instead of switching on their computers and opening websites to seek for products, it was easier for them to search through mobile application development services. Thus, m-commerce started taking place of e-commerce, enhancing shopping experience and making lives easier.
After e-commerce and m-commerce, the next wave of online shopping is towardsvcommerce. Oh yes, virtual commerce is the next big thing for the start ups that intends to provide even better real world shopping experience to customers. So, let us take a sneak peak over how v-commerce will be the next big thing after mCommerce.

Visual Merchandizing Tools and Integrated Analytics:
Talking About V-commerce – The Next Big Thing After Ecommerce and Mcommerce, This tool is extremely powerful, yet simple. It is really easy to use even by the merchandisers who have little or no computer experience. V-commerce has also tightly integrated eCommerce analytics so that you come to know where users are clicking, what they want to buy and why they leave their carts. All these data are just a few clicks away.
Advanced Search, Guided Navigation, Easy Shopping Cart and Quick Checkout:
ecommerce development offers you various types of search options and guided navigation as per your needs and requirements through ecommerce seo services. Virtual commerce converts visitors to customers increasing sales with the help of easy to use shopping cart and quick checkout that does not hinder the shopping process.
Upsell, Cross-Sell and Personalization:
V-commerce has got the capabilities to bring the right product in front of customers at the right time using personalization, up-sell and cross-sell capabilities using things like 'customers who bought this also bought…', 'similar products' and 'recommended products', to name a few.
A/B Testing, Segmentation, Payment Processing and Fraud Prevention:
The virtual commerce development also helps you try out various variations and test which one works the best. This will help you target products to a specific group of customers. It offers the completely secured transaction management to provide amazing shopping experience that customers will trust. It also detects fraud and encrypts data guaranteeing secure environment.
Content Integration, Rich Media and Global Capabilities:
The virtual commerce lets you put up the rich product descriptions and images. Also, it manages the true global transactions and supports issues like multiple currencies and languages catalogs, international drop ship and international payment processing, to name a few.
Talking About V-commerce – The Next Big Thing After Ecommerce and Mcommerce, Now that we are aware of some of the most important benefits of vcommerce, it is highly recommendable for us to adopt the virtual commerce and make the most out of it. Good luck for the same!