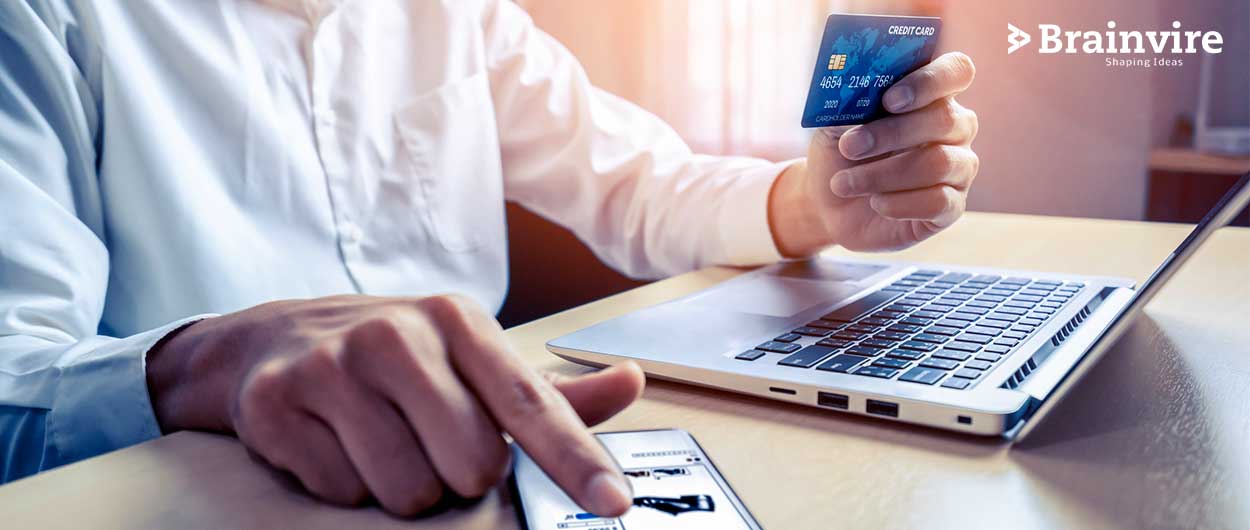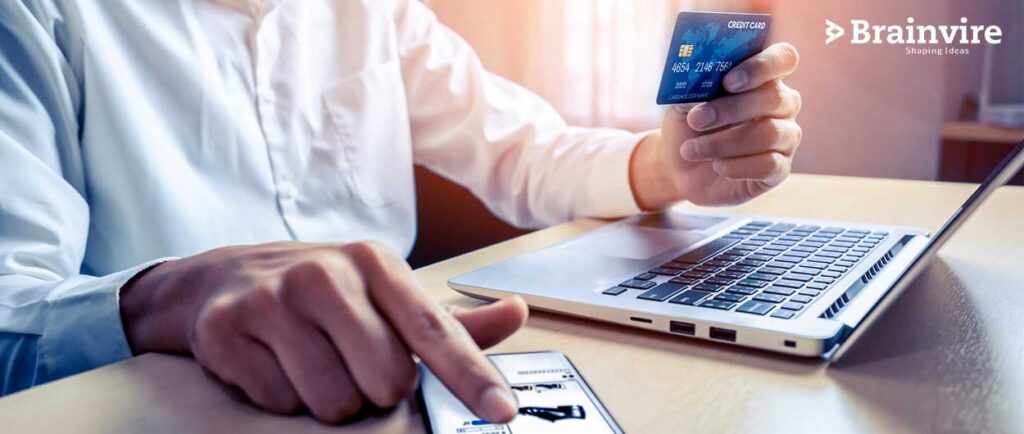 "If you always do what you always did, you will always get what you always got."
-Albert Einstein
Evolution is a fundamental principle. Ecommerce is no different in this aspect. If you want to be relevant, you need to stay at par with technological advancement to offer the best to your potential and existing customers.
At times it can become difficult to decide what to do next to improve the performance of your eCommerce store. In such a situation, following trends is the best way to decide your future course of action. 
Some Ecommerce Trends that are Powering Online Retail Forward
1. Augmented Reality has Become the New Go-to for a Delightful Shopping Experience
Visualizing how the furniture you like will look when you place it in your home is no longer a dream. Thanks to augmented reality (AR)!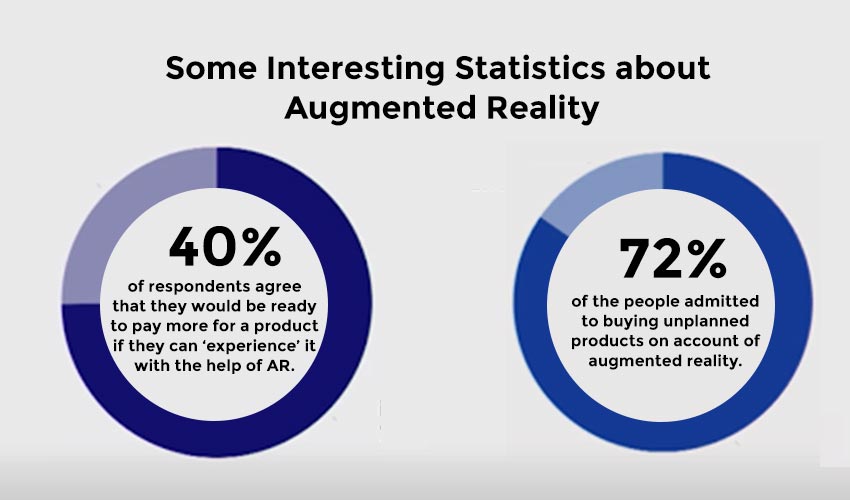 Some Interesting Statistics about Augmented Reality
40 percent of respondents agree that they would be ready to pay more for a product if they can 'experience' it with the help of AR.
72 percent of the people admitted to buying unplanned products on account of augmented reality.
Source: Think with Google and Businesswire
Despite these impressive stats in favor of AR, the number of eCommerce brands leveraging its power is poor. Let's give you some examples of brands that are using augmented reality in the right way.
Converse's titular Sampler App allows potential customers to try the shoes they like by adjusting their phone's camera towards their feet and clicking a picture of the ones they want. They can even share it with their family and friends to seek their opinion.
[Also Read: An Entrepreneurial Guide to develop a profitable ECommerce Solution]
Cosmetic brands are increasingly tapping the power of AR. For example, brands like L'Oreal give their potential customers the ability to try lipstick, blush, highlighter, among other products, and simply buy the one that best fits their skin. In the absence of this try-on technology, their online shoppers would have been less.
Other notable brand mentions include- GAP and IKEA. Brands like Hewlett Packard have taken the use of AR to an altogether different level by using it in their product launch. The brand shared QR codes included in a flyer. The user had to choose between a woodland scene, beach, or mountains on scanning the code. When a user selected the option, the screen displayed the chosen geographical location and displayed-  "downtime for you, not your data."
2. Voice-search will Become the Future of Ecommerce
Our busy life and the consequent multi-tasking drive have increased the use of voice searches in the last few years. As a result, voice-controlled speakers like Alexa are selling more than ever. In this scenario, if you aren't tapping the potential of appearing in search results when a user uses your product-related keyword, you are leaving a hefty sum on the table as an eCommerce brand.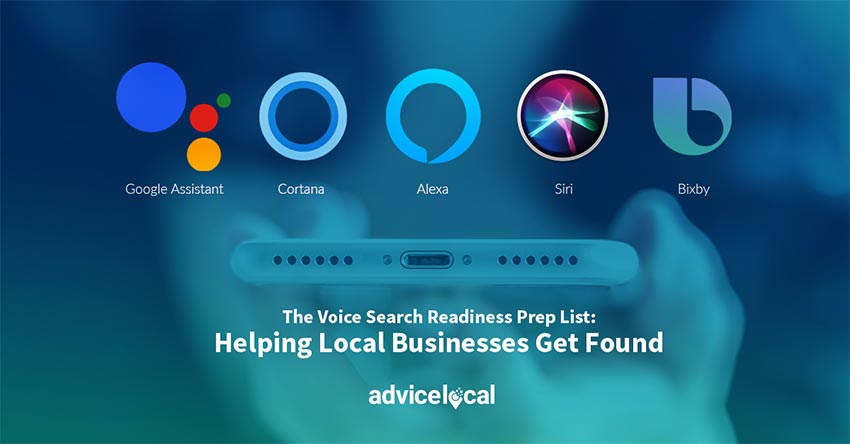 How small businesses get found by voice search
In addition to providing weather reports and calling a phonebook contact while the owner is driving, the voice-search revolution has significantly aided the eCommerce business world. Moreover, experts have forecasted that voice-search will delve deeper into the eCommerce terrain in the upcoming years. This has made it an eCommerce trend that online brands should follow today.
3. Use of Chatbots to Improve the Shopping and Post-shopping Experience
If a potential buyer visits your website and fails to find what they are looking for in the first few minutes, there are high chances that they will leave your eCommerce website with a perception of never visiting again.
 Buyers have a short time. So, for instance, when a visitor returns to your website after some time, a chatbot can ask whether they are back to buy the products they browsed a while ago. It would ensure that the potential buyer transforms into a buyer and create an unforgettable user experience that will convert them into loyal customers.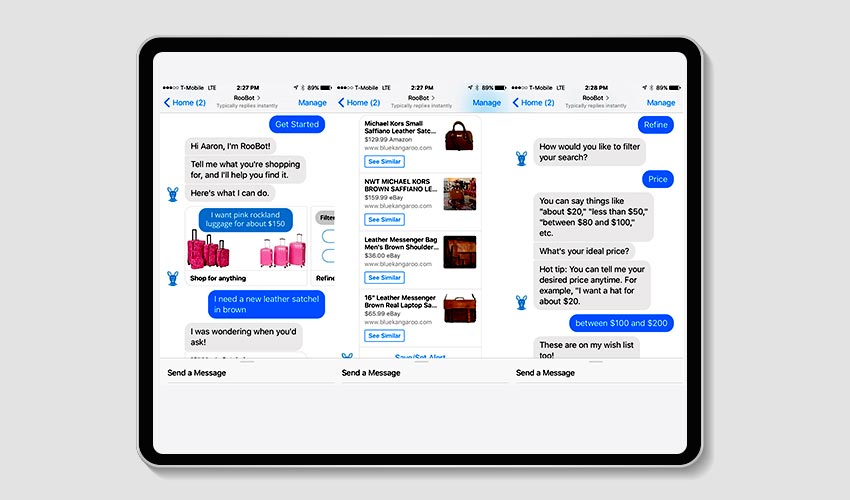 Example of a brand using a chatbot to offer quick results
Post-purchase customer support is as important as the shopping experience, and chatbots play a significant role in shaping it. For instance, when a visitor returns to the website after some days, an eCommerce brand's chatbot can ask whether they need any help with the product they purchased a few days back. The remarkable potential of chatbots in offering quick support to customers has made it an eCommerce trend that online businesses should follow in 2021.
4. Mobile Shopping is Experiencing a Surge 
Buying what you want using your mobile device might be a regular activity. What is noteworthy is the pace at which mobile shopping is growing. Thanks to apps and responsive websites, users have experienced the comfort of shopping via mobile and become used to it.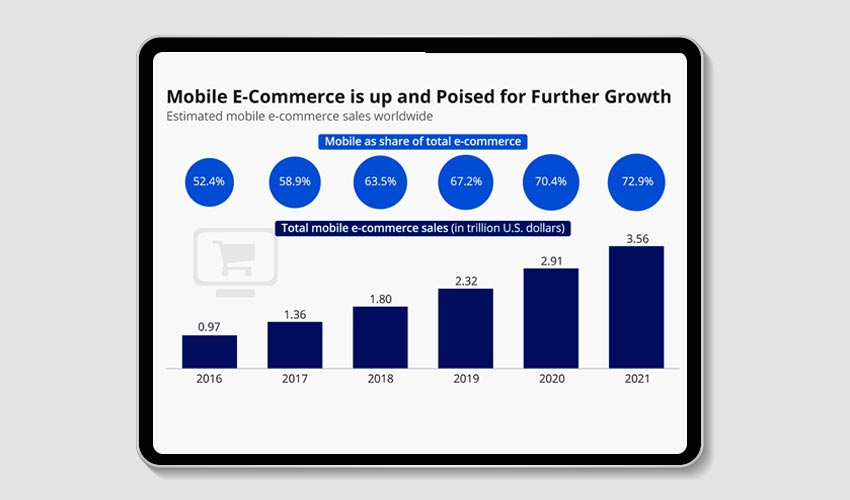 Mobile Ecommerce Stats
Key Takeaway- If you want to make the most of mobile shopping, ensure that your website and app work smoothly. Also, make it a point to add more online payment options to add to the ease of online shopping and motivate potential customers to buy.
5. Social Commerce is Catching Pace
With the online landscape becoming more competitive, retailers need to look for newer ways to engage their customers using social media platforms. Facebook and Instagram Shop are great ways of letting potential customers browse, find and buy products that seem relevant to them. Interestingly, a visitor can view a product on Facebook and Instagram, and Shopify will power the checkout.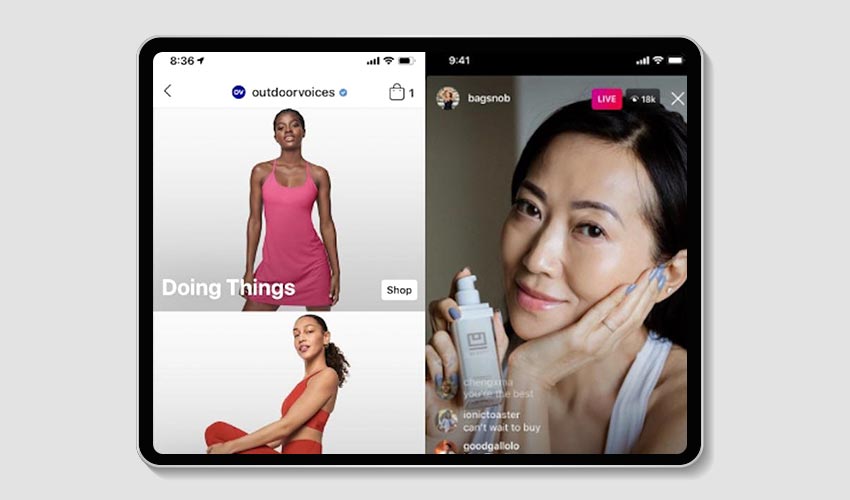 Brands tapping the power of social media to sell their products
Moreover, Shopify's announcements about developing in-depth integrations with Google, Facebook, and TikTok have made it more exciting to keep an eye on this development in the online shopping terrain.
6. Loyalty Programs in Omnichannel Marketing have Become a Thing
Imagine searching a website to buy a green-colored shirt for your next meeting in the office. You click on one of the shirts you see in search results. You find it average-looking and want to explore more options. You scroll the page to find recommendations for more similar shirts but see white and pink colored t-shirts instead. How would you react?
[Also Read: Top 7 facts that confirm the importance of Affiliate Marketing in Shaping eCommerce]
We know that disappointed look!
On the contrary, you check another website and find some options similar to what you were searching for. Then, you leave it without buying to see a Facebook ad about the same products you visited or an email disclosing a significant discount on the pieces you liked.
Which brand would you choose?
Most of you will decide in favor of the second one!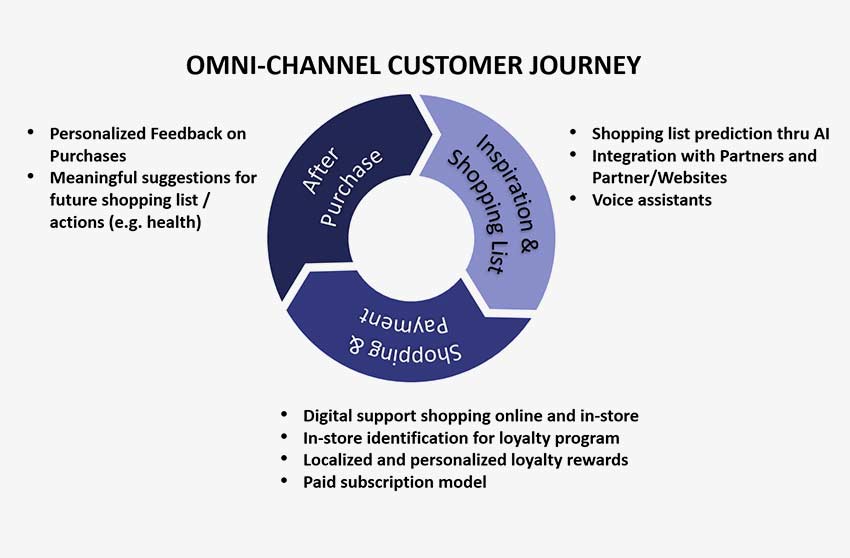 How omnichannel marketing works
This is precisely how omnichannel marketing makes your potential customers feel valued, saves time, etches a delightful user experience, and, most importantly, transforms your visitors into loyal customers. Artificial intelligence (AI) can contribute immensely to create this level of personalization, which is impossible even in a brick-and-mortar store.
Takeaway- If you are a retail brand with moderate resources and feel that omnichannel marketing will unnecessarily add to your expenses, start with one thing at a time. You can begin including this eCommerce trend in your strategy by applying filters to your website and sending abandoned cart emails. Social media ads can follow suit to develop deeper brand retention.
7. Ethical Commerce is Making Way
In recent years, consumers are becoming more sensitive to the impact we are causing on the environment. 'Sustainability' and 'eco-friendly' have become buzzwords. For instance,  Unilever's chief executive has pledged to double the company's size and reduce its environmental footprint to half. 
The chief strategy officer at Ogilvy & Mather London believes that this change has much to do with the financial aspect of business instead of businesses considering it their responsibility towards the environment, making it an eCommerce trend irrespective of 2021.
According to a report by IBM, 57 percent of buyers are ready to transform their online shopping habits to reduce the negative impact on the environment. Also, today, customers don't hesitate to support homegrown brands that show their effort to change the environment positively.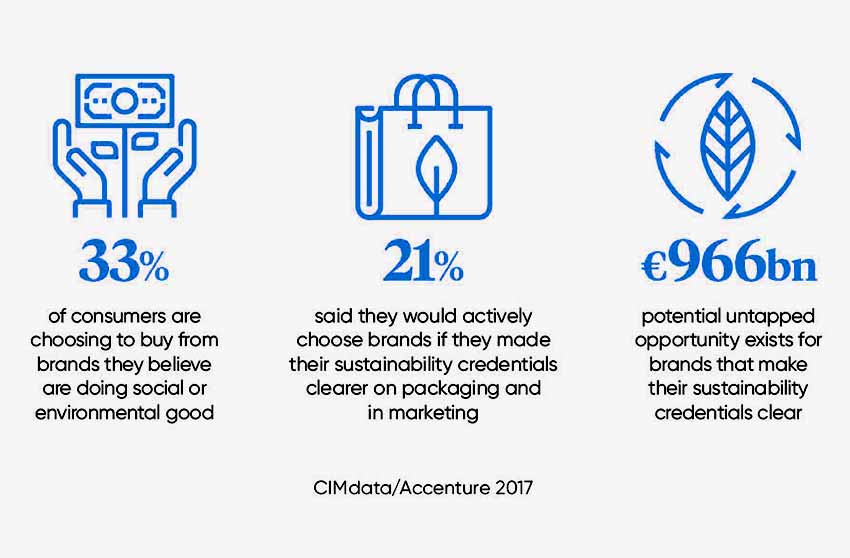 Statistics reflecting how the customer mindset is changing in favor of ethical commerce
Pro Tip- Analyze the possibilities of making your online store's products environment-friendly. It can be anything from changing your product's packaging material to your tree-plantation drive. Then, mention it on your online store and product packaging outright. Just be authentic about it, as you wouldn't want to appear as a bragging brand.
8. Ensuring Customer Loyalty with Subscriptions
In a competitive time when acquiring new customers is a priority for brands, retaining existing customers is more important. As per several marketing reports, maintaining an existing customer costs a fraction of acquiring a new one and saves a lot of time.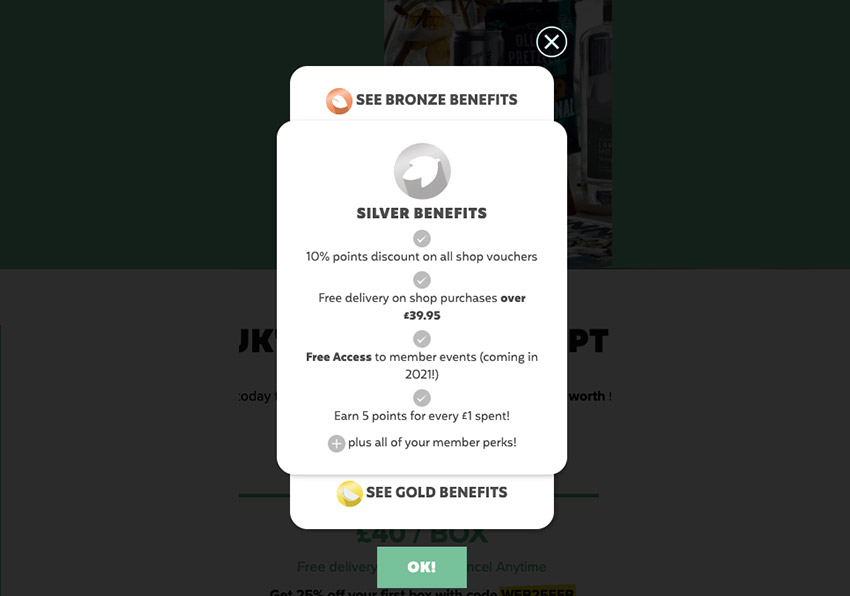 An eCommerce brand luring potential customers to its subscription
Offer subscriptions to create a deeper bond with your customers. For online shoppers who are visiting your website for the first time, you can offer a one-month trial period at the end of which they will be automatically signed in for a subscription if they don't opt-out of it.
9. More Companies Turning towards Headless Commerce
If you are wondering what headless commerce is in the first place, let's answer this question for you. Headless commerce is a system in which the presentation layer of your online store separates from business-critical processes, including order management, inventory tracking, payment processing, and shipping. Headless commerce is becoming a thing because it helps to make swift changes and innovate faster without affecting the eCommerce logic.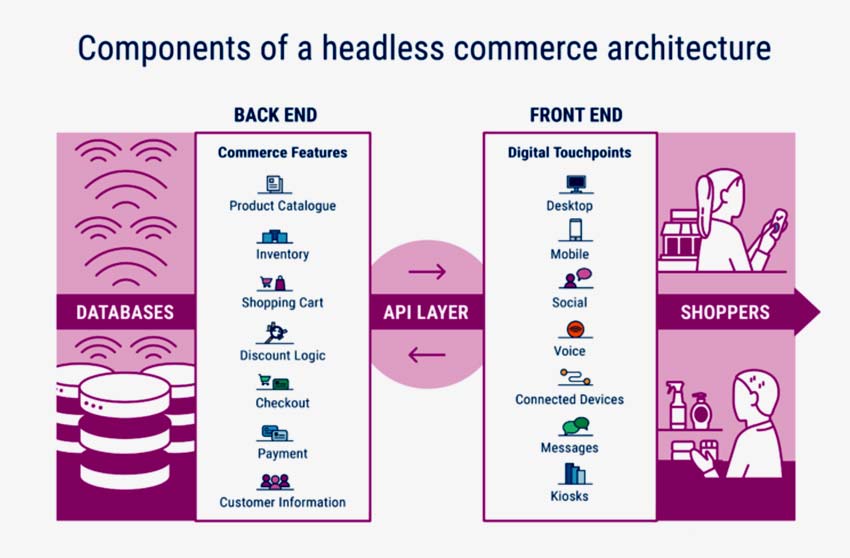 How headless commerce works 
Other benefits of headless commerce include the flexibility to use any programming language or framework, making room for customization, easy integration with tools, and cost-effectiveness when used on a scale. This has made it an eCommerce trend to follow in 2021.
10. Brands have Come up with Newer Ways to Engage Their Audience Visually
If you aren't yet fully convinced to use product videos on your online retail store, we'll give you reasons to strengthen your decision-making. Time and again, many reports have suggested that adding videos to a website leads to a significant increase in session duration. According to HubSpot, 73% more visitors who see product videos will do online shopping. 
If you are thinking about where you should add videos to your eCommerce store, let's suggest a few places where they will serve the best. If you want to fuel your sales, videos are a must-have on all your product pages. After all, they help you highlight the features of your products and help a potential buyer visualize how the product will look in real.
Secondly, adding them to your category pages is an excellent option because potential customers will better understand what type of products they can expect under the particular category. Suppose you have a product that stands out from the rest in the specific category. In that case, you can feature it on your category page and homepage and differentiate it with a badge on its specific product page.
Lastly, since buyers are becoming more planet-conscious in making online shopping decisions, don't forget to showcase it in your "About Us" section.
11. Brands are Tapping the Benefits of Influencer Marketing
Keeping your target audience engaged by consistently churning out relevant content is not easy. But, even though you might succeed in doing so, it is coming from your end, and there are fair chances that they are already your retail customers, whether in brick and mortar stores or through your online store.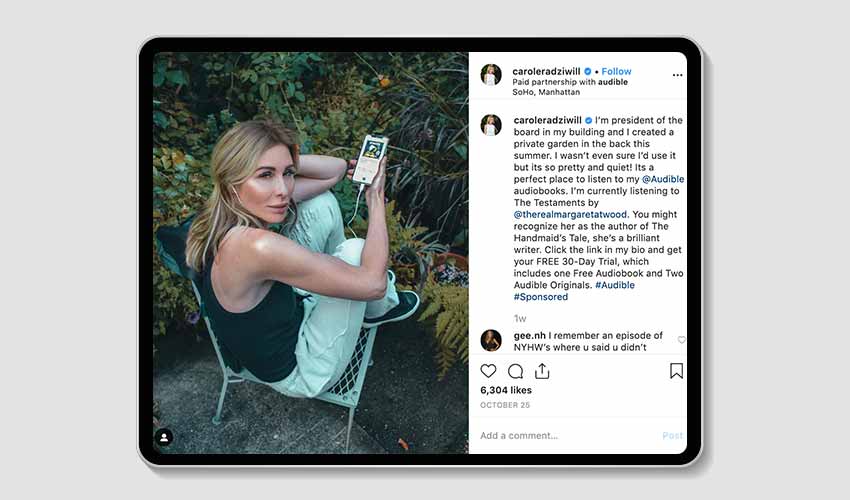 An example of Audible's influencer marketing campaign
Influencer marketing helps you reach out to a newer audience on social media platforms without being pushy. According to the Influencer Marketing Hub, the industry reached $9.7 billion in 2020, surpassing its $6.5billion mark in 2019, becoming a major eCommerce trend in 2021.
Are you looking for an expert to help you follow the eCommerce trends of 2021?
COVID-19 And Future of Online Shopping
COVID has acted as a boon for eCommerce. People who were earlier hesitant in shopping online have adapted to it in the absence of an alternative way. On becoming comfortable with the typical process of shopping online (which they have to quite an extent now), they will continue to enjoy online shopping from the comfort of their home even in the post-COVID time.
The increasing use of smart speakers will significantly contribute to a surge in online shopping as potential customers just need to speak their minds out. They can choose from hundreds of options available to them. In addition, artificial intelligence and augmented reality will increase personalization more to simplify choices and save time. Even though technology will lead to innovation and subsequent expansion, the basics like increasing payment options will not go out of style.
If you want to make these eCommerce trends and looking for Magento developer for hire a part of your online store's strategy, feel free to write to us at info@brainvire.com to learn more about our Ecommerce Development Services.