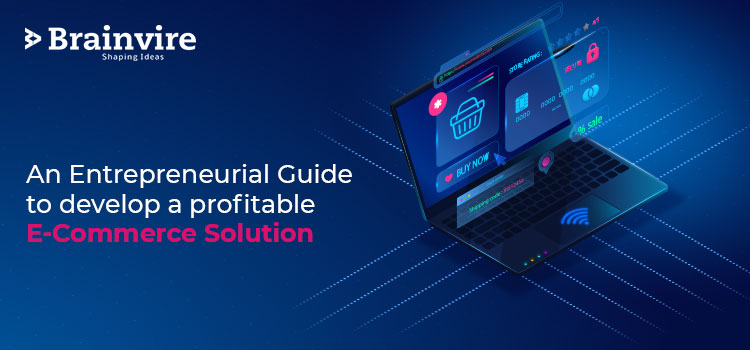 As people's ability to access the internet has improved, millions of people have begun to rely on e-commerce stores. This creates a lucrative market for companies. Entrepreneurs can explore it indefinitely, which is most likely the reason for the steady rise in eCommerce website development retail solution.
In this competitive scenario, the one who possesses both the brain and the tactics to attract customers wins the race, flourishing their business. Entrepreneurs must know how to deal with their competitors while also providing the highest quality to their customers. Now, when it's all about doing business through an online medium, it becomes essential for the entrepreneur to construct a strategic plan for E-Commerce. 
What is ECommerce Development!?
The development of E-commerce websites is known as E-commerce development. It is the overall development of the E-Commerce portals because of which more and more customers get attracted to these portals for fulfilling their basic needs rather than going to the supermarkets or any nearby shops for getting the basic commodities. It doesn't need to be just basic commodities, it can be anything for that matter. But the main focus is on the customer's mindset who choose the online markets more as compared to the physical markets. So, this development of E-commerce platforms or the lean of customers towards the E-Commerce services is what we call the E-Commerce Development.

[Also read: What Makes NopCommerce A Perfect Choice For Ecommerce Platform?]
Want to convert your idea into a successful app or website? Schedule your free call with our expert now.
Why do Consumers choose E-Commerce over Physical Markets?
•   Customers get their products at reasonable or affordable rates or they choose products that fit their budget. This is the primary reason why online markets or E-Commerce platforms are rapidly expanding. 
•    Customers can conveniently purchase products, which tends to be a daunting task in physical markets. Choosing the commodity of one's preference and wandering from one store to the next does not seem to be enjoyable. Hence, to get rid of this hectic tension, they choose online markets over physical markets.
•   Customers in traditional markets do not have access to the quality assurance that online markets have. As a result, they feel compelled to choose the one that gives them confidence while purchasing, which is only available in online markets.
These points clearly illustrate how consumers are rapidly moving to online markets to meet their product needs. Now, let's take a look at why and how they're having trouble meeting their customers' expectations.
Choosing the Best Unique Selling Point for your E-Commerce Business
The unique selling point (USP) is what distinguishes you from the crowd and defines your identity in the eyes of the masses. This is what allows you to put your brand ahead of the competition. A distinct USP would indicate whether the sellers are distinct and would pique the interest of potential customers.
In the E-Commerce industry, there are a plethora of similar businesses from which you must stand out and make your presence known.
Identifying the perfect USP
Your USP should be able to talk and walk like your business.
Assertiveness refers to taking a stance against those who are already in the market. This is about more than just how competitive your product is; it is also about the brand identity it possesses.
Your USP is more about your customers, and simply being unique should leave an impression on them. 
Choosing the Best E-Commerce Platform for Your Company
Magento
Magento is a well-known E-commerce platform in the market, with over 250,000 million users worldwide. Magento development services include a plethora of analytics modules, reports, cart statistics, purchase funnels, and other features. It offers the highest level of security. Coca-websites Cola's are built with Magento.

[Also read: 5 Ways To Upsurge M-Commerce App Downloads]
Bigcommerce
BigCommerce is used by approximately 153,012 websites, one of which is Amazon. With its robust search engine, it is a top-tier platform for retailers. BigCommerce can be used by store owners with little or no design experience.
Shopify
With total revenue of $1.073 billion, Shopify is an eminent name in the global market. It is mobile-friendly and can be directly modified with HTML and CSS. Penguin Books is one of the many well-known brands on Shopify.
WooCommerce
WooCommerce offers a plethora of customizable properties to incorporate into your shopping cart. WooCommerce is used by 93.7 percent of all WordPress eCommerce websites. WooCommerce has 75 million+ downloads, and Blue Star Coffee is undoubtedly at the top of the list of brands that use WooCommerce.
Prestashop
Prestashop is an open-source eCommerce CMS platform that uses PHP to create a comprehensive website brimming with exceptional features. With over 800,000 members, Prestashop is quickly becoming a household name in the industry. It supports popular payment methods such as Google Checkout and Paypal.
Understanding E-Commerce tech-stack
HTML
HTML is a fundamental language that all developers learn at the beginning of their careers. HTML hasn't changed much and is still based on its ancestors. Perhaps because its function is obvious. As a result, it is more than a programming language. HTML is used to store and structure the content on your website.
Javascript
HTML would be used to build the foundation of your website, and then the content would be prepared for enhancement. To assist with this, JavaScript could be one of the best options for any E-Commerce website development. It would improve the user experience for browser-based applications. An E-Commerce web developer would be able to design an outstanding website for your company.
AngularJS
If you are thinking of creating a dynamic website, AngularJS is the way to go. It is critical that your website has content, and this is one of the most important battles that developers must fight. The updated framework and APIs are being introduced regularly. These enable developers to create a rich and engaging showcase. AngularJS is a structural framework that allows developers to create enticing eCommerce websites.
Now that you've had a thorough education in developing an E-Commerce website you're probably wondering if you want to start your own E-Commerce business. And the answer is almost certainly yes!
To be confident while launching your website, let's understand why do E-Commerce services get ignored by the customers?
•    The ignorance which E-Commerce portals face is due to trust issues that they sometimes brutally fail to maintain with their customers. This trust is based on the product quality as well as the approach of customers to these portals for transferring funds or conducting transactions.
•    People feel it as a danger to choose the E-Commerce portals for money transfer purposes or even to reveal their bank details for the transaction purpose.
•    There are also frauds in E-Commerce platforms, which cause losses for all those hard-working E-Commerce genuine websites because, due to one company, people start lumping all companies into the same category, reducing the development of E-commerce platforms.

[Also read: Two eCommerce Store Mistakes That Drive Visitors Away Instantly]
How to win the trust of customers and make them rely on the E-Commerce platforms!?
• This trust of Customers in these E-commerce websites can only be made by the method of transparency. Websites must show all the details of their companies, all the legal documents as well as the registration of their companies to ensure whether their company is trustworthy or not, and even when one wants to approach them after getting encountered with fraud or cheat can easily get connected to the company's top leads to solving out their problems. 
• The main issue is also with the product, so businesses must persuade customers to believe the product ratings. This can be accomplished by displaying or releasing the marks of any trustworthy government agencies, allowing customers to choose products without worrying about their quality. 
• Money transfer or any bank transactions should become easy to deal with the assurance that the details of the customer's bank account will not be shared with anyone in any way.  
After you've settled on all these points you can enlist the help of professional E-Commerce development services to make an impact in the market. There should be no second thoughts running through your mind because numerous lucrative opportunities are waiting for you at the E-Commerce industry's doors.
Brainvire IT Solutions can serve you well if you are looking for a competent eCommerce development company. We have a team of eminent experts who can revamp your exciting E-Commerce website or create a new, custom-made one for your company. Get in touch with us today and schedule a free consultation.